As a part of a proposed establishment of a MoU between the Indian and South-Korean Coast Guards, a bilateral joint search and rescue exercise was held.
The joint anti-piracy exercise 'SAHYOG- HYEOBLYEOG 2018' was conducted on April 5, 2018 off the Chennai coast to improve maritime security in the Indian Ocean Region.
About SAHYOG- HYEOBLYEOG 2018
The exercise included scenarios of the hijacking of a merchant vessel and its subsequent rescue, interdiction of a pirate vessel, cross boarding, external fire-fighting and the SAR (search and rescue) demonstration.
A Dornier aircraft along with the five ships including Shaurya, Rani Abbakka and Abheek and one Chetak helicopter represented the Indian side.
Korea was represented by Coast Guard ship 'BADARO' in this search and rescue exercise. This is the third visit of the ship after a MoU was signed between the countries. The main aim is to strengthen the relations between the countries.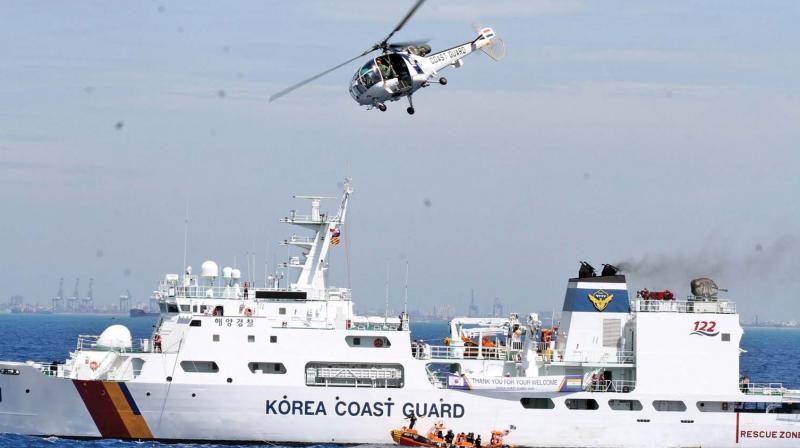 Lee Young Ho, headed the representation of the Korean delegation and Deputy Inspector General Al Mutahar led the Indian Coast Guard officers.
During the ship's stay in Chennai, the delegation from Korea called on dignitaries in Chennai, played a friendly volley ball match between the coast guard personnel and took part in other traditional activities like Jianzi, Yunnori, Tuho and Bhopgi.
Director General of Indian Coast Guard Rajendra Singh and Commissioner of Korean Coast Guard General Park Kyung reviewed the exercise.
As part of the exercise, ships of the Indian Coast Guard and the Korean vessel undertook strategic exercises and drills to counter piracy and carry out maritime law enforcement tasks.
The joint exercise was aimed at developing working level co-operation and an enhanced inter-operability in the fields of maritime search and rescue.
Indo-Korean Relations
India played an important role in maritime security of the region as all ships that sail to Europe pass by India. Close cooperation between the countries is important for economic safety of the region.
Korea and India were maritime countries and that there were so many opportunities for cooperation. The relations between the countries are strengthening. According to reports, this year a VIP will be visiting India to further the cooperation.
Conclusion
The joint exercise SAHYOG- HYEOBLYEOG 2018 is a part of the ongoing cooperative arrangements between Indian and Korean coast guards since the past 12 years and as a part of the memorandum on cooperation signed by Indian and Korean Coast Guard in 2004.