The indigenously designed and developed Dhanush ATAG is ready for induction into the Indian army. The 155-millimeter/45-caliber towed howitzer completed the final development trials at the Indian military's test range at Pokhran.
6 Dhanush guns were tested in battery formation (at one go and at one target) from June 2 to 6 firing fifty rounds each.
About Dhanush
Dhanush is a 155mm x 45mm calibre artillery gun and is also called the "desi Bofors".
It is an improved version of the FH-77B 155-millimeter/39 caliber towed howitzer manufactured by the Swedish defense contractor Bofors (now BAE Systems) of which India acquired 414 between 1987 and 1991.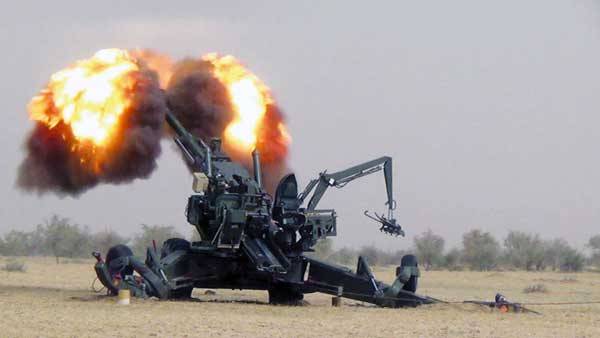 Dhanush vs Bofors
Dhanush's larger caliber is the major upgrade from Bofors. Also, Dhanush has an effective range of 38 km as compared to 27 km range of the Bofors guns.
Besides features like electronic gun-laying and sighting systems, the indigenous gun's hitting range is 11 km more than the imported Bofors guns.
Dhanush can also fire eight rounds per minute and needs a crew of six to eight artillerymen.
The Tests
The gun has passed tests under severe cold conditions and in hot and humid and in the deserts..
During an earlier trial in Pokhran a year ago, the muzzle and barrel of the howitzer exploded two times. However, the fault is likely to be with the shells and not the guns.
Also Read: ATAGS Dhanush Test Fired, To Be Showcased In Republic Day Parade
The gun has been developed by the Ordnance Factory Board (OFB), Kolkata, after going through design documents running into over 12,000 pages.
These documents were given to India as part of the first phase of "Transfer of Technology" (ToT) under the Bofors gun deal inked in the late 1980s.
The Indian Army has placed an initial order for 114 Dhanush howitzers out of a total of 414 units, with the first batch of guns to be manufactured at the Gun Carriage Factory in Jabalpur. Per-unit price of a Dhanush gun is a little over Rs 4.5 cr. One shell costs around Rs 1 lakh.