Hello friends, My name is Ishumon Sharma and I belong to Punjab. Like my father, I also wanted to join Indian defence. After completing my 10+2(non-medical) with 89% marks I started preparing for Indian Defence. I got a call from Indian Army for TES entry. I went to Allahabad for the same, there I was conference out. But I didn't loose hope. I worked even harder and with my whole preparation I went for TES entry again in Bengaluru. I was screened out there. Till then, I was never able to clear my NDA exam. But anyhow, NDA written result was out and I got my roll number there. As I mistakenly had given my elder brother's email ID in NDA form. Therefore, I was not able to access my date selection link. I mailed the coordinating authority of join Indian Army website also for the same, but I was still not able to access that. I sent my sister's husband to the UPSC, Delhi also. They told that I will not be able to access that date selection link, I will get any random date and any random selection board. I wanted Allahabad board, because I wanted to end it where I started. After a week, I got a randomly selected date as well as center. Fortunately, it was Allahabad. I was very happy but according to my friends, it is a rejection center. I joined Impact academy in Chandigarh for coaching. Lt. Col Bahuguna sir told me during my class, "None of the psychologists can stop you from being recommended". Col Chauhan sir helped me a lot in learning Ground task skills. I started practicing TAT, WAT with my brother (Abhinov Sharma) also as he is also an SSB aspirant. He used to take my interviews many times and helped me in rectifying my mistakes. One of my friend, Jashandeep Singh from my university was also there, with whom I used to discuss a lot about SSB during classes. Just a day before when I had to go to Allahabad, unfortunately, I met with an accident. I got badly injured. My mother asked me to request them for postponing the SSB date but I didn't want that as I was waiting that day eagerly for so long. And after such a hard work, I went for SSB. I somehow managed to walk properly and hide my wounds in order to not to get screened out only because of that. I got screened in and started preparing for the next days.
To prepare for defence exams and SSB interview, get these books:
Day 2: I went for my psychology test. I was able to complete all the stories, within the time limit. I did 60 WAT and 49 SRTs. Just after that test, I was called for interview. My interview was first after lunch, with the president. I was quite nervous. As soon as I entered the room, he started putting pressure on me. He wasn't even smiling. The only question that I could recall when he laughed was when he asked me, "Do you abuse?" and I answered, "Yes". He again asked, "Don't you feel, it is bad?" and I replied, "As being a Punjabi, Abuses are part of our language." And he laughed a lot as he was also a Punjabi. He asked a lot about my family, friends, daily routine etc. The only question that I was not able to answer was, "Tell me the non-commissioned ranks in Indian Army?" We interacted for around 1 hr 20 minutes. After this, I thought that, my psychology was very good, but I f**ked up my interview as I was not even aware of non-commissioned ranks whom I am going to lead in future. I went directly to my bed in candidate's line and had a sound sleep. After I woke up, I asked my fellow friends about the ranks.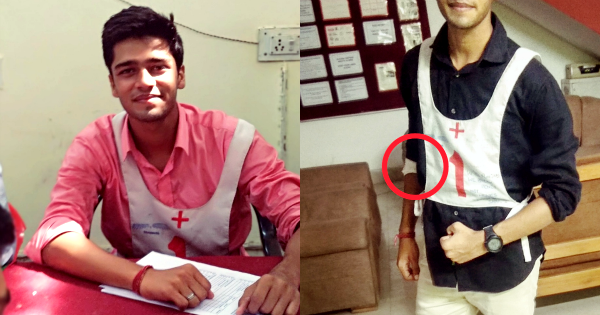 Day 3: I was now stressed free as I was done with my Interview as well as psychology. It was now the time for GTO but it was raining heavily. I initiated both the GDs and also GPE. I made 5-7 effective entries in these all individually. I also gave many ideas (both implemented and non-implemented) in PGT. I helped my teammates a lot during Group race even while having an injury in my feet. I climbed the wall thrice in order to help my teammates. I was able to give an effective 3-minute lecture on Indo-China relations (thanx to SSBCrack lecture ).
Day 4: It was the second GTO day. I performed well in HGT. And now, it was the time for the most difficult task for me i.e. Individual Obstacle as I was not even able to walk straight. But still, I did 11 obstacles. Everyone was in shock. In command task, GTO asked me about my injury also. I told him about the accident. He gave me the BOMB CT. It was hard and I was able to complete. During my command task, I was putting pressure on one side of the plank and suddenly he asked, "Commander! You want to be an officer or Hanuman?" I depressed voice I replied, "Officer, sir." He said, "So, use your brain then". I completed my CT. After that, there was FGT which was quite easy.
Day 5: It was the day that everyone dream of i.e. Conference Day. One constant thing pricking my mind was, my interview. I went to conference hall. The asked me the same question I was not able to answer. I told them about all the non-commissioned ranks. My conference lasts for only 20-30 seconds. It was the result time now. I was very frightened. And the first name the officer announced was Chest No. 18. It was me???? Yes, It was me. I stood up, went in front and took my medical chest number. We were only four. Officer congratulated us. We submitted our documents and did all formalities.
IMPORTANT – Download eBooks for SSB Interview Preparations
Free eBooks