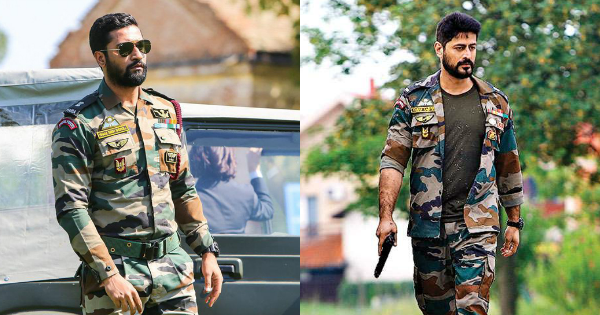 If you ask an Indian defence aspirant about the movies they like, there will always be a Bollywood movie named Lakshya in which the main character was performed by Hrithik Roshan, Lakshya was released in 2004 and it motivated many to join the armed forces. Since then there are many movies produced which are themed on armed forces and a couple of them did perform well in terms of acting and storyline BUT there was no match for Lakshya in terms of making an emotional connection with the defence aspirants. URI the surgical strike movie is something which might fill this long long gap of finding something as good as the Lakshya in terms of motivation. URI the surgical strike has a couple of scenes which are so intense that they send shivers up and down the spine. There are scenes to which every defence aspirants and lover will get emotionally connected. The shots are captured beautifully and the josh was really very high. Let's see why every defence aspirants must watch this movie right now.
Uri: The Surgical Strike movie was released on 11 Jan 2019: The story is based on the surgical strike conducted by Indian armed forces after the roguish terrorist attacks at Uri Army Base camp in Kashmir. It was the most successful covert operation till date conducted by the special forces commando behind the enemy lines. The main character Major Vihan Shergil who is a PARA SF commando was performed by Vicky Kaushal beautifully.

There are a couple of scenes like the attack on URI based camp which will make you visualise how evil and deadly was the attack in which terrorists lobbed 17 grenades in three minutes.19 army personnel were martyred during the attack. Around 80–100 soldiers were reported injured. A gun battle ensued lasting six hours, in which all four terrorists were killed.

The movie is based on the real events with the mix of some fiction to make the story go smooth but unlike other movies, all the scenes which are emotionally intense are the real-life events happened in soldiers lives some of which you might have seen in the media as well. The writer-director did not try to stuff in the fabricated emotional content and that is the best part of this movie.
URI the movie will also give you a brief idea about such major operations and how they are conducted, how people who are not in uniform are also the part of such operations and play an important role too. How a soldier has to balance his personal and professional life and more importantly soldiers are just like us with equal emotions, fears and courage.
Movies like URI must be encouraged because this is what we want to see more rather than some crappy repeated drama-love-story. You must go and watch this movie in the theatre, it will be worth your time and money, it will also support the people who have worked in this movie from top to bottom. If you support such movies, it will also encourage the filmmakers to make them more often. This movie is something you should not miss, go watch is nearby and do not encourage piracy, do not waste it by watching through a pirated content.
PS: There is a section of media (bigshots) who have reviewed this movie with 2-3 stars, we are not sure if they do have the genuine movie reviewers or they even understand the military lifestyle. Do not trust these media portals, they are the same portals who praise stone pelters and speak against our soldiers. So it is obvious that these media portals hate anything good related to Indian soldiers.
Jai Hind