Finally good news for the Indian air force aspirants who want to join the Indian airforce as an officer in flying, technical and non-technical branch. SSBCrack is getting you the first update on AFCAT 1 2020 notification and other details related to AFCAT exam 2020. Online examination will be conducted on 22 Feb 20 and 23 Feb 20 for AFCAT exam. IAF will open the AFCAT 1 2020 application from 01 Dec 2019 till 30 Dec 2019 and aspirants can apply for AFCAT 1 2020 online at afcat.cdac.in website. We suggest candidates to visit SSBCrack for further updates on AFCAT 1 2020. INVITES MEN AND WOMEN FROM INDIAN CITIZENS AS PER CITIZENSHIP ACT 1955 TO BE A PART OF THE INDIAN AIR FORCE AS COMMISSIONED OFFICERS IN FLYING AND GROUND DUTY (TECHNICAL AND NON-TECHNICAL) BRANCHES. REGISTRATION FOR ONLINE APPLICATIONS WILL OPEN ON 01 DEC 19 AND CLOSE ON 30 DEC 19 THROUGH https://careerindianairforce.cdac.in OR https://afcat.cdac.in.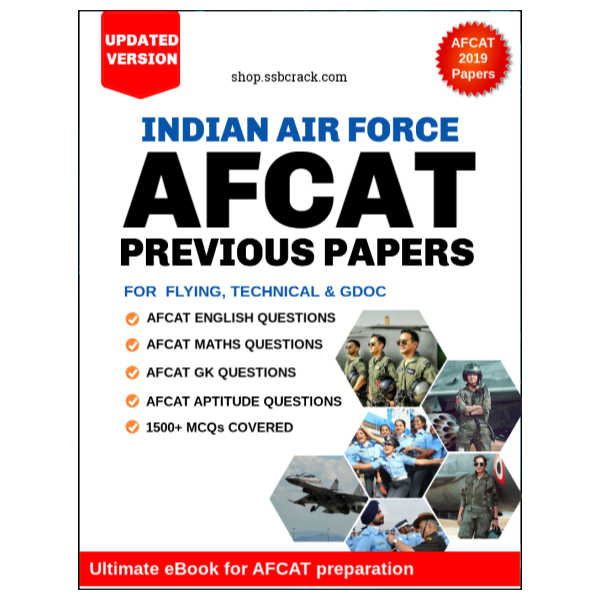 AFCAT 1 2020 Notification: Online applications are invited for the courses commencing in January 2021 for grant of Short Service Commission (SSC) in Flying Branch and Permanent Commission (PC) and Short Service Commission (SSC) in Ground Duty (Technical and Non-Technical) Branches. Online applications are also invited for grant of PC/SSC for NCC Special Entry Scheme (For Flying Branch).
AFCAT 1 2020 Branches, Course Number and Vacancies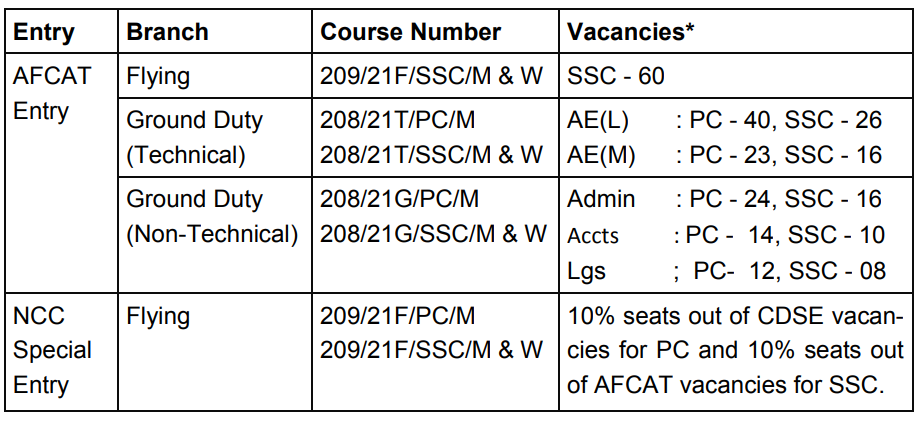 AFCAT 1 2020 Type of Commission
PC for Men. Candidates joining as PC officers would continue to serve till the age of superannuation as per their branch and rank.
SSC for Men & Women. (i) The engagement period for Flying Branch SSC officers is fourteen years from the date of Commissioning (Non extendable). (ii) The initial tenure for SSC officers in Ground Duty (Tech and Non-Tech) branches would be for a period of ten years. An extension of four years may be granted subject to service requirements, availability of vacancies, willingness, suitability and merit.
AFCAT 1 2020 Age Limits
Flying Branch. 20 to 24 years as on 01 January 2021 i.e. born between 02 January 1997 to 01 January 2001 (both dates inclusive). Upper age limit for candidates holding valid and current Commercial Pilot License issued by DGCA (India) is relaxable upto 26 years i.e. born between 02 January 1995 to 01 January 2001 (both dates inclusive).
Ground Duty (Technical/Non-Technical) Branches. 20 to 26 years as on 01 January 2021 i.e. born between 02 January 1995 to 01 January 2001 (both dates Inclusive).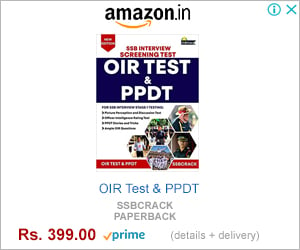 Eligible candidates are to register online through separate tabs available for AFCAT Entry/NCC Special Entry. Candidates eligible for one/more entries are to register separately in each entry.
Tattoos. Permanent body tattoos are only permitted on inner face of forearm (from inside of elbow to the wrist) and on the reverse side of palm/ back (dorsal) side of hand. Permanent body tattoos on any other part of the body are not acceptable. Tribes with tattoo marks on the face or body as per their existing customs and traditions will be permitted on a case to case basis.
Narcotics. Use/possession of narcotics is banned. Candidate may be tested for presence of drugs in the body during Medicals and subsequently during training/ service career as an officer. If candidate is found to be using/ in possession of narcotics during any time of training/service career, candidate would be debarred from joining the Indian Air Force or be removed from service if already joined.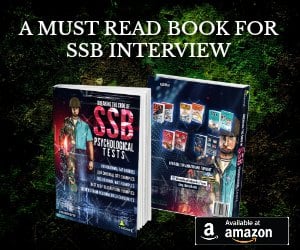 Conduct of Online Testing for AFCAT Examination and Fee Structure: Online testing will be conducted for AFCAT entry at various centers. Candidates registering for AFCAT entry will have to pay an amount of Rs. 250/- as examination fee. However, candidates registering for NCC Special entry are not required to pay. Details of conduct of exam, examination centers and mode of payment are available in the notification.
Marital Status: Candidates below 25 years of age must be unmarried at the time of commencement of the course. Widows/Widowers and divorcees (with or without encumbrances) below 25 years of age are also not eligible.