Failure is a fundamental part of life, we may be fortunate to get something very easy in life but not all of us, you must be trying very hard to get recommended in SSB even though you got screened out or conference out many times, you may decide not to attempt any more SSB interviews because you think you had enough but after some days you forget all your worries and seeking another chance for the SSB interview. Some of us are tired of failures and don't want to attempt anymore, but promise not to stop and trying till we have eligibility because you never know when you will hear your chest number after the conference.
You may find someone who is attempting 10th SSB interview with an experience of 9 serial failures, take some inspiration from him and go for it. Nothing is easy unless you have a strong desire and nothing is hard if you have a strong and focused mind. Yes, it's a desire, it's something like heaven, one day you will be in UNIFORM. What is the fun in getting something easily? No one gets it easily there is extreme willpower and preparation behind that. We sometimes think that " How can they recommended that guy, OMG he is so lousy ?" not your fault, this is a common human tendency to judge someone without having the knowledge of proper judgment.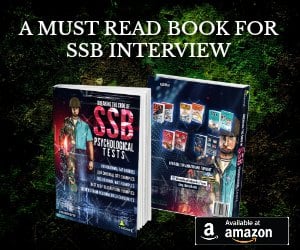 Remember this SSB board gave us real heroes who scarified their lives for the motherland, SSB always wants to select you, they never call you for rejection it's you who should be able to show your actual ability and quality.
Next time you will prepare for the SSB interview and not just go like trying for a lottery ticket prize, remember everything requires proper preparation, try to take the advice of everyone, and do what you think is the best for you. One day you will hear your Chest number after the board conference and that's the moment you are living for so why not make it possible in this life. All the SSB aspirants having the same dream and they want to make it in reality. Stop crying if you don't get recommended, stop yelling, stop cribbing, try to analyze your mistakes, try to find what others did and you did not, and finally, start performing and one day success will be yours.
SSB Interview Preparation Material [ 100% Recommended]