It is rather difficult to define personality. Personality is the sum total of our habits – physical, mental & emotional. It is that quality that makes a human different from an ape. Considering the above definitions, we can say that personality is a wonderful quality. It is an essential part of a person which makes him what he is. It is something that distinguishes him from his fellow beings. Personality is neither biological nor natural. It can be developed and improved. Environment plays a considerable role in shaping our personality and attitude. Attitude is acquired in the early stages of life. As time passes, they get strengthened and are absorbed in the personality of man. For proper development of personality, it is essential to have a proper attitude. The attitude which makes up the major part of a man's personality leads to success or defeat in his life. It is seen that the development of personality largely depends on the development of attitude. If the attitude is hazy, the personality will not be clear. If the attitude is healthy and constructive, then the personality is also healthy.
A question generally arises as to whether we can change our attitude which hampers our progress. This can be done, if we are able to counter the influences which developed our attitude, we can overcome and correct our attitudes. To develop your personality, friends, try to develop a moral character and of course a healthy body and mind. Try to have a good knowledge of the present trends in social, technological and political fields. Extensive reading of books, journals and a wide spectrum of newspapers helps to increase our knowledge which will help us to achieve the confidence to face the SSB. A candidate's character traits are assessed throughout SSB Tests and it is essential to have a good sparkling character for an officer to effectively command and coordinate his subordinates. A man without a good character is like a flower without perfume.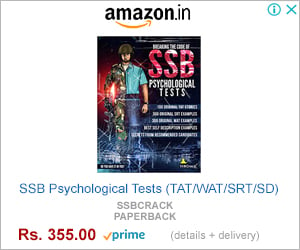 32 Secrets To Improve Your Personality For SSB Interview
Concentrate on one thing at a time.
Do not blame others when things go wrong.
Show an interest in what other people say.
Cultivate a sense of wit and humour.
Be optimistic and cheerful.
Have a good moral character.
Try to avoid making others feel inferior.
Have a good and friendly smile.
Talk about things that interest others.
Remain cool in adverse conditions.
Be always vigilant.
Have a good, well-built body.
Cultivate a habit of congratulating others in their success.
Always look fresh and cheerful.
Cultivate self-control and humility.
Have sympathy for others.
Have willpower and determination.
Think twice before doing or saying anything.
Have a wide store of knowledge.
Have some common sense and practical intelligence.
Actively participate in the activities of the organization or school you belong to.
Cultivate a habit of accepting your mistakes and shortcomings and try to rectify and correct them
Be impartial-Should not have extreme views on any subject.
Be good in your dress and tress.
Have good professional knowledge and always try to be active.
Should not be lethargic.
Always try to be friendly with others.
Cultivate a habit of initiating conversations with others.
Be Bold and courageous to face every difficulty.
Think positively.
Walk erect, swinging your arms, and breathe deep.
Try to improve your voice and make it pleasant.
Friends, try to practice these tips in life. This would bring a great change in your personality and sociability. If you are able to implement all these tips, then friends, you will be mentally fit for Defense Forces.