Personal interview is one of the three tests conducted at SSB stage two. Personal interview can take from 30 minutes to 1 hour and consist of questions based on your PIQ form, personal life, educational qualification and few questions related to Defence. But, this is not all; interviewing officer can ask anything under the sun, you might face shocking questions from interviewing officer.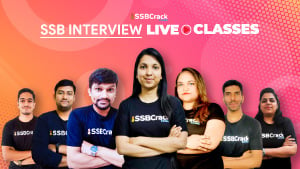 We have collected these questions for you, all these questions are real and you may or may not face it during personal interview. These questions would help you to understand (especially fresher), how different SSB interview is from any other interview you have ever faced.
Most Shocking Question Asked During SSB Interview
Do you have girlfriend/boyfriend?
What do you like in your girlfriend/boyfriend?
Do you have physical relationship with your girlfriend/boyfriend?
What was the reason of your breakup with girlfriend/boyfriend?
Why don't you have a girlfriend/boyfriend?
Have you ever liked any girl/boy?
What do you hate the most in your Father/Mother/Bother/Sister?
Do you watch adult movies?
Who is your favorite porn star?
Why don't you watch adult movies?
Do you smoke/drink?
Why do you smoke/drink when you know it is bad for your health?
Why don't you smoke when your friends smoke and drink?
What do you hate in your friend?
You are not fit for defence, what will you do now?
Why didn't you try for SSB after 12th through NDA?
Why are you not working anywhere?
How are you surviving without a job?
What do you hate about your current job?
What do you hate in yourself?
Why have you not prepared for SSB?
Do you think you have officers like qualities?
What do you think the top most qualities an officer should have?
Download:
These are few questions which you might feel different because you will face such questions during SSB interview only. Also, these questions are being asked just to check some qualities in you, one should not take any question lightly and try to speak truth as much as possible. Have you ever faced any super awkward question during SSB interview? If you have something, do share it in the comment box below.
By the way, what would be your answers to the above questions, do drop your answers in the comment section below.
Cheers
To crack the AFSB and SSB interview, we recommend you to get "Let's Crack SSB Interview" book from Amazon.
Also Read