Service Selection Board interviews are a six day process, in which your personality is monitored and matched with the suitability of joining the forces. If you are suitable you are recommended otherwise not. We tend to hear different theories about this interview from different sources. People getting recommended have different opinions, and those not getting recommended have yet another opinion. I am sure that before going for SSB you try to collect as much of information regarding it as possible. And thus you hear different versions of SSB stories from different sources. Here we will focus on understanding how difficult SSB interview is? To begin with, SSB is not a normal job interview where you have to study your head off in order to crack it. SSB is different.
SSB Interview Preparation Material [ 100% Recommended]
It hardly checks your knowledge; it just checks your suitability for the forces. This suitability is not entirely based on your knowledge. You can thus say that SSB is a multidimensional interview. It checks your entire personality. Secondly SSB is not the basis of judging you, whether you are good for doing something in your life or not, it just checks your suitability for the forces. Even if you don't crack SSB, you can still do very well in other fields. The entire selection procedure of SSB is based on the 15 Officer Like Qualities, which a candidate must possess in order to be suitable for the forces. You can check these qualities in articles present on our website.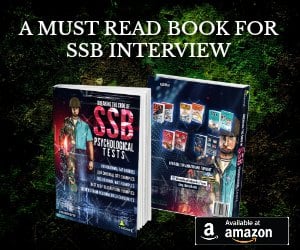 In SSB interview your personality is under continuous supervision. Each aspect is observed minutely and closely. You can take an idea from the fact that you are checked in every aspect. You are checked for the basic aptitude of an officer in the screening tests, you are checked for your thoughts in the psychological testing. You are checked for your physical fitness and group behavior in the Ground Tests. You are checked individually in the interview with the Interviewing Officer. The people in the board are very experienced and efficient bunch of people. They can easily catch you if you are lying.
All the tests in SSB are meant to test you under pressure. This is because in real life situation, an officer has to perform judiciously and efficiently under pressure, so a candidate must give positive response under pressure. The constraint of time is applied in the testing and most of the tests are designed in such a way that they get difficult with time. The level of difficulty is not much. If you look closely you will realize that SSB is more about logic and positive attitude than intelligence. Of course the basic intelligence needs to be there. The reason why you are told to be honest all the time in SSB is because if you lie and get selected somehow, then you might suffer a lot in training and in service because your personality is not meant for it. To conclude I would like to say that SSB is not difficult, it is rather tricky. You are expected to be genuine all the time. Being logical and practical is more important in SSB than being intelligent. You can check the articles on OLQ's to understand what they are. SSB is six days of learning; you get to learn a lot about yourself and your strengths. It is not difficult, it is just about doing the right thing at the right time.