This post is all about the most common situation reaction test examples and mistakes done by most of the candidates while reacting to them. As most of you know that Situation Reaction Test is a part of psychological test series conducted under stage two testing at SSB. Situation Reaction Test examples are designed by DIPR which stands for Defence Institute of Psychological Research (DIPR is a premier research laboratory of Defence Research and Development Organization (DRDO) and has completed more than six decades of dedicated service to the nation in general, and Indian Armed Forces, in particular).
Download Here: Situation Reaction Test Solved Part 1 eBook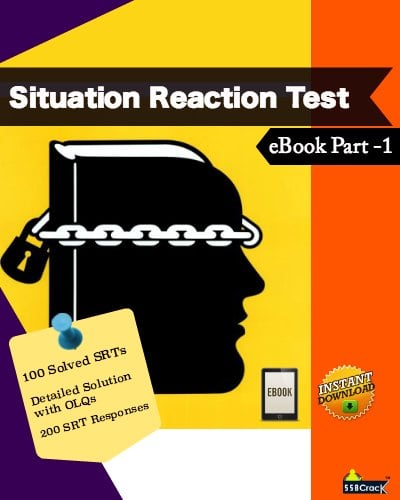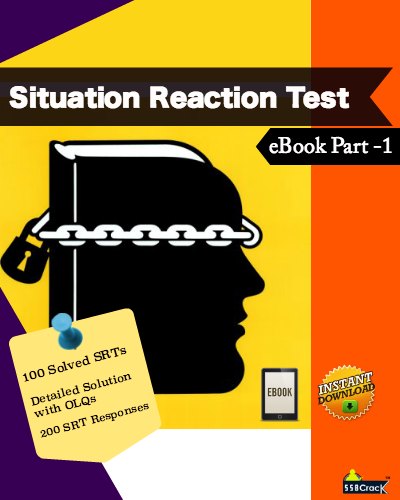 These SRT examples are created in such a way that they bring out your intellectual and analytical ability, not only these, but your responses towards situation reaction test examples [SRTs] talks a lot about your personality like, what kind of person you are, what could be your family background, what could be your surroundings etc. As we are already giving lot of tips related to Situation reaction Test, in this article we are going to give some most commonly asked situation reaction test examples, and the mistakes candidates make while writing their responses. Like always, we are not going to give a fixed solution to any situation reaction test example here, but we would be discussing about the wrong assumptions made by the candidates while reacting to these common situation reaction test examples.
Most Common Situation Reaction Test Examples
He was on his way to home and suddenly it started raining heavily. He.
In his train compartment, two gunmen force passengers to give their belongings. He.
He was in charge of a wireless board in a sailing ship which lost its communication with the coast. He.
During a trekking trip, he was left alone in the jungle. He.
He saw his girlfriend walking with another person on his way. He.
He was playing outdoor and his brother got seriously injured and it started to rain heavily. He.
The leader of his trekking team decides to take a longer route when the time is running out. He.
He was walking on a dark street with his girlfriend then suddenly 10 armed people came & started harassing his girlfriend the next police station was 10km away. He..?
Above we have given 7 different but common situation reaction test examples which you will face at SSB. If not same, you will find the similar type of situations very often in situation reaction test.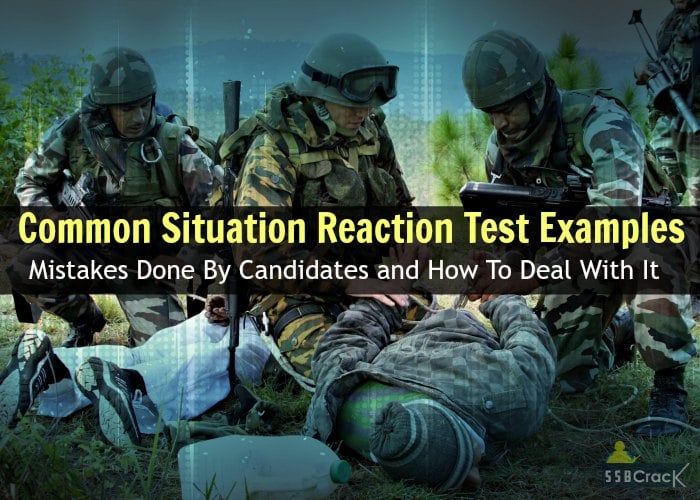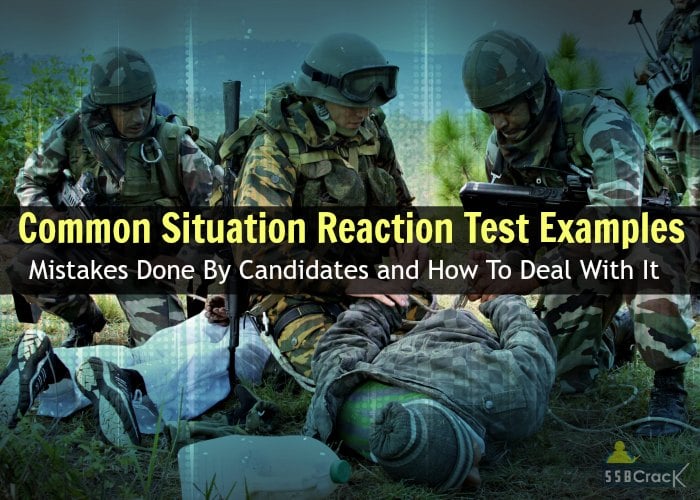 Common Mistake Made By Aspirants In The Above Mentioned Situation Reaction Test Examples Respectively
You can simply say as he is going back on his car, so he will drive safely and reach home. Stop exaggerating the heavy rain, heavy rain is not going to kill you.
Could be a routine checkup by RPF jawans, think of the most likely situation, to be practical, only two gunmen can not loot the whole train, not even in Bollywood movies.
A ship normally faces communication problem, which is a normal scenario, being a ship encharge it is very easy for you to make it work again and use another communication system meanwhile. Again, think practically, if you were a normal passenger on that ship, then it will be a problem for you to fix it, but not for a ship in charge.
Use your mobile phone, yes will work in a normal Jungle where you would go for a trekking trip.
You could go and meet your girlfriend and your girlfriend's girlfriend. You are so lucky to talk with two young girls, what else do you want! On a serious note, "person" could be a male or female, all it depends on how you perceive it. Be witty sometimes.
Take out his car and go to hospital along with his injured brother and take care of him. No car? Take neighbours help and go to hospital in neighbour's car along with his injured brother. Also, make sure you use "injured brother" this shows that your good in communication and more analytical.
In this type of SRTs, be a good follower. You could say you would help the leader with your best ability and reach in time.
As it says, next police station is 10 km, you are standing in front of a police station. Think cleverly.
SRT:

He was walking on a dark street with his girl friend then suddenly 10 armed people came & started harassing his girlfriend the next police station was 10km away. He..?

Posted by SSBCrack on Saturday, May 9, 2015
Hope these situation reaction test examples would help you to understand how to deal with SRT. Below are few situation reaction test examples for your practice. Write your responses in the comment box below. All the best.
He was travelling to his SSB centre, and just before reaching the station, he found that his suitcase is lost
He had exams the next day & the road to his school was flooded with continuous rain for last two days
Severe drought conditions were prevailing in your district.
You did something wrong what you shouldn't have done. You
You had boarded a wrong train and only two minutes were left for the right train to start
He and his friends are travelling from a speedy train when his friend looks out of the window and gets hit by a pole. He..?
He and his father were going on a scooter when they met with an accident. Both of them get hurt but his father is severely injured and on calling for help no turns up, he.
He was forced to join the Railways but he was really not interested. He.
All the best!