Lecturette: Un-Employment Problem in India. Unemployment problem has been generated because of increased automation, population explosion and lack of proper handling of large number of labor force in general. It has resulted in widespread inequality and a solution is desperately sought. Statistics shows that India has the world's largest youth count which is about 66% of the population.
Meaning of Unemployment
Unemployment is a situation where a person who is willing to work fails to get a job, which can provide him a regular income. Hence, a person who works for just few weeks in a year & consequently doesn't earn a regular income, also fall within the range of unemployment & be classified as underemployment.
Types of Unemployment
Different countries depending on their level of development, face different kinds of unemployment.
-Cyclic Unemployment.
-Technological Unemployment.
-Frictional Unemployment.
-Structural Unemployment.
-Disguised Unemployment.
Last three types of unemployment are common in developing and underdeveloped countries like India.
On rural front both seasonal and disguised unemployment increased because of lack of irrigation facilities, recent crop failure and unavailability of temporary jobs for few months of cultivation of corps. Urban unemployment, referred as Industrial & Educated Unemployment has increased because of the lack of organized manufacturing. But, since last few years, the graph of unemployment is declining, that means the number of unemployed people are decreasing day by day.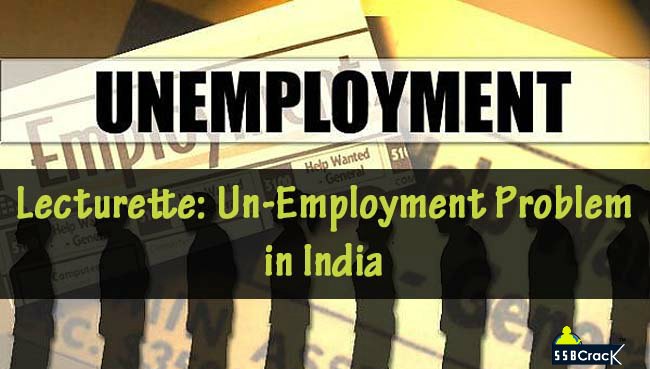 Causes of Unemployment
Agriculture Background: Nearly half of the Indian population belongs to agriculture sector. As agriculture is a seasonal process, it leads to seasonal un-employment. Not only that, in case of irregular weather conditions, the farmers had to face the crop failure. As a result, they undergo unemployment.
Over Population: Currently Indian is suffering from rapidly increasing human population. This is due to increase in birth rate, decrease in death rate and increase in life expectancy. This leads to a situation where more aspirants are available for a single job.
Race for Government Jobs: Youngster of today's generation prefer to reside at home and prepare for limited seats in government jobs instead of other private options. The best example is Delhi, where countless graduate students live in the hope to prepare for the government exams and got selected in any of its sector.
Solution to Unemployment:
Job Oriented and Skill Oriented Education System: Today, there must be an education system which should be focused on making the students skillful and make them job ready. With that, they will get the right job according to their skillset.
Initialization of Job Oriented Government Schemes: Government has always tried its best to overcome this problem. Till now, many employment related schemes has been initialized by the government which majorly includes Self Employment to Educated Unemployed Youth (SEEUY) started in 1983, Rural Landless Employment Guarantee Program started in 1982, and many more.
Indian government is doing its best to generate employment and eradicate poverty which is an outcome of overpopulation. MNEREGA, Deen Dayal Upadhyaya Grameen Kaushal Yojna and skill development are going simultaneously to enhance the ability of youth to grab a good employment opportunity. But still India is having a lot work to do in this field to accelerate its development and pace up its economy. According to the facts unemployment rate in India decreased to 4.9% in 2013 from 5.2 in 2012. An all India level survey also states that nearly 49.5% persons are estimated to be self-employed.