PM Modi says govt committed to one-rank, one-pension, tells veterans to be patient: Prime Minister Narendra Modi on Sunday again tried to douse the fast-erupting anger among ex-servicemen over the continuing delay in implementing the much-promised one rank, one pension (OROP), asking them for "some more time" to resolve the complex issue.
But the seething ex-servicemen, some of whom have begun to boycott government functions and plan a major rally in New Delhi on June 14, see "bureaucratic machinations" at play once again to further delay OROP on the pretext that it is yet to be defined properly.
"The PM has been wrongly briefed. There is only one definition, only one implication and only one calculation. The attempt is to further delay, dilute and finally deny full OROP," said Major-General (retd) Satbir Singh, chairperson of the Indian Ex-Servicemen Movement.
Modi, however, counselled patience to the veterans, who constitute a vocal 25-lakh strong community. "You have been patient for 40 years. Give me some time to address it. This is a complex, vexed issue… We will together find a solution," the PM said in his monthly 'Mann Ki Baat' programme on All India Radio on Sunday.
Attacking previous governments for taking the armed forces for a ride by keeping OROP "hanging for the last 40 years", the PM said various departments were at work to resolve the matter at the earliest. "I have made a promise in the midst of ex-servicemen that my government will implement OROP. We do not shun our responsibility," he said.
"I am saying this not as the PM but as a human being with full sincerity, especially to the soldiers who are engaged in protecting the country as well as those who have retired from the armed forces and those who have made sacrifices," he added.
But the proof of the pudding will lie in the eating for the ex-servicemen. Political parties have all promised OROP – payment of uniform pension to personnel retiring in the same rank with the same length of service, irrespective of their retirement date – but failed to deliver once they came to office.
As reported by TOI earlier, thousands of ex-servicemen have been holding rallies as well as returning their medals to register their protest since 2008-2009. "OROP has become 'only rhetoric, only promises'. Deadlines have come and gone but nobody has yet shown us the money," said a retired brigadier.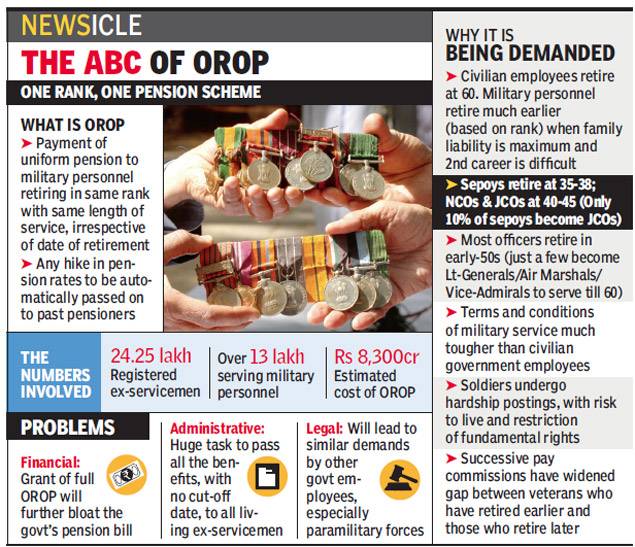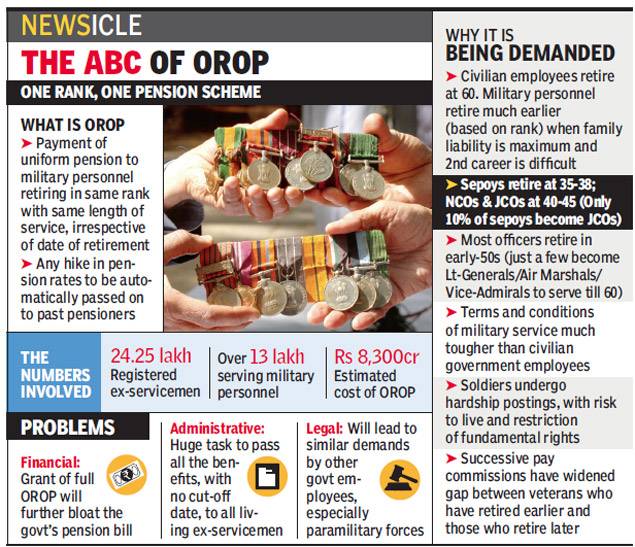 When the Modi government came to power in May last year, the veteran community expected it to implement OROP within the first year. Their hopes were further raised after defence minister Manohar Parrikar repeatedly said over the last few months that OROP was virtually a done thing since it had been cleared by his ministry.
"It was to first come on December 31, then January 31, then with the budget on February 28, and then at the PM's Mathura rally on May 25… But the wait has become endless. Now, we hear even its definition is yet to be finalised. The definition was settled long ago, and even adopted by Parliament (Rajya Sabha committee on petitions, chaired by Bhagat Singh Koshyari, in December 2011)," said Maj-Gen Singh.
source: TOI