"Tumhein padhne bheja tha wahan, ya khelne" ("Did I send you there to study or to play games?") – said Maj Poonia's father Shri Gulab Chand, a farmer, upon hearing that his eldest son Surendra was planning to go to France from his college to participate in the Medical Olympics of 1999. Today, Shri Gulab Chand is a proud man who talks of his son's achievements in his native village of Rajpura in Siker District, a parched village in Rajasthan, where Major Poonia was born to him and Smt. Sharda Devi on 1st of January 1977. The future athlete grew up in the hinterlands, always aspiring to create new standards and set records right from his childhood days. As a five-year-old, Major Surendra Poonia class was asked by their teacher Sh Bhoor Singh to plant one tree in their home and ensure that it survived. In one of the driest places in the country, no child, including Surendra, was able to make the plant survive. His grandmother told him, "Son! In our home no tree has ever grown. Your grandfather tried, your father tried, it always failed!" That spurred young Surender even more. Year after year, he planted the sapling, did something innovative to compensate for the problems of the previous attempt. The cycle of failure went on for 5 years, until finally a plant survived and began to grow tall – it still exists in his village today. That was the first record to be broken by young Surendra.
Major Surendra Poonia studied in his village Rajpura , attended school in Jawahar Navodaya Vidyalaya Patan ,Sikar,and "graduated from the Armed Forces Medical College, Pune – one of India's most prestigious medical colleges" ,Pune. He was the first from his village to become an army officer and a doctor. He is the one of the best sportsmen produced by Navodaya Vidyalaya and by one of India's premier defense academies – AFMC. In year 1999 he broke all the long distance races record held by AFMC alumni from as far back as 1968 and 1971. After obtaining his MBBS degree from AFMC, Pune, Major Poonia was commissioned in the Indian Army in Aug 2001.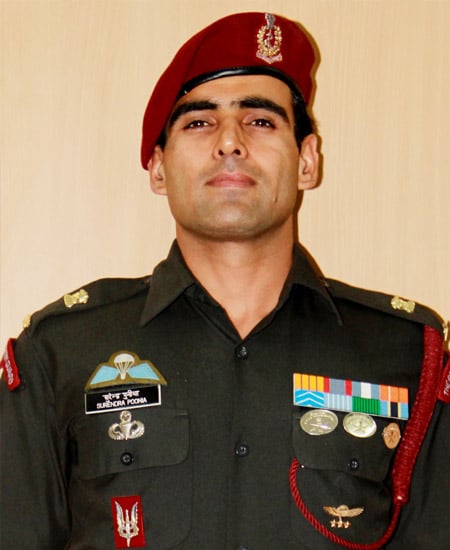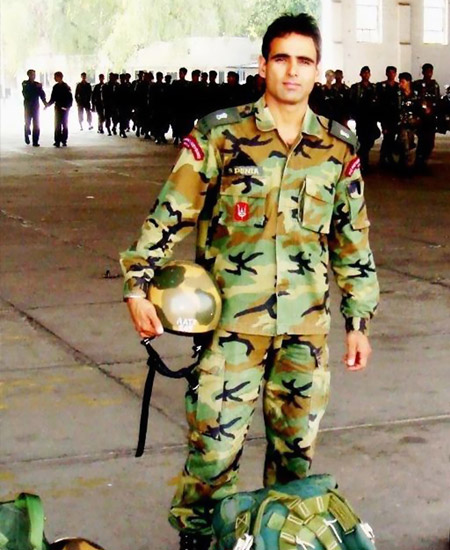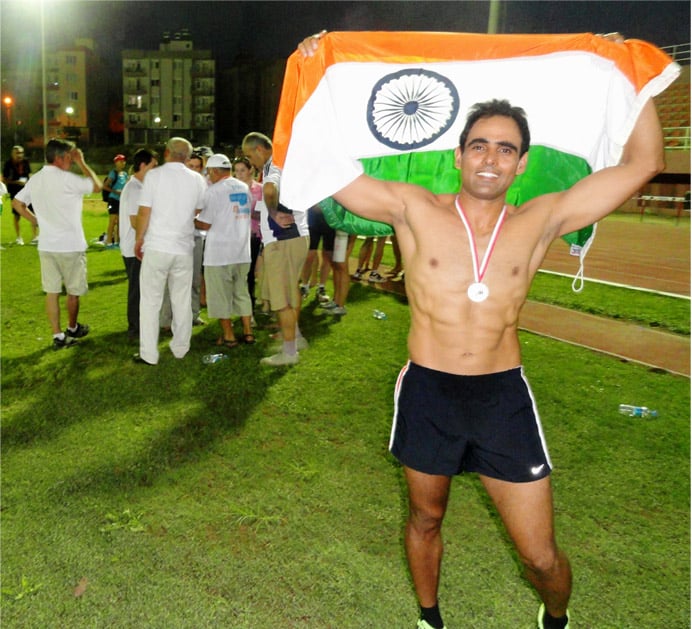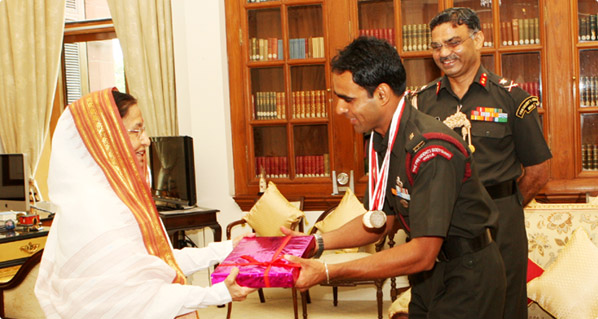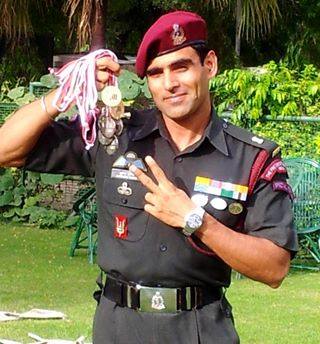 Major Surendra Poonia later volunteered for the challenging and elite volunteer force of the Indian Army- The Parachute Regiment, where he served with 2 Para Special Forces, 10 Para Special Forces and 5 Para for 5 years in the insurgency ridden area of Jammu and Kashmir. He also saw service on the world's highest battlefield – Siachen. During a counter terrorism operation in 2005 at Bandipore forest , Kashmir, he saved the lives of 1 officer and 8 soldiers during a fierce gun-battle for which the Chief of the Indian Army decorated him with his Commendation Card. In 2003, he participated in the Indo-Mongolia Joint War Exercise at Ulan Bator, Mongolia.
Major Surendra Poonia also served with distinction in the United Nation's Peace Keeping Mission at DRC (Congo) for one year managing international peace missions in difficult areas.
In 2008, Major Surendra Poonia was selected for the oldest and most prestigious Parachute -Cavalry regiment of India -The President's Bodyguard (PBG), which serves directly under the Supreme Commander of the Nation. The PBG is the only Para-Cavalry regiment in the world.He served under two Presidents of India -Smt Pratibha Devi Singh Patil and Sh Pranab Mukherjee,
In 2010, Major Surendra Poonia became the first Indian sportsman to win three medals in the World Medical Games at Croatia. Subsequently, in 2011 at Las-Palmas, Spain, he won 2 gold medals, 2 silver medals and 1 bronze medal at the same meet. Year 2012 saw him further improve on his previous sporting success when he won 2 gold medals and 5 silver medals in Antalya, Turkey, becoming the first athlete to win consecutive gold medals in the Power Lifting event for 3 years in a row.
From July 2008 to Sept 2012 Dr Surendra Poonia was one of the core team member involved in implementing 'Roshni' – a green innovative concept, evolved at the behest of the then President of India, Smt. Pratibha Devisingh Patil, encompassing environment management and empowerment of local communities to create eco-friendly sustainable urban habitats through participation of stakeholders and convergence of partnership programmes. The programme aims to make the President's Estate a model in green, energy efficient and zero waste model township as an example for all other habitats across India. Following the launch of Roshni, the President's Estate became the first urban habitat to be awarded the "ISO 14001:2004" Certification, for its Environment Management System.
Major Poonia is a rare combination of international medal winning sportsman, decorated army officer, paratrooper, medical professional and fitness expert. With his 12 yrs of diverse exposure, experience, passion for excellence and multifaceted expertise to lead an Indian sports and social initiative that dreams of narrowing the gap between rural and urban India, he resigned from Armed Forces in 2012.
Today, he is a sportsperson, a fitness expert, a social worker, a youth icon and a speaker combining his experience as a soldier, a paratrooper and a medical doctor.
Awards and Career Highlights
| | |
| --- | --- |
| | On Jan 26th, 2012 ,he was awarded the 'Vishisht Seva Medal' (VSM) by the President of India for his 'Distinguished Service of an Exceptional Order' in the field of sports.Till date, he is the youngest recipient of this prestigious award. |
| | Awarded thrice by Chief of Army Staff Commendation (COAS) – in 2006 , 2010 and 2011 |
| | Awarded 'Most Entertaining Sportsman of the Year' by 92.7 Big Reliance FM at Jaipur in March 2013. |
| | Best Athlete and Best Sportsperson- AFMC |
| | Awarded the college 'BLUE' (Highest sports award at the AFMC, Pune, India). |
| | 'Best Student' Award in Medical Officers Basic Course (Young Officer's Course) at at Officer's Training School AMC Center Lucknow |
| | Served as the President's Body Guard, with two Presidents of India. |
| | First Indian sportsman to win consecutive gold medals in the Power Lifting event for 3 years in a row at Croatia , Spain and Turkey . |
| | First Indian doctor to win 15 medals in any International Championship (2010-2012) |
To crack the AFSB and SSB interview, we recommend you to get "Let's Crack SSB Interview" book from Amazon.
Download eBooks: