Writing this one amidst huge grief. The 27th day of July 2015, will sadly be remembered as one of the black days India has seen. With the dawn arrived the news of a terror attack in Gurdaspur and before midnight we saw the Missile Man of India flying away in the sky. The flood of messages related our beloved late president, show how much he was loved and the grief which surrounds the country. It is rare indeed to see the good done by men living after them. Dr. APJ Abdul Kalam was not just a scientist, or the former president, he was a visionary, a hard worker, a common man whose work and thoughts made him rare, a teacher imparting knowledge to everyone, a philosopher conveying the way of life, a preacher who practiced first, a leader who set an example, a citizen who inspires every fellow being to be like him, a writer with real stories. A Superhero in a true sense.
Dr. PJ Abdul Kalam, born and raised in Rameshwaram, was the son of a boat man. Struggling in his early days, he did everything possible to learn and get educated. He tried and failed in his attempt of becoming a pilot in Air Force, and then started his career as a scientist, being one of the finest world has produced. A student of physics and aerospace engineering, he spend major portion of his career working as a scientist in ISRO and DRDO. He was pivotal in Integrated Guided Missiles Development Program (IGMDP), under which ballistic missiles such as Agni and Prithvi were developed. He played a crucial role in Pokhran-II nuclear tests. Not only in physics, he has a contribution in health care as well.
Dr. Kalam was elected as the 11th president of India in 2002. During his tenure he was affectionately known as People's President, a title well deserved considering his concerns and reach regarding common people.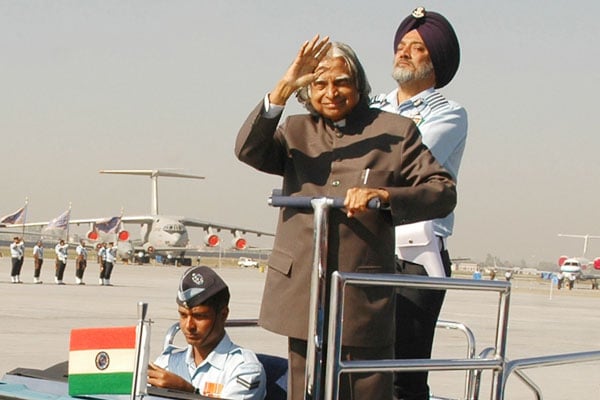 The Missile Man loved to teach, and taught technology and imparted knowledge in a number of colleges. Not only science, he was a master in giving life teachings as well, bestowing doctrines of life on people. Today the internet is filled with his quotes and teachings, which were not said specifically on any occasion, but every word coming out of his mouth was like a teaching. He received a great number of awards due to his consummate contribution in science. He received the highest civilian honour of "Bharat Ratna", in 1997, a veritable Bharat ratna indeed. A notable writer, whose books reflected his unparalleled personality.
Now that he is no more amongst us, it is just his body that has taken abode of heaven. His thoughts and work will live forever. His focus on education and learning needs to be followed by us, the generation next in which he believed. A true respect can only be paid if we live his mission of development and putting all our efforts in whatever we can do best. There lies a hero in all of us, Dr. Kalam is an example, which inspires us to awaken that hero and work. He believed in innovation and definitely young minds are full of ideas, just focus in the right direction to shape them and then you'll be truly paying homage to the great man.
Quoting a tweet "So the moral of the story is superheroes die too, all you got to do is make sure that their superpowers don't"