It was mother, mother and mother all the way for the young cadets passing out from the Indian Naval Academy (INA) situated in Ezhimala, Kerala. During a 'cleared' interaction with Mathrubhumi, ahead of the Passing Out Parade (POP) of the Spring Term 2015 on May 30, most cadets felt that it was their mothers who constantly propelled their dreams of serving the nation.
Interestingly, the parents of most of the cadets were teachers too, a rare coincidence. And, majority came from civil background with none from their family serving in any wings of the armed forces.
K P Singh, 23, lost his father when he was barely 21 days old. His mother, an Arts teacher, ensured that her son didn't miss anything in life.
'If my mother was responsible for all that I have achieved today, then INA taught me how to push my limits. My dream is to do research and indigenize all software and hardware on board all naval assets,' says K P Singh, hailing from Amritsar.
He is passing out after completing a 4-year B.Tech course in Electronics from INA. Singh is currently the Academy Cadet Captain. He has been adjudged as the Best Cadet in Academics (CNS Trophy), Best in Projects and will also receive the President's Gold Medal. Singh's entire family has arrived at INA to witness the striping ceremony on Saturday.
Vaishnav S, 22, hailing from Kozhikode, is passing out completing his B. Tech course in Mechanical Engineering. He joined the Navy after his mother expressed her desire to make her son a proud officer.
'She is the sole motivating factor for me to join the Navy at a time most of the youngsters of my generation in Kerala were keen to become a doctor or an engineer, and be happy with a job. My mother wanted me to take up a challenging job and today I am here,' says Vaishnav.
He recalled his initial days at INA when he found it extremely tough to use cutleries in the mess. 'I was not used to eating with forks and spoons and had a horrible time learning the art of eating with the cutleries. Yes, I did starve for a few days,' he adds.
Narrating another inspirational story of a mother was Ashish Kumar, 22, from Uttar Pradesh.
Having set his goal to become a Marine Commando, Ashish says his mother has stood by him rock solid while he chased his dream.
'I was good in Maths and picked up the NDA entrance test form for Rs 30 along with my friends. Everything looks like a dream for me now _ from SSB exams to NDA to INA. The journey has been inspiring,' Ashish said.
He was all praise for the high rate of literacy in Kerala and the traditional festivities of the region as well. 'Even the cultural traits of a region can influence your personality and I have experienced it in INA,' he adds.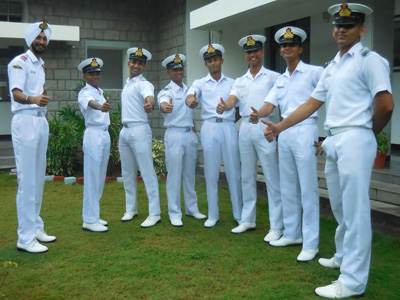 Rahul Kadian, 21, from Haryana had an interesting story to share to explain how INA moulded his career making him emotionally strong too.
'When I joined the INA and I missed the extreme winters of the North India. You know, we were used to that kind of a climate. The heavy rains in Kerala did shake me up a little. That too, non-stop rains! I started missing my home, the food, my parents, the winter and many more. All that has changed now and I think I am perfectly in love with the rains of Kerala,' says Rahul.
Geroge Paul Clement from Chennai, Cinmaya Vaidya from Bhopal and Pawas Rajput (Academy Cadet Adjutant) from New Delhi too shared their stories with Mathrubhumi.
Finally it was the turn of Simranjeet Singh, 24, hailing from Haryana. His mother played a different role in supporting his sole aim of joining the Coast Guard. With strong backing from his grandfather, Simranjeet cleared the NDA but his mother was not willing to send him.
'She didn't want me to stay away from home for such a long duration, but kept on assuring me that at an appropriate time I will have her full support. I completed my B.Tech nursing my dream of joining the armed forces one day. My mother understood my desire and she allowed me to join the INA (six months course), which changed my life all together,' says Simranjeet.
He says at the INA, life changed completely impacting his career positively. 'My fitness and confidence are the biggest winners. I was 84 kg when I joined INA and lost 14 kgs the right way in six months,' he adds.
Source: mathrubhumi.com