Many candidates who are applying for Indian Air Force flying branch, ground duty branch, and technical branch are looking for vision standards for Indian Air Force and how much eyesight they should have. Also, few candidates want to know if they are allowed to undergo LASIK surgery before SSB or after SSB. All the details related to eyesight required and conditions for LASIK surgery are mentioned below.
Indian Air Force Eye Sight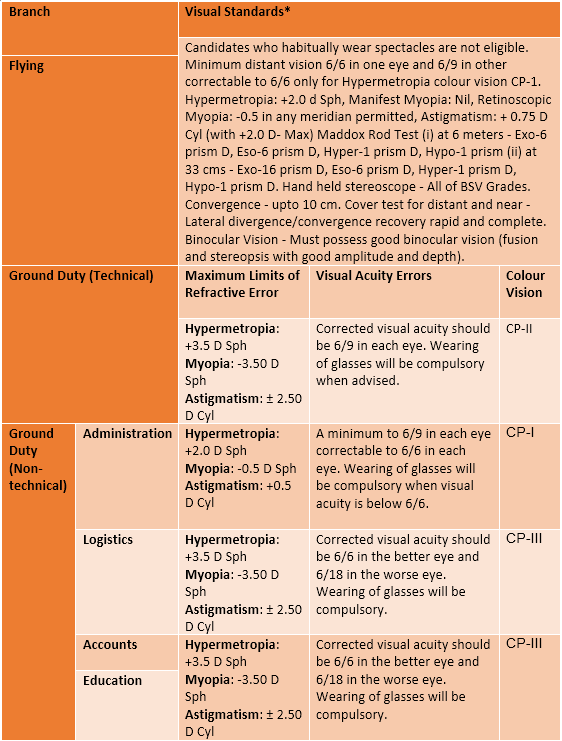 Criteria for post-LASIK surgery for all branches (Flying/Ground Duty (tech)/ Ground Duty (Non-tech) are as follows:-
Candidates who have undergone PRK (Photo Refractive Keratotomy)/LASIK (Laser in Situ Keratomileusis) may be considered fit for commissioning in Air Force all branches.
Post PRK/LASIK candidates must meet the visual requirements required for the branch.
The following criteria must be satisfied prior to select post-PRK/LASIK at the time of Air Force Medical Examination.

PRK/LASIK surgery should not have been carried out before the age of 20 years.
The axial length of the eye should not be more than 25.5 mm as measured by IOL master.
At least 12 months should have elapsed post uncomplicated stable PRK/LASIK with no history or evidence of any complication.
The post-LASIK corneal thickness as measured by a corneal pachymeter should not less than 450 microns.
Individuals with high refractive errors (>6D) prior to LASIK are to be excluded.
Radial Keratotomy (RK) surgery for correction of refractive errors is not permitted for any Air Force duties. Candidates having undergone cataract surgery with or without IOL implants will also be declared unfit.
To crack SSB and AFSB Interview get "Let's Crack SSB Interview" Book from Flipkart. Trusted by thousands of defence aspirants
Also, Download Helpful eBooks: