Source: Republic It was on Sunday that the Jammu-Kashmir police booked Major Aditya and the Army's 10 Garhwal for murder and attempt to murder for the Shopian firing. The move came after a group of stone pelters attacked an army convoy in Shopian, after which the Army had to resort to retaliatory firing. Two civilians were killed in the firing.
Now, Republic TV has accessed an information that says the army convoy was under attack by the stone-pelters and the army fired at the pelters for self defence.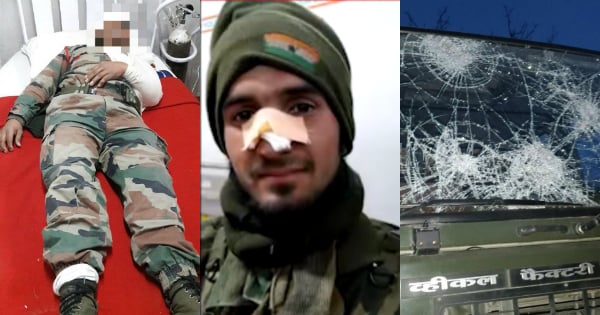 Real Story Behind Shopain Firing
10 Garhwal Rifles was being replaced by another unit.
They were supposed to move to Balapora and there were two routes. In one route, there was stone pelting in morning and hence the 20 vehicle convoy, including three QRT, decided to take Ganapura road. At one point in the route, the vehicles were to take a right turn.
However, three vehicles missed the turn and went ahead by about 100 metres. They then reversed and hence speed decreased.
This is when stone pelting started. A JCO got off the vehicle to assess the situation. He got hit in head and collapsed.
The crowd became more belligerent. The army personnel fired shot in the air. The crowd still did not go back and continued pelting stones. When the pelters came too close is when the Army opened fire.
Sources said that the army had indeed fired in air 3-4 times, however, it opened fire when the crowd was 10 metres away from the unconscious JCO.
Furthermore, Sources told Republic that Major Aditya was not even present at the spot at the time of the incident. Meanwhile, internet services have been blocked in Pulwama, Anantnag, Kulgam and Shopian and curfew has been imposed in parts of the valley. The public transport in the valley and train services between Baramulla and Banihan have been suspended.
How To Prepare for SSB Interview: