Like any other defense aspirant who follows this page would always want his/her success story to be reflected here. And I'm no exception! I've been following SSBCrack for a year and I believe it has been one of the best ways to keep you updated about defense!
Hi all, I am Swapnil Kumar, I hail from Mumbai and I'm pursuing my B.tech from K.J. SOMAIYA College of Engineering, Mumbai. I got recommended on 16th March 2018 from 22 SSB Bhopal for UES-27 course (Army), this was my first SSB Interview attempt and from NSB Coimbatore on 6th April 2018 for UES-GS(X) (Navy), this was thSSBecond SSb interview attempt. I'm going to share my experience in brief from Day 0 till the Day 5 of the SSB Bhopal. I won't go into the details of the process since everyone is well aware of it.
My experience at 22 SSB Bhopal:
DAY 0-
60 people reported, 2 were sent back because of some document error! I got chest number 7.
DAY1- SCREENING TESTS
So two OIR tests were given (50 questions in each set) and time allotted was 17 and 20 mins respectively, they were easy enough and I could solve all of it within the time given.
In PPDT, The picture shown had a person reading the newspaper and an old guy looking at him. So I made a story about a child and his grandfather. You don't have to necessarily have a problem in your story, just make it real and convincing. Also, they say 4 mins is given for the writing story but usually only 2-2.5 mins are given (You'll realize this when you write stories in TAT at the time of psychological tests where you're given full 4 mins)
In GD since it was a fresher group, there was no shouting or the usual fish market scenario. Narrated confidently in one go and spoke 2-3 times in the discussion as well.
Results- 21 Screened IN, got new chest no. 2! We were divided into 3 groups and sent to 22 SSB candidate lines.
DAY 2- PSYCH TEST and INTERVIEW
TAT– I wrote simple but detailed stories for all the 11 pictures shown, nothing too heroic or anything! I had not prepared anything for the blank slide so wrote whatever came in my mind at that time.
WAT– Here I could complete all the 60 as I was literally writing whatever came to me the moment I saw the word! Like for 'Romantic', I wrote my girlfriend's name, for 'Busy' I wrote 'I'm too busy writing now' and so on!
SRT– While most of my friends there attempted all 60, I could write responses for only 32 of the SRTs because I was writing in detail which could have backfired but luckily did not. So we can assume that quality matters and not the quantity here.
SD- I had not prepared it already so I had to waste some time thinking about it and ended up writing only 3-4 lines in all the 5 paragraphs that we are supposed to write.
I had my interview right after the psych test, the day. President of the board took my interview. It went on for a good 1.5 hour, he asked me everything about whatever I had written in PIQ and 3 rapid fire rounds, and then he gave me some questions like how will you estimate the length of this room? Pick up the pen for what all reason it can be used? and so on, I gave him 3-4 solutions for every such question! He also asked me what arm did I want to join in the army and why? A lot of questions on personal life like relation and time spent with friends, family, etc.
Day 3 and 4- GTO
I did fairly average in all the GTO tasks, except for one or two tasks. The trick is to be confident and calm all the time. If you're not able to perform in any one task just forget about it and make sure you cover for it in the next task. Performances in the entire 9 task in considered by the GTO so don't be worried about that one odd task where you couldn't perform well.
For SSB Interview get "Let's Crack SSB interview" by SSBCRACK
Day 5- CONFERENCE
I was made to wait for 15-20 mins before my chest number was displayed on the screen and I went in. So I knew I probably had some chance of making it! I wished the Dy. President and took my seat. The very first question I was asked in the conference was what were you doing while waiting outside? I said I was singing a song 'inteha hogayi, intezaar ki'! All the 12 officers present in the conference room started laughing. 😀
He then gave me some situations like what will you do if somebody is passing comments on your girlfriend? Will you break a traffic signal if your friend is insisting? Etc. I answered all of it to the best of what I could. So it went on for the next 10 mins.
Finally, after everyone was done with the conference we were called in the testing hall and the T.O. came with result file! He started with saying that gentleman the results are very disappointing for us and we expected that more of you would make it this time, but there's only one person who's been recommended. I lost all hopes then only because I knew that my performance was average overall, there were people who had done better than me! BUT, The moment he said, 'The recommended candidate is chest no.2" I was dumbstruck! He asked me the name and roll number and I was asked to go and wait outside with the on-duty JCO. I couldn't believe it for some time. He came back and congratulated me and took me to the Dy. President who then gave me the recommendation letter!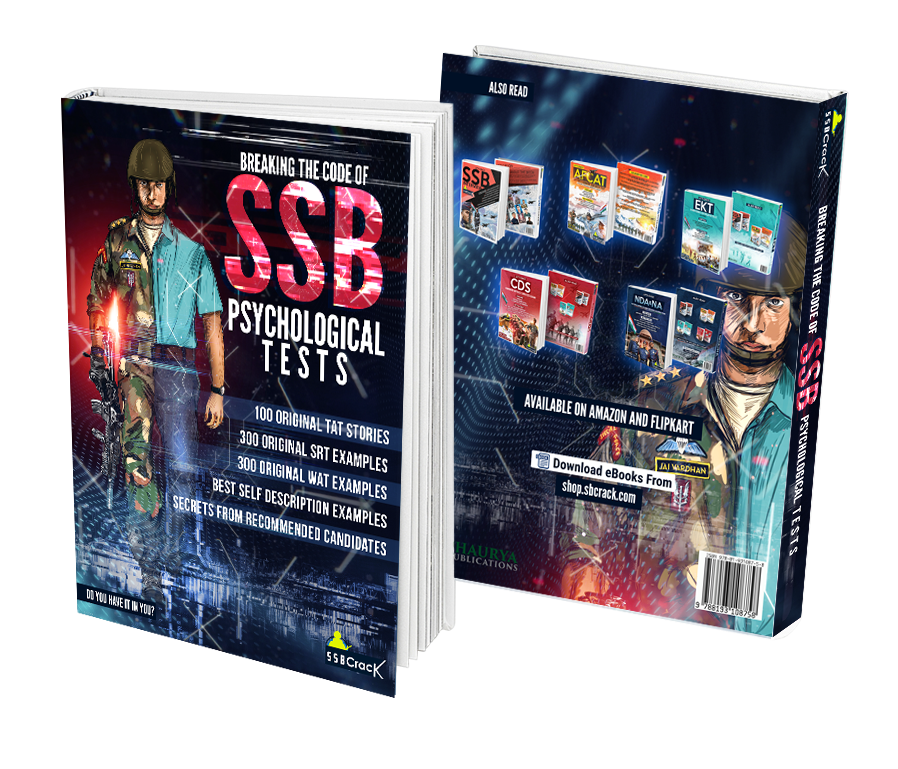 Getting Recommended in the very first attempt is a different feeling altogether! I did not take any coaching or video tutorials or anything. It's true; SSB is something that you need not prepare for if you've got what it needs to be an officer you sail through!
After that, I had medicals from 17th-20th March at the military hospital, Bairagarh. Was given TR for Cubitus valgus. Appealed at IHNS Asvini and cleared it, MEDICALLY FIT now and eagerly waiting for the merit list! 😀
After coming back from Bhopal I went directly to Goa for a week with my college group and went to NSB Coimbatore for UES-Navy from there on! As Luck would have it, I got recommended from NSB Coimbatore on 6th April For PC-GS(x), batch no. S-44723, here also only one person out of 208 candidates that had reported on screening day was recommended! Went for medicals at INHS Sanjivani, Kochi! Waiting for the JL now! 😀
All the best to all of you who are gearing up for your next SSB! Just give your best and try not to worry about anything else! 😀
PS- We've a Whatsapp group of candidates who've been recommended for various Navy entries whose training will start in July'18. We are trying to connect as many as we can, so just leave me a mail on 0608swapnil@gmail.com in case you were recommended for Navy entries. I'll add you to the group.
SSB Interview Preparation Material [ 100% Recommended]