Junior Commissioned Officer (JCO) is a term describing a group of military ranks found in the Indian Army, Pakistan Army, Bangladesh Army and Nepal Army. Those soldiers holding JCO rank receive a commission from the President, but this commission is of a lower status than that held by full commissioned officers.
How To Prepare for SSB Interview:
Source: TOI Last year the Army clarifies that the junior commissioned officers (JCOs) are gazetted officers and canceled its earlier note that described them as "non-gazetted" officers. And now defence ministry has clarified that the Junior Commissioned Officers (JCO) in the Indian military are gazetted officers, the Defence Ministry has clarified in an order issued on August 1. The clarification follows a long-standing controversy over the issue.
The Ministry has instructed the three services to issue suitable identity cards to the JCOs immediately in the order, the subject of which reads: "Issue of blue Securitised Laminated Identity Cards (SLIC) to JCOs and the equivalent officer having been accorded gazetted officer status by an Act of Parliament."
"There exists no ambiguity at all in the status of JCOs/equivalent being Gazetted officers. As the letter referred at Para 1(d) stands withdrawn vide letter at Para 1 (e) above, thereby resolving the ambiguity, blue coloured SLICs may be issued immediately to JCO/equivalent in the three services," the Headquarters of Integrated Defence Staff said in an order dated August 1, 2018.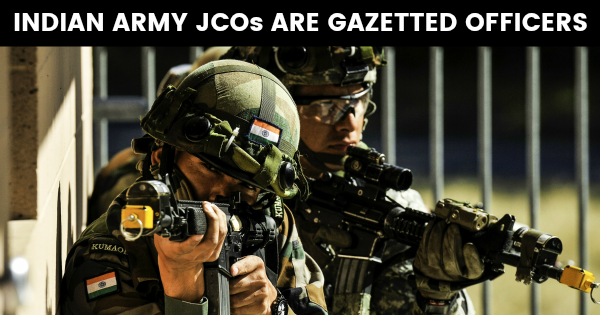 Reversal of order
This is a reversal of an order issued in mid-June in which Defence Ministry observed that there was no case for accepting JCOs as Gazetted officers. In the case for grant of Non-Productivity Linked Bonus (NPLB) to JCOs and equivalent, the Defence Ministry observed in an order dated June 14, "The matter has been examined in consultation with CAO division. It has also been seen that the CAO division has, with the approval of Defence Secretary, not agreed to the contention that JCOs are Gazetted officers and should be issued blue SLICs." Due to this, the order stated that there does not appear to be enough justification to reconsider grant of NPLB to JCO and equivalent.