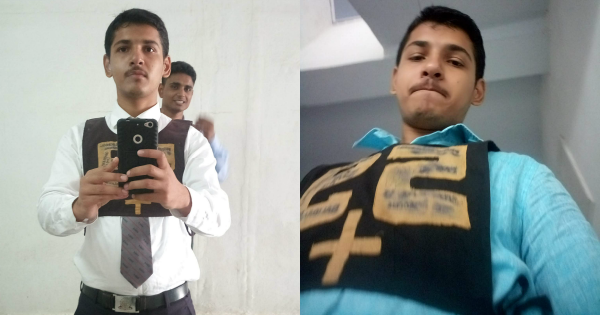 My name is Avinash Kumar and I am from Patna district of Bihar and I am a student of Sainik School Gopalganj. My Journey for SSB started when I appeared in SSB for NDA 140 in August. My SSB was at 2 AFSB Mysore.  I came to Mysore one day early. Mysore is a different city where you will find very conducive weather, clean and beautiful surroundings and a lot of places to visit. I visited Vrindavan Gardens that day. Next day I was in a very good mood and motivated for my SSB. In the morning I with one of my friend came to the railway station where Airforce bus picked us and took to AFSB. All the test were over by 2 pm and results were announced finally 114 out of 300+ were screened in. I and my friend both were screened in and we were very happy and supposed to clear SSB in our first attempt. Everything went well according to me I did well in GTO and Psych test but somewhere an interview I was seriously wrong. Always remember the interview that you are a simple student and an original human being who can do the things in the best way possible given any circumstances. Despite performing best in psych and a good performance in GTO I was not recommended because I did some serious shit in the interview. So always remember despite giving your best somewhere always keep in mind that you perform above average in all three assessment.
My journey back to home was of 2 days in train and I booked a ticket in AC 2. In AC 2 it is a confined area so you can't have conversations with others as like in general or sleeper compartment. I spent two days weeping and repenting that why I did some serious mistake in the interview. One tip here is that always travel in sleeper after you are out of SSB. At least constant conversation will keep you busy.
Next came my SSB at Bhopal
Thanks to CBSE board exam efforts I had secured 87.66% in PCM so I got a chance for another SSB.
ON 10TH OF AUGUST I WAS CONFERENCE OUT AND 31ST AUGUST SSB AT BHOPAL WAS THERE SO I HAD VERY LITTLE TIME TO PREPARE. I was good at GK and all so I just did one thing for every day. I sat 1 hour daily and recollected my every response and action and derived some conclusion and made changes in it wherever I felt necessary. Always remember that having zeal and getting in Josh can never get you clear SSB the most important thing is introspection about yourself. Most of the candidates at SSB don't know about themselves which is a big problem. Try to think about yourself every day before SSB and you know for sure that what you are is the only thing SSB is going to look for not your extensive knowledge and big participation.
https://www.instagram.com/p/BtOao_YgOby/
I ARRIVED SCC Bhopal On 31st August. In the morning around 300 candidates were called and as usual, I was nervous about seeing the crowd. Then we had document check done in 2 hrs. After that, we went for OIR test. It was of average difficulty level but still, You should practice. Two sets are usually given containing 40 question each. AFTER that In PPDT test picture was quite hazy and it looked like some lake and trees were there. I made a story around picnic organized by one school captain. I did well in narration part but in GD it was a complete mess at one chance I got to speak and my point was appreciated by Group so overall that went well. Now 42 were screened in out of around 300. Next day we had our pshych test and pictures were  simple and I made all the stories around my life and all of my hobbies. I did 60 SRT and wat both. I had a idea of how to write SD from my previous ssb so I did it in the best way. Same day I was having my interview. In the interview, I was asked at first at what height You are sitting from the ground and other methods of measuring height length diagonal of a room etc. Everything regarding my PIQ was asked to me.
Certain scientific principles were also asked like Archimedes principle. It went for more than one hour. I was foxed with questions regarding my life and my family. But I had prepared myself mentally and it was all fine . At last, he asked me which regiment You would like to join? I said 1/11GR and said about late captain Manoj pandey and I wanted to be like him one day.
IMPORTANT – Download eBooks for SSB Interview Preparations
Next was GTO task in which I performed my best. I did my GD, lecturette and PGT  very well. IN IO I could do 9 which I was satisfied. In snake race, our group finished last out of three but I tried to help my group in all possible ways and also not broke any rule. Next was the command task. I was called at last and offered the most difficult task in my group. Finally in FGT there was a lot of chaos but finally, we were able to   finish it.  I gave a crucial idea at one point and helped my group.
Now the conference was there and all of us were very anxious and a bit in pressure. In the conference, I was asked about certain situations about being an appointment in my school. I answered both of them. Finally, all of us were seated Manekshaw Hall after a long time an officer with came with a file. He asked that what did you learn in past 5 days. One candidate replied that to go to the toilet we have to get up early. All of us were in laughter. Finally, from last chest no were called 45 44 so on after that suddenly 25 and 20 were called and I was in complete shock as already 6 candidates were called. Then  came chest no 33. I got up called my name and roll loud and could not believe my 7 year long cherised  dream come true. I just felt blissed that day.
All give all credit to my ability of introspection and correction. I feel if you have learnt to challenge yourself you can clear SSB.