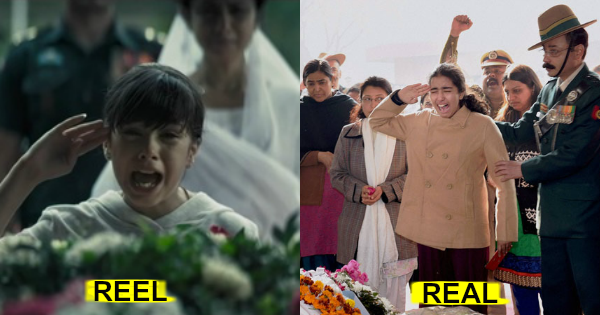 Dear sister Alka, on 27 Jan 2015 we lost a brave officer Colonel M N Rai and today while remembering him your face flashed in front of my eyes, I still remember your video shouting war cry of 9 GR, I was in tears and felt a shiver down my spine, even today, it takes a lot of courage for me to watch that video again. I was astonished by the courage of this 11-year-old girl bidding her father a farewell with the Gurkha Regiment's war cry. We can never imagine for a fraction of second, how it will be to lose our parents. I still wonder from where did you learn this and will I ever have the same courage to match your level. The scene in the movie URI which is based on your story was the most intense part of the movie. We lost your father, but we are proud to have a sister like you who teaches us how to fight with the odds and what courage is all about. I thank you for giving us the courage, giving us the power to fight back in the battle called life.
9 GR WAR CRY
'Tiger 9GR, ho ki hoina?"
The tiger of 9 Gorkha Rifles, was he or not? The greatest of them all, was he or wasn't he?
"Ho, Ho, Ho!"
"yes he was, he was, he was."
About Col MN Rai, YSM, Shaurya Chakra
By Jan 2015, Col Rai had completed nearly one and half years as commanding officer of 42 RR, which was responsible for counter-insurgency operations in Tral sector in Pulwama district of J & K. Tral had been a hotbed of terrorism as it provided suitable terrain for terrorists to operate. On 27 Jan 2015, Col Rai's unit had received credible information about the presence of terrorists in the village under its area of operational control. After analyzing the situation a decision was taken by the security forces to launch a joint operation by the Army, CRPF, and the police.
The suspected terrorists were hiding in a house which was soon surrounded by the security forces. On being challenged the terrorists started firing and a fierce gun battle ensued. At this point, reportedly, the father and brother of one of the terrorists informed the assault team that the ultras would surrender. Col Rai displaying good leadership and following the Army doctrine of WHAM(Winning Hearts and Minds), decided to give the terrorists an opportunity to surrender. The terrorists, however, took advantage of this act of compassion and started firing in order to escape. The forces soon cornered the terrorists after a while and gunned down the two terrorists. But during the heavy exchange of fire Col M N Rai got severely injured and later succumbed to his injuries. Col M N Rai was given the gallantry award, "Shaurya Chakra" for his cold courage, leadership and supreme sacrifice during this operation.
Col M N Rai was martyred in the operation but the exemplary courage and leadership skills displayed by Col Rai would always be remembered. Col M N Rai is survived by his wife Priyanka, daughters Alka & Richa and son Aditya. At the funeral of Col M N Rai, his daughter Alka then 11 years old made his Regiment and the entire nation proud by bidding her father a farewell with the 9 Gurkha Regiment's war cry, "'Tiger 9GR, ho ki hoina?" The tiger of 9 Gorkha Rifles, was he or not? The greatest of them all, was he or wasn't he? "Ho, Ho, Ho!" "yes he was, he was, he was."