Hello friends, I am Param Wankhede from Mumbai. Currently in final year of engineering. Right from my school days, I had this only dream of joining the Indian Navy. I have a defence background as my dad works in Naval Dockyard, Mumbai. Seeing the warships and officers in dockyard always inspired and awe and I used to imagine myself wearing the uniform one day. I've been an average student throughout my academic career with a keen interest in sports. Represented Mumbai at the district level in badminton. I have a liking for sports and trekking, and ever ready to break a sweat.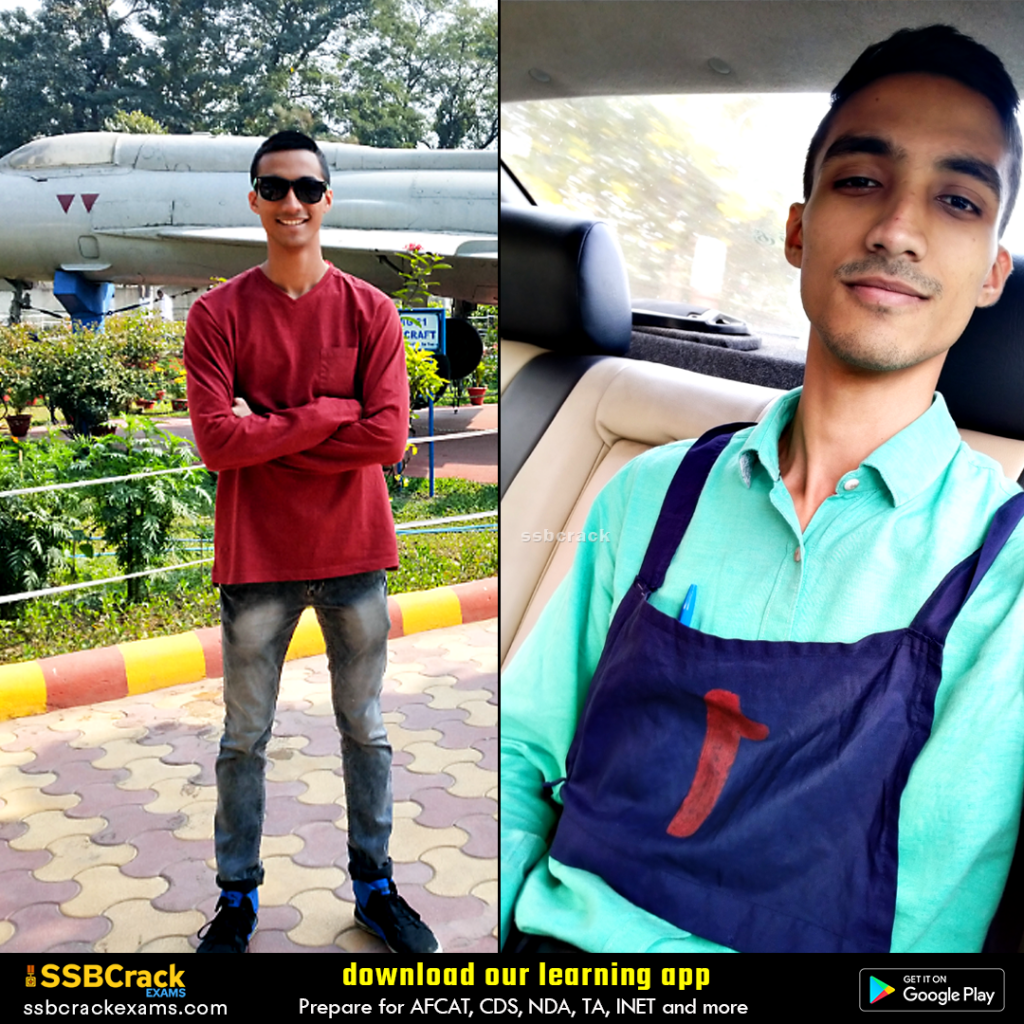 For INET exam I had practised a lot and had solved 5-6 AFCAT question papers. Cleared the INET exam and got a call-up letter from Naval Selection Board Visakhapatnam, which also happened to be my first ever SSB interview. For SSB, I had a planned approach. Consulted one of my senior from college who had cleared SSB. I read MAP (My Appointment with a Psychologist), which helped me understand what exactly is required at SSB and what they are looking for. I recommend everyone to read MAP before attending SSB. I used to practice TAT, WAT, SRTs daily. I even practised OIR tests, which generally candidates ignore. SSB is a test of personality and for that one should know himself in and out. You should know your strengths and weakness, your achievements in life till now, your hobbies and interests. You should know about your friends, best friends, parents, teachers, your academic career and everything about your life from A to Z. I evaluated my strengths and weakness and even asked my friends and parents to tell me the same.
I had to report at MCO Vizag on 11th Dec at 0600hrs. There were a total of 90 candidates who reported at MCO. We sat in a bus and were taken to NSB. I remember one guy asking me "First attempt hai kya?". To which I replied, "Ha pheli baar SSB de rha hu". Then he said "Ha voh toh lag hi rha hai.. Chotasa cute sa ladka dikh rha hai tu.."
DAY 1: After completing basic documentation we started with the OIR test and PPDT. OIR test went great and so did PPDT. After I wrote my story I was revising it continuously. When we went in the discussion room, I confidently narrated my story within 1 minute and participated well in GD. I was pretty confident that I will clear stage I.
I got screened in along with 23 other candidates. And luckily, I got chest no. 23 which happens to be my birth date. We then had to deposit our mobile phones.
DAY 2: After a sleepless night, I woke up at 0430hrs. Done with breakfast at 0630hrs and ready for psychological tests. During TAT, I thought to myself that am I writing short stories? Because I completed stories well in time and saw others still writing. WAT and SRT were superb. Completed 59/60 SRTs. SD I had prepared already, so that went smooth.
DAY 3: GTO tasks. We were able to perform well as a team. No one dominating and no one being submissive.
Had my interview on the same day. Was nervous before the interview but the demeanour of the Interviewing Officer had a calming effect. I remember he had a smile throughout the interview. The interview went smooth. It lasted for 40-45 minutes. I was stuck at some technical questions which isn't my forte, but rest I answered well.
​There are two fundamental things to remember for the interview, first, to know yourself inside and out, second, honesty. Never bluff before the officer. They will easily catch you if you are bluffing. Honesty and Integrity are the core values of armed forces and there is no compromise on that.
DAY 4: Individual Obstacle – I was confident that I will perform well. Completed 9/10 tasks.
Lecturette – It is important to stand and talk confidently in front of your group. My topic was education, but I might have spoken on it just for 45 seconds, then I drifted away to Make in India and unemployment. But whatever I spoke, I spoke with confidence.
Command Task- My performance was pathetic. I was completely clueless as what has to be done. I was not coming up with any ideas. My subordinates staring at me. GTO asking "What happened commander?" "Analyze the structure properly commander!" I was in total pressure. I remember telling myself "Khatam kar ye jaldi! Just get out of here!" Somehow I completed it. The only plus point was that out of 6, 5 candidates had called me as their subordinates. But I was completely dejected after CT.

DAY 5: Conference day. I went into the room, greeted the president. The conference went smooth, they asked me about my stay and how would I rate my performance and any suggestions to improve the place.
After a few hours, we were finally given our mobile phones and it was time for results. The officer talked about OLQ's and told us not to get demotivated if we aren't selected. He walked towards the podium, looked in his paper. There was dead silence for a few seconds. My heartbeats started escalating. Everyone eagerly looking at the officer. The officer said "Chest No. 23!" and I stood up, he gestured me to move out of the room and that was it. The moment you have worked hard for, the moment you feel you have achieved something huge and when you can finally say "Yes, I have it in me!" But I was emotionally numb for a couple of minutes. It took me time to digest the feeling, after a few minutes I got that sense of achievement.
My medicals were done at INHS Kalyani. I was given TR due to underweight. Came back to Mumbai and gained 8kgs and reported at INHS Asvini. Completed my medicals on 27th Jan 2020. Now waiting for the merit list.
It was a wonderful experience for me. It took me 5 days and 1400kms away from home to find my mental and physical limits. Got to learn a lot of things. The atmosphere in NSB is very strict and disciplined. Everyone would be yelling at you. I got a trailer as to how life in Naval Academy would be. Met a lot of new friends and enjoyed my time in NSB. We used to have fun after dinner, played table tennis and badminton, we chit-chatted about everything right from politics to ghosts. The brotherhood and friendship that develops within those 5 days is very unique and very close to my heart. I also made a few friends from the next batch that came to NSB.
I owe this to my parents, friends and my Jiju. My parents always had my back and never gave up on me even when I failed to clear NDA exam thrice. Friends play an imperative role in personality development and I was lucky to have a good friends circle in school as well as college. My jiju constantly guided me and his help was indispensable.
Finally, I would like to thank SSBCrack for providing me a platform to share my experience and I wish every one of you all the best for your SSB. Enjoy your stay there. Make friends, have fun. Jai Hind!