I, Amarbir Sandhu got recommended from Allahabad 14 SSB for SSC tech entry Last week. Not a Bollywood story but a real Indian one with Covid measures. "Survival was my only hope , success my only revenge " Little background – 6 times CO , 1 time SO
8th attempt – Recommended: The Journey or I should say the Hustle starts on 14 April 2018 for SSC tech 51 at Kapurthala. Freshly baked mind from a coaching centre goes for its first ssb with over confidence and lack of general awareness. And the result was evident and I was quick to realize that I have to invest at least 6-7 months to reverse the effects of coaching. For the rest of 2018 I gave 2 more one at dehradun and other one at bhopal. I used to write my responses when I came back home to evaluate where im going and how much I have improved.
Taking feedbacks from group members helps alot 2019 A fresh year to be myself. 4 SSBs in a calender year still not enough to get the desired responses. My psychology got improved exponentially but my GTO part was lacking behind during this one sided approach or prepration. Hence I was quick to resolve that too. "Self prepration is the best tool to achieve any goal ". Rather than investing in any coaching invest in yourself . invest some knowledge , Good vocabulary , positive thoughts , intangible traits . Invest in yourself until you are equipped to counter any situation or hurdle.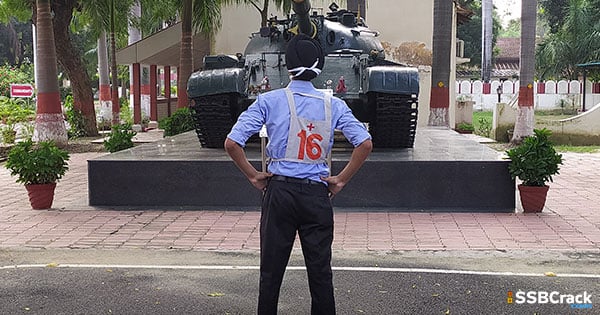 Indian express and you tube channels like Vox , Vice came to my rescue for the knowledge part. Audio books , netflix is a nice alternative. 2020 Pandemic where everything seemed dull and lost. For many it may be a nightmare but for me pandemic has been a silver lining
Through the darkness I saw a notification of my ssb scheduled at allahabad. Every aspirant's dream to visit the mecca of ssb where warriors are at their prime.
Weapons – face mask , face sheild , sanatizer and gloves
Aim – To stay bindass and have the time of my lifetime.
Total reporting – 190
Screen in – 34
Screen in was never an issue for me. Piece of calk if you are calm and understand the crux of it.
Day 2 – Psychology – Having been practiced a lot it was again not a matter of concern.
But what's new was – No Fans , Sweat dripping on the dossier
TAT- all
WAT-all
SRT -55
SD – practice from home
Since my first ssb I have practice about 1000 Wat sentences , 500 SRTs , A century TAT. Just for the sake of creativity and not cramming. There's a hell of difference.
Day 3 GTO 1
Group discussion – spoke 2 times each and was really enjoying the discussion , the group was really glued well. ( i am a good listener )
GPE- my fav task . maps and problems and the oppurunity to be the hero. It was fun
(Apply yourself in reality then solve )
GOR – Another fun task , josh , war cry and adrenaline rush , be supportive and enjoy it
(Its like your group comes first every time )
Dont be selfish here .
PGT – structures and physics concepts another place where one should stay calm and think wisely and just be with the group to go past all the obstacles . what matters is your role in that.Don't put on a face here.
(Everyone gets a chance to give ideas. Be supportive )
HGT – Simpler version yet really interesting.
Lecurette – my topic was distance learning
( good posture and confidence pitch )
Day 4 GTO 2
IO – Did 13 . could have done 15 had the mask not been there anyhow. ( Have a ball performing it )
CT – now comes the time to be the sunny deol of Border . clear loud instructions and apply your mind without having the fear of any external entity . Its you vs your calm mind.
(If you wont have fun the GTO will , dont get grilled you are an hardcore aspirant not a barbeque, stay calm)
FGT – Be with the group.Cooperation in operation wins the battle.
Interview – Went straight to president's office , it was for about 45 mins.
Mathematics , technical , Gk , PIQ it was like artillery shells coming from nowhere , I guarded and retalitated well rather than ducking.
A confidence mindset with good eye contact will sail one through any situation.
Day 5 – Conference – Entered as soon as my chest number flashed. Was asked by the president about the questions I was not able to answer in the interview. Gave the answers with full enthusiasm.
And there after when the result was announced I kinda knew my chest number would be called on. That moment came and crossed my heart . it was a bliss. Emotional joyful ride of millions of cells . Cant describe in words.
Of all my experience I wanna share some wishdom.
What is ssb ? And how should we approach it.?
SSB is a very simple process but due to coaching and social media bloom complexity and confusion has overtaken good personalities and the rest is done by nervousness and dominating nature.
Approach should be to be natural and if someone has some flaws work on it first and then come to the testing process.
I believe Staying Calm and Staying Real will be enough to sail through . Rest is destiny and yes it plays a very important role.