Afghanistan and Taliban crisis is the most burning topic at the moment in the whole world. It is very important for the defence aspirants to be aware of Afghanistan and Taliban crisis, the US war in Afghanistan, and its effects on India. Though this topic is not new and has a very vast history, in this article we are going to cover some must-know details related to Afghanistan and the Taliban crisis. The Afghanistan and Taliban crisis will be helpful in upcoming SSB interviews, Group discussions, Lecturrete, and Personal Interviews. We suggest all the aspirants study this particular topic while preparing for their SSB interview. Below we have collected questions asked to other aspirants related to this topic. You may or may not face similar questions but more or less it will give you an idea of what to prepare for this topic.
SSB Interview Preparation Material [ 100% Recommended]
SSB Interview Questions Asked On Afghanistan Taliban Crisis
Q1. What is the Taliban?
Taliban is an Islamic fundamentalist group that ruled Afghanistan from 1996 until the U.S.-led invasion in 2001. Since then, the Taliban has waged a war against the U.S.-backed government in Kabul. As per the experts, the Taliban is stronger now than at any point since 2001. It launched an offensive amid the U.S. troop withdrawal and, by summer 2021, controlled over half of Afghanistan's districts. On August 15, 2021, Taliban fighters overrun the capital, Kabul, and take over the presidential palace hours after President Ghani leaves the country. Taliban leaders say they will hold talks with Afghan officials to form an "open, inclusive Islamic government."
Q2. What is Afghanistan – Taliban Crisis?
On 6 August, the Taliban launched an assault on the provincial capitals of Afghanistan, with most of the towns surrendering without a fight, and they captured all provincial capitals except Bazarak. On 15 August, the incumbent President, Ashraf Ghani fled the country, and the Taliban captured the Afghan capital Kabul; thus, the Islamic Republic of Afghanistan's government fell.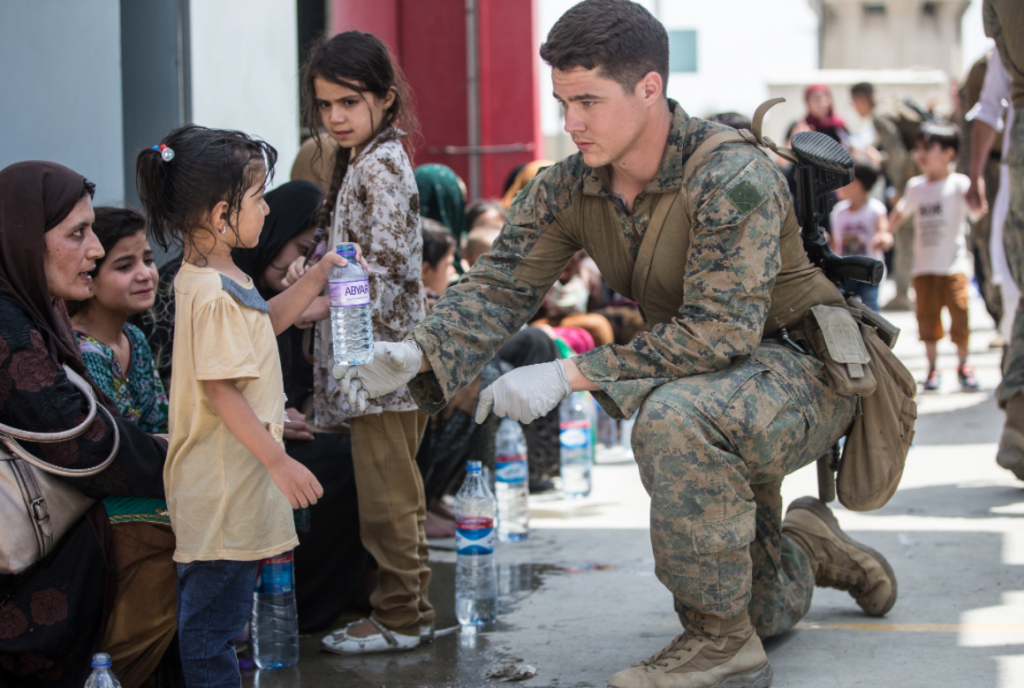 Q3. Why did the U.S. invade Afghanistan?
On 11th September 2001, terrorist attacks in America killed nearly 3,000 people. Osama Bin Laden, the head of Islamist terror group al-Qaeda, was quickly identified as the man responsible. The Taliban, radical Islamists who ran Afghanistan at that time, protected Bin Laden, and refused to hand him over. So, a month after 9/11, the US launched airstrikes against Afghanistan (Operation Enduring Freedom). After the attacks, the NATO coalition troops declared war on Afghanistan. The US dislodged the Taliban regime and established a transitional government in Afghanistan.
Q4. Why did US leave Afghanistan?
Acting U.S. Defense Secretary Christopher C. Miller announces plans to halve the number of troops in Afghanistan to 2,500 by mid-January, days before President-Elect Joe Biden will be inaugurated. Thousands of troops had already been pulled out following an agreement with the Taliban in February, moving closer to fulfilling President Trump's campaign promise to end the so-called forever wars. The announcement comes as negotiations between the Afghan government and the Taliban are deadlocked and the militant group continues to launch deadly attacks. NATO Secretary-General Jens Stoltenberg warns that withdrawing troops too early could allow Afghanistan to become a haven for terrorists and the Islamic State to rebuild its caliphate. President Biden announces that the United States will not meet the deadline set under the U.S.-Taliban agreement to withdraw all troops by May 1 and instead releases a plan for a full withdrawal by September 11, 2021. "It's time to end America's longest war," he says. The remaining 3,500 troops in Afghanistan will be withdrawn regardless of whether progress is made in intra-Afghan peace talks or the Taliban reduces its attacks on Afghan security forces and citizens. NATO troops in Afghanistan will also leave. Biden says Washington will continue to assist Afghan security forces and support the peace process. The Taliban says it will not participate in "any conference" on Afghanistan's future until all foreign troops leave.
Q5. Role of Pakistan in supporting Taliban in Afghanistan?
The Pakistan government has repeatedly denied that it provides any military support to the Taliban in its diplomacy regarding its extensive operations in Afghanistan. Of all the foreign powers involved in efforts to sustain and manipulate the ongoing fighting, Pakistan is distinguished both by the sweep of its objectives and the scale of its efforts, which include soliciting funding for the Taliban, bankrolling Taliban operations, providing diplomatic support as the Taliban's virtual emissaries abroad, arranging training for Taliban fighters, recruiting skilled and unskilled manpower to serve in Taliban armies, planning and directing offensives, providing and facilitating shipments of ammunition and fuel, and on several occasions apparently directly providing combat support.
Observers interviewed by Human Rights Watch in Afghanistan and Pakistan have reported that Pakistani aircraft assisted with troop rotations of Taliban forces during combat operations in late 2000 and that senior members of Pakistan's intelligence agency and army were involved in planning major Taliban military operations. The extent of this support has attracted widespread international criticism.
A retired senior Pakistani military officer claimed in an interview with Human Rights Watch that up to 30 percent of Taliban fighting strength is made up of Pakistanis serving in units organized by political parties. Another 8-15,000 troops, according to another source, are foreigners, principally Arabs from Gulf states and North Africa.
Recruitment of volunteer fighters is organized by several Pakistani political parties that use the madrasas they operate as natural recruiting centers. Boys under eighteen are among the recruits. The parties organize speaking tours of rural and urban mosques by veteran fighters who seek to persuade listeners of a holy duty to fight against the United Front. The best known of the parties involved is the Jamiat-i Ulema-i Islam (JUI), a religious (Deobandi) party that has operated madrasas and provided various social services in Baluchistan and the Northwest Frontier Province.
The ISI and Pakistan army sought leverage against the hostile neighbor on its eastern border, India, by giving Pakistan "strategic depth"-a secure Afghan frontier permitting the concentration of Pakistani forces on the Indian frontier and economic advantages through stronger political and economic links to Central Asia. An Afghanistan that facilitated those connections and provided Pakistan with a base to pursue its objectives in Kashmir would give it greater security against India. Pakistani support for Pashtun parties in Afghanistan helped solidify the position of Pashtuns in Pakistan's military and civilian elites.
Q6. What is India's stand on Taliban?
India made contact with the Taliban in Doha. This signals a late but realistic acknowledgment from the Indian side that the Taliban would play a critical role in Afghanistan in the coming years. India has three critical areas in dealing with the Taliban. Protecting its investments, which run into billions of rupees, in Afghanistan; Preventing a future Taliban regime from being a pawn of Pakistan; Making sure that the Pakistan-backed anti-India terrorist groups do not get support from the Taliban. In the past, India chose not to engage the Taliban (New Delhi had backed the Northern Alliance) and the costs were dear when the Taliban was in power. In November 2001, the Northern Alliance took control of the Afghanistan capital Kabul. The Northern Alliance fought a defensive war against the Taliban government and was being helped by the US and other countries that agreed with it, including the UK.
Q7. What is Northern Alliance in Afghanistan?
The Northern Alliance, officially known as the United Islamic National Front for the Salvation of Afghanistan was a military alliance of rebel groups that operated between late 1996 to 2001 after the Islamic Emirate of Afghanistan (Taliban) took over Kabul. The United Front was originally assembled by key leaders of the Islamic State of Afghanistan, particularly president Burhanuddin Rabbani and former Defense Minister Ahmad Shah Massoud. Initially it included mostly Tajiks but by 2000, leaders of other ethnic groups had joined the Northern Alliance. This included Karim Khalili, Abdul Rashid Dostum, Abdullah Abdullah, Mohammad Mohaqiq, Abdul Qadir, Asif Mohseni, Amrullah Saleh and others.
Following a complete takeover of Afghanistan by the Taliban in 2021, a Panjshir resistance force, led by Ahmad Massoud, son of late Afghan politician Ahmad Shah Massoud, and Vice President Amrullah Saleh started gathering strength in Panjshir Valley. The flag of the 'Northern Alliance' or the United Islamic Front for the Salvation of Afghanistan was hoisted for the first time since 2001 in Panjshir valley signalling their return.
Earlier the Northern Alliance fought a defensive war against the Taliban government. They received support from India, Iran, Russia, Turkey, Tajikistan, Uzbekistan and Turkmenistan, while the Taliban were extensively backed by the Pakistan Army and Inter-Services Intelligence.
The northern alliance is active once again and claims that they will win over Taliban. We have to wait and watch if it is capable enough to fight the Taliban forces this time as there is not clarity on support from other countries like last time.
sources: human right watch and crf.