Hey guys, finally made it through the SSB in 4th attempt. My first 2 conferences were in 2018 for the NDA Exam attempt at Mysore (everyone wanted to become a fighter pilot). Got conferenced out both the times because I had quite an empty profile, no good hobbies or extracurricular activities, bad communication skills, and was not in good shape too. Again went for TES in January 2019 and got screened out from SSB Bhopal.
Then I decided not to increase my attempt. Got my LAKSHYA of joining the forces after getting the conference out, and started working on all those points. Tbh it was a very interesting journey of hard work with persistence for 3 years straight, from running 10K to participating in the international competition for building RC aircraft. Got my goal clear of joining the Indian army after seeing a Para SF officer, they look amazing.
And yes the most important thing, saw a beautiful girl with a wonderful personality and made my mind that if I clear my SSB then I'll be able to approach her, men will be men. This was the motivation that just boosted my preparation to a different level.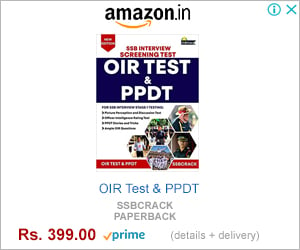 1st step was to clear the CDS Examination, being an engineering student my maths, science and English were strong. The difficult part was to cross 20 marks in the General Knowledge paper, prioritised things for me, and started preparing 40 days before the exam. For Maths I would just read notes from book, write down the formulas and then write mock tests online and practice pyqs, I solved around 2000 questions in total and gave 5-6 full-length tests. For English, I just practiced my grammar and solved pyqs. Most difficult part was GK, covered all science topics and current affairs series and revised, solved pyqs to get an idea of questions they ask. The paper went quite well, just crossed 20 in GK and maths was lengthy this time but still managed to get 50 correct of 56. I might have just crossed the cutoff but my name was there for IMA SSB. Got my centre at Allahabad, 19 SSB. I selected the date for my conference on my 21st birthday, 1st April.
Now I started my SSB Interview Preparation, I was fit, I was good with my communication skills and had a good profile this time. So I knew that I just have to express myself honestly and confidently. Joined online groups for PPDT and GD preparation, really helped me in boosting my confidence. Then started reading newspaper to get an idea of what's happening around world and how is that affecting us. YouTube channels were a big help in building my geopolitics knowledge. Also used to practice lecturette daily and was getting better in organising my thoughts. Never left running in between, kept my self active and fit but make sure you don't overdo and injure yourself. For the introspection part, write down all my activities and achievement from class 8 till now in a notebook, to know my strength and weakness. Wrote the PIQ and then covered all the related topics that can be asked from that. Psychology was difficult for me as my handwriting and speed both were bad, so had to practice by writing stories daily. For writing stories the simple concept is that if you don't see a problem, don't create one. Just write normal and simple stories that make sense and express yourself in them. Prepare 12th story, if you get a better idea there then write that or else keep one for backup. WAT and SRT will be easy after you practice writing stories, then for SD just remember that you are the best, your parents, friends and teachers are the best because they are the reason for your current self and they only think positive if you, rest you know so prepare that. Be honest and don't bluff anywhere, if you have committed any mistake in life then accept it and take responsibility. Make sure you pack your bag well and keep all your documents ready, read the call up letter properly.
Went to Allahabad a day before my SSB, practiced my OIR that day and made friends, had a good night sleep and went there fresh. OIR was quite easy as I had practiced similar questions, picture was quite clear and made a simple story. Mapped all points in my mind and then delivered confidently.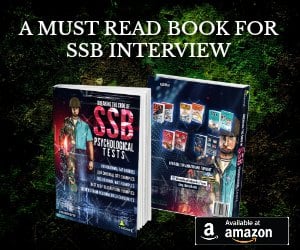 GTO started with GD, didn't go well but whenever I spoke I gave valid and crisp points. For GPE I prioritised problem and solved them as I did in SRTs with time, distance and resources used. Was very confident of my solution and made up for my poor participation in GD here in GPE solution, my solution was agreed by group. Next we had PGT, instead of shouting your idea just go ahead and implement it, if you don't have idea then step back and let others implement. But make sure that you are implementing and moving ahead as a group. Next was GRO, kept on shouting my war cry Jai Mata Di leading from front, helped others in climbing the wall but other than that I was in the front motivating others and leading. Next we had HGT, again did the same thing of standing in front and implementing the ideas, also giving others chance by stepping back if I go blank. My group was very cooperative. Next we had Lecturette and I chose the topic of Paytm and Google Pay, divided the topic in 6 parts and delivered a decent speech for exactly 3 minutes without stuttering anywhere. Was quite happy with my performance and prepared myself mentally for 2nd day. We had IO first, simple trick for that is to have a proper map to cross the obstacles so that you don't run left and right, started from the outermost obstacle and went in making a spiral. Did only 12 as I had to repeat screen jump twice and balance beam 4 times, but I came back to them only after completing others. Don't waste time, complete others and then come back and don't give up. I even said 12-13 in interview so I was satisfied. Next was my command task and I was called last, was questioned why I was called only once and I gave the honest yet stupid reason.
I also told all my mistakes in SSB Psychology and interview, my dad's unit name too. My command task was descent and he also asked me to tell 5 bad qualities of father while doing it, but he was also giving hints in between and I completed it. FGT was conducted at end and same thing, just step ahead and implement it. GTO was over, I was in a delima that since I was called only once I might not make it this time. Anyways had a good night sleep. 1st April 2022, my 21st birthday and it started with getting kicks on my butt by everyone xD. Dressed up nicely and went in their confidently, conference hardly lasted for 3-4 minutes and I was called in, they asked me about my efforts and chances of getting recommended. I said I gave my 100% and 90% of getting recommended, for 10% I told all the mistakes I did. Then they asked me to compare my attempt to my 2018 attempt and for that I said I gave rough comparison. Ended my conference by asking questions on stay and all. One officer came and announced 13 and 23 cleared it, I was more than happy. Not much happened that time but that day I was awake by 3am in the morning walking in the hall wearing my +3 chest number. Everything I did was coming in my mind again and again and I was just feeling proud of myself. Getting recommended on my 21st birthday, the best birthday gift I could've ever asked for.
To end it I'll just say that never give up, if you face any problem then change your plan and prepare well. Self introspection if very important and the method I explained above is quite effective. If you won't know your weakness then you can never make that your strength. Keep grinding everyone.
Read more: