The recruitment of women officers in armed forces has declined last year. In 2014, 104 women were recruited in the Army, but the number has fallen to 72 in 2015, and 69 in 2016. The Air Force, with 155 and 223 recruitment in 2014 and 2015 respectively, saw only 108 women officers joining in 2016.
The Navy with 43 women recruitments has done marginally better in 2016 as compared to 2015 when 35 women joined the force. In 2014, however, the number was 57.
The Navy and Army has not been very encouraging in the last few years, but the Indian Air Force has something to cheer about.
The Air Force with 13 per cent woman officers was far ahead of the Army (3.64 per cent) and Navy (4.49 per cent).
Current Affairs questions will be from last 5-7 months (for AFCAT, NDA, CDS, TA)
"Steps like increasing tenure of women officers and improving promotional prospects in Army have been taken to increase participation of women in the Army," Minister of state for Defence Dr Subhash Bhamre said in a written reply in Lok Sabha furnishing the information.
Even though the army has opened various positions for women, there is no proposal to start an all-women battalion.
In 2011, the government approved consideration of women Short Service Commission Officers (SSCOs) for grant of permanent commission along with men in specific branches like Judge Advocate General (JAG), and Army Education Corps (AEC) of the Army and their corresponding branches in Navy and Air Force, Naval Constructor in Navy and Accounts Branch in Air Force.
In March 2016, approval has been accorded for induction of women Short Service Commission (SSC) officers as Pilots in Maritime Reconnaissance (MR) stream and in the Naval Armament Inspectorate (NAI) cadre. The inductions are planned commencing from mid 2017.
In the Indian Air Force since 1993, women officers have been inducted in all branches and stream as Short Service Commissioned Officers except in the fighter stream. However, IAF has revised Short Service Commission scheme to induct women into the fighter stream on experimental basis for five years. The first batch of three women officers was commissioned in the fighter stream on June 18, 2016.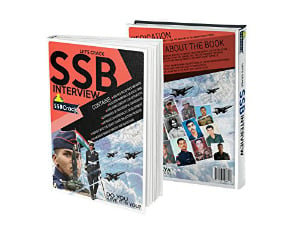 To crack SSB and AFSB Interview get "Let's Crack SSB Interview" Book from Flipkart. Trusted by thousands of defence aspirants
Also Download Helpful eBooks: