Indian Air Force has published the result of AFCAT 2 2017 on 13 Oct 2017, around 14,500+ candidates were able to clear the AFCAT 2 2017 written exam and required to select the AFSB interview date and venue. As most of the candidates who are not aware of the procedure to select the AFSB interview date can check the details below. We have received tons of emails from candidates panicking, they are not able to select the AFSB date and venue.
Note: IAF has enabled the venue and date selection option now.
How to select the AFSB date and venue?
Login to careerairforce.nic.in
It will look something like this:
Click on the option, you will get to choose your AFSB venue out of all AFSBs. (You must check for railway/flight booking before selecting your AFSB interview date and venue)
Candidates who have applied only for Flying Branch are to select 1 AFSB (Dehradun), 2 AFSB (Mysore) or 4 AFSB (Varanasi) as their AFSB centre.
Once you select the venue, you will see different batches for that particular AFSB including the maximum number of candidates it can take.
Select your AFSB interview date because every centre has some limited number of seats on a particular date which will be assigned on first come first serve basis.
Shortlisted candidates who fail to select their AFSB schedules by 19 Oct 17 would not get AFSB of their preference due to limited seats. Hence all candidates are to compulsorily choose AFSB venue by due date.
Make sure you think before choosing a venue and date, you can not change the venue and date once selected.
What to do after AFSB venue and Date selection?
You are almost done. Now prepare for the AFSB interview.
Get ready with all the required documents.
Candidates are required to print the Call-up Letter and associated forms from the website on or after 17 Oct 17 and report to their selected venue along with AFCAT Admit Card, Call Up letter, documents as listed in the Call Up letter & associated forms duly filled.
Once you are done preparing all the documents, it's time to make the travel arrangments (You must check for railway/flight booking before selecting your AFSB interview date and venue).
Once the traveling part is done, the only and the most important thing to do is to prepare for the SSB /AFSB interview (SSB AFSB both are same).
To prepare for SSB interview you can get the book "Let's crack SSB Interview".
Make sure you prepare for the current affairs, this is something most of the candidates ignore. You can download monthly current affairs ebooks here.
Click to get AFCAT 2 2017 study material
Documents Required For AFSB Interview
You are required to carry AFSB/AFCAT Admit Card and a valid photo identity proof such as passport, driving license, voter ID, college ID, other valid photo identity proofs while reporting for AFSB interview at Air Force Selection Board. Make sure you carry the admit card which was attested at the AFCAT centre during the exam.
You are required to carry all your certificates, achievements etc since your birth, whatever you write in your PIQ at AFSB, you must have a proof to back that.
Carry all your educational documents in original.
Carry your original sports, extracurricular certificates.
Carry photocopies of all your educational documents, 2 sets.
Carry 20-25 passport colour photographs.
Carry a pen, pencil, eraser, glue, whitner, stapler etc.
What item to carry for AFSB interview?
It is always good to carry a lightweight while traveling, but make sure you pack all the essential items apart from documents, a quick list is given below
Carry two sets of formal dress and one pair of formal shoes.
Carry a set of GTO dress i.e. white shorts, white t-shirt, white shoes.
Carry causal wear according to your needs.
Carry a painkiller spray like Move and Fast Relief.
Carry a medicine for headaches, upset stomach. ( at AFSB you will get the medicine)
Carry a photocopy of your traveling ticket for TA purpose.
Put some extra cash in your bag for an emergency.
Carry a cell phone, write down important numbers separately in a paper.
If you are going a day in advance, you have to make your own arrangements. So make sure you book the hotel in advance.
Keep toothbrush, soap, oil etc as per your requirements
Keep two bedsheets.
Keep your documents safe and close while traveling.
Make sure you report in time.
Facts:
Around 2 lakh candidates applied for AFCAT 2 2017 and only 14500+ cleared the exams.
If you have cleared the AFCAT 2 2017, you have worked hard for it.
Out of 14500+ candidates who will report at AFSB, 7000+ will be out on the very first day itself after screening test.
Out of 8000+ hardly 300-400 will be recommended.
Around 100 – 150+ will make it in the final merit list.
The game has just begun, all the best.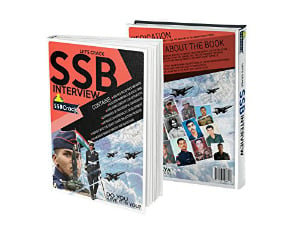 To crack SSB and AFSB Interview get "Let's Crack SSB Interview" Book from Flipkart. Trusted by thousands of defence aspirants
Also Download Helpful eBooks: