Engineering Knowledge Test or EKT is a test conducted by Indian Air Force, along with the AFCAT exam to test the basic knowledge of engineering graduates applying for Technical Entries through AFCAT. In the past few years this test was not conducted but from AFCAT 2 2014 onwards it'll be conducted as a part of AFCAT exams only.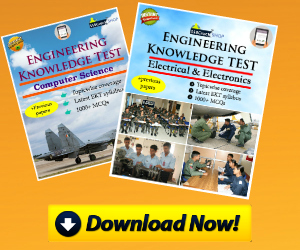 What does EKT means?
EKT stands for Engineering Knowledge Test. It is a simple test to check the basic knowledge related to engineering. This test will be conducted along with the Air Force Common Admission Test itself.
Who has to give Engineering Knowledge Test?
The candidates who are applying for the Technical Entries through the AFCAT exam have to give this exam along with the normal AFCAT exam. Thus engineering graduates appearing for technical entry in the Air Force have to pass this test along with the normal written test.
What does Engineering Knowledge Test contains?
This test will consist of objective questions related to the basic concepts of engineering. The questions will generally be dealing with the basic concepts and a thorough understanding and clarity of your basics will help you solve this easily. You can check the syllabus for EKT on our website.
When does EKT Engineering Knowledge Test takes place?
EKT will take place immediately after the AFCAT paper. That is as soon as the time of two hours gets over for the normal test paper, EKT will follow for the engineering graduates applying for technical branch entry via AFCAT.
What is the time duration of EKT Engineering Knowledge Test?
EKT will be an objective test of half hour duration i.e. 45 minutes duration.