Group discussions have been part and parcel of our lives since we started participating in completions but the Group discussion at SSB is quite different. First let me make clear at this point of time that all the rounds that happen at SSB, whether they are part of psychology, PI r GTO are judged psychologically so that the essential qualities can be extracted. I have detailed how the qualities are collated and tested in various rounds in my previous articles. So it's very important to behave properly in SSB in all rounds and understand the essence if what's that thing which Assessors want and are looking for. Also there are four Group discussion at SSB that are conducted in the span of five days. One happens at the screening day itself, two initially at the GTO round and one more is the part of GPE round.
Also Read
How to excel in Group discussion at SSB
The two Group discussion at SSB happening at GTO day 1 are somewhat similar in nature that are help for corporate also but rest two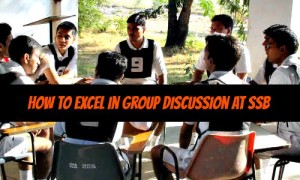 are very unique. The screening Group discussion at SSB needs discussion on a hazy picture to give a desired conclusion for a story while that happening after GPE needs a conclusion for the final plan which will be executed by the group to tackle the given problem. So this unique GD needs a unique preparation also. According to me the following points can help in preparation:
You have to come to conclusion for sure so try to analyse the nerve of the group and support the majority. It is not essential that your specific plan or story should be selected in the final stage. Sometimes some people feel so and make GD a fish market.
Whatever you speak, should be very personal and should reveal your qualities, so do not try to copy things.
Also assessors are least interested in your stories or plans but they are extracting your qualities from whatever you do. Hence it becomes essential during preparation time that you know your qualities well and should inherit or develop the qualities that are weak or are bit weak.
For this introspection is must and preparation should start as early as possible so that the hustle bustle at the end moment can be avoided. End moments are just to relax and keep yourself away from the exam pressure.
If someone is willing for guidance look for a place where your personality can be individually studied and one to one interaction could be provided. In large groups there can be a loss of personality as SSB is all about individual personality reflection in the exam.
Fish market situation in such an exercise is very important and I would deal it in a separate article. Still If you have any confusion or feel to take individual assessment of personality for olq's or prepare from your place itself through one to one interaction through my mentoring / counselling program drop me a mail at jayendrapsingh@gmail.com or add me on Fb and drop in a message. Prepare well for the first day and for other rounds as I have seen people copying things from various resources, which actually causes the harm as copied personality can never be a true officer who could serve the motherland. Be yourself and original is the only mantra.