Do Army Require War to Retain Respect? Indian Armed Forces are the backbone of India and it always stays ahead in all situation which is not uncontrollable or unable to handle. Indian Army is one of the strongest forces in the world with wide range of weapons and sufficient manpower to secure the nation and avert any attack. India has gone through many wars after it got independence in 1947. Three with Pakistan and one with China and these wars have taught India a lot of warfare and soldiers up-gradation.
In a recent statement by our Defense Minister Manohar Parikkar, which stats that Indian Army's respect has fallen down because it  has not gone through any war in last few decades.
Well, this statement has made a huge space in media and raised many arguments and issues regarding Indian Army.
Army need a more than expected funds and infrastructure to come equal with its growing rivals, China and Pakistan. As we have seen that India is lagging behind both these rivals in the race of nuclear warheads. In north east states, there are some of the areas where terrains are so tough that Indian Army need 1 day to reach. Whereas China on the opposite side of border can reach in just few hours. On the other hand, the issue of One Rank One Pension came to limelight as retired soldiers are protesting for its implementation. Government as allocated just Rs. 1000 crore in the budget for OROP, but actually it requires about Rs 8500 crore to manage the need of scheme.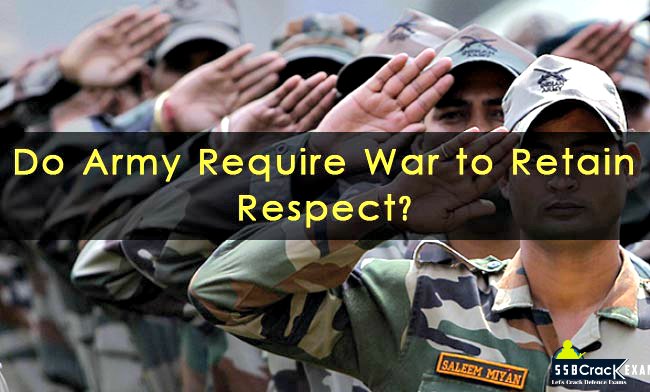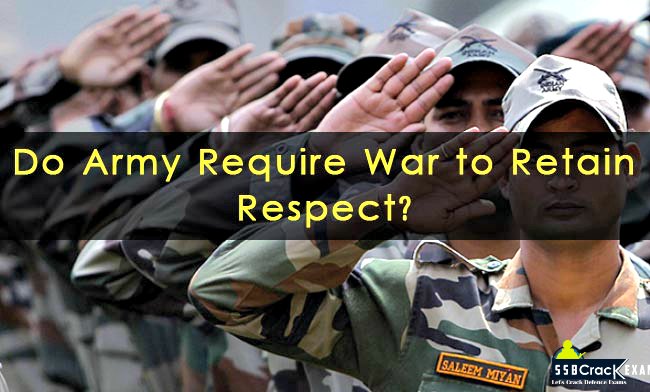 Well, Indian Army don't need any war to regain respect as the respect still has the same level as earlier. The thing that matters is the focus on military to equalize the strength with the growing enemy. Daily, many soldiers sacrifice their life to protect the nation and creates a void of emotions among family and friends. It doesn't means that would not be given respect because they didn't fought a war. They deserve the respect because they did what nobody can do for those whom he call his brothers and sisters surviving freely, leaving their security on his shoulders. Army's role is not just limited to security. When disasters, armed forces reaches faster than anyone. During J&K flood, Nepal earthquake, Hud hud storm hit Andhra Pradesh and many more examples are sufficient to prove the position of forces in Indian status. Indian Navy also made Indians in Yemen to meet their families in India. These activities makes armed forces an elite organization of India. And, an incomparable job that they do, deserve a salute.
Respect is not about the time of task we pays, but it is about the type of task we do.
Indian Army has always been a respectful organization and will always be. The courage, sacrifice and dedication for duty makes them more than a man. There have been some delays in the fund allocation but, Army is still strong and will always be in the future.
JAI HIND!