My name is ANKIT SHARMA ,  I got recommended for TGC 121 entry from Allahabad 34 ssb board in my 6TH Attempt. I am here to share all my experience of ssb during this journey.
I belong to Himachal Pradesh Distt Kangra a beautiful place. MY father is an ex-serviceman retired from the rank of hony. Capt. Since from childhood I want to join army, that olive green dress with shiny stars on the shoulders always motivate me to join army and I always used to tell myself yes ANKIT one day u will have them, As I grew up this dream become my passion. I also gave try for NAVY and AIRFORCE as my major concern was defence, but my priority always remain ARMY.
My journey  started from JAN 2014 this was my first ssb of UES navy pilot in this I got conference out during this ssb I don't know anything about ssb I was little nervous during whole of testing procedure which in results couldn't make it.  Then I realise that I should know more about SSB, start follows the ssbcrack on Facebook, I join Olive green institute for SSB training and I learn a lot from them.  After my first ssb I gave three more ssb for TGC 119, SSC 44, AFCAT but sadly I got screened out continuously from three of them one after another this was a huge blow for my confidence , but my AIM was clear that I have to become officer nothing else. I ask my mentors COL. Deejay Chahal sir, COL ASHOKAN K sir, COL GADHOK SIR  and  They always advise me to self-introspect and bounce back, I follow some post from SSBCrack Facebook page on self-introspection, and I found there was problem in my approach  I wasn't using my original ideas but instead I am using ideas of previously recommended candidates, and I used to nervous during my whole testing process.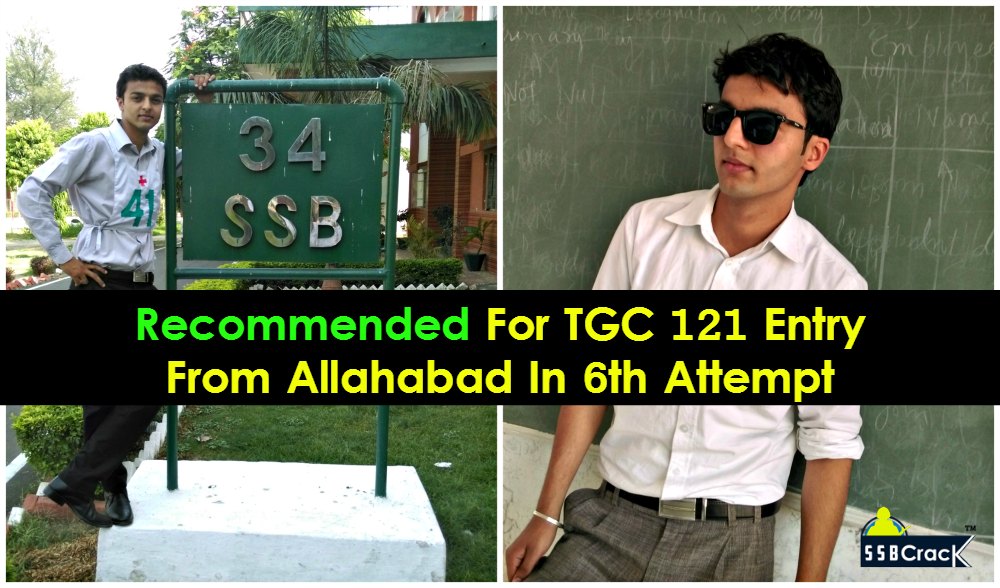 Then my fifth ssb came it was AFCAT  entry in Dehradun this time I was calm, confident and used to do all task with confidence and smile on my face I used to stick to rules.  I was satisfied with my performance my conference was last long up to 10-15 minutes, but I again got conference out , but this time was different I  knew I have given my best and there was something in me just need to brush it up more for success.
Then my sixth ssb dates TGC-121 came it was on 29 April 2015 I reach ALLAHABAD on 28th evening stayed there for night and reach MCO on platform no1 at sharp 5.30 AM, there were many more candidate I interact with some of them, then buses came and we reach at ssb centre around 7 A.M. we all had our breakfast there then after having chest no testing procedure start. In OIR I perform average then in PPDT I make story on organising an event in college, narrate my story well (though couldn't complete it due to shortage of time), participate in GD (said 2-3 points but effectively),
After that result was there I got screened in and I was happy.
Next day in psychology, I stick to instructions wrote only that which came first in my mind (honestly I never prepare for psychology).
My interview was average, but I enjoyed a lot it starts from a firm hand shake and end with that also and with a smile on my face. There were some GK questions and some technical questions, I answered some of them which I knew and said sorry for which I don't. After the interview, I search answers to those question which I didn't know in my interview.
My GTO was best I performed well individually as well as in the group. I used to listen my group mates and I was able to give solutions to the group when needed. I speak well in my lecturette topic it was on AIDS. I gave my best in my individual obstacle task (done 14). I enjoyed my command task a lot and my GTO ends with a positive note with a satisfactory smile on my face.
Then the day 3rd of May came my conference wasn't expecting anything from results, but I was satisfied with my performance my conference last up to hardly 10 sec with the usual question on food and stay. After sometime result was announced and among six recommended chest numbers one was mine I was happy and thanked to my GOD
After that, we stayed for more 6 days for our medicals which I cleared and now I am merit  in for IMA , very happy and feeling excited about my new life.
This was my whole ssb experience hope will give u some tips and confidence to keep trying.