1. The Academy is located amid a sprawling estate of 650 acres traversed by River Adyar adjoining the Chennai International and Domestic Airport , about 15 kms from the Chennai Central Railway Station along the Grand Southern Trunk (GST) Road.
2. The 49 weeks course (1 Year) at the OTA Chennai prepares cadets for all branches of the Army, except for the Army Medical Corps.
3. In 1962, following the Sino-Indian War, India identified the need to expand the number of officers for effective operations. Two Officers Training Schools (OTS) were established in Pune and Madras (now known as Chennai) to train officers for Emergency Commission into the Army.
4. On 1 January 1988, the (OTS) school was renamed as the Officers Training Academy (OTA).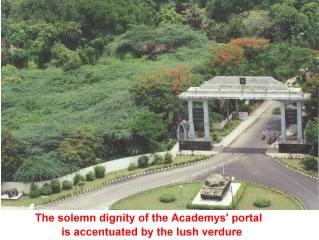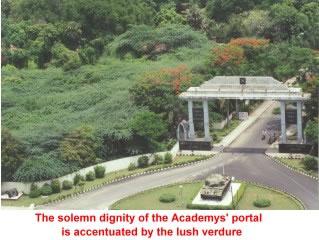 5. Param Vir Chakra, Major Ramaswamy Parameshwaran 8 Mahar Regiment "Operation Pawan" was trained in OTA Chennai.
6. Ashoka Chakra, Lt. Navdeep Singh (posthumous), 15 Maratha Light Infantry was trained in OTA Chennai.
7. Mahavir Chakra, Major Kuldip Singh Chandpuri, 23 Punjab, Indo-Pak War 1971 was a OTA Chennai Alumni.
8. Apparently OTA Chennai is considered as the toughest military training academy, which is also due to the harsh weather conditions of Chennai.
9. In 1987 the OTA Chennai song 'Roshni' was composed by the combined efforts of Sub SP Gautam, GCs and Officers and subsequently given final shape under the benign guidance of the then Commandant Maj Gen N Vishwanathan .
10. In 1992 the other landmark in the history of OTA Chennai was the induction of women into the officer cadre, and the onerous task of training them was undertaken by the Officers Training Academy . So far, around 1200 Lady Cadets have already been commissioned into the various Arms and Services of the Indian Army.
11. The Alumni from Officers Training Academy have also made their mark in sports. In 1973, Battalion Under Officer Harcharan Singh, was one of the star performers in the Indian Hockey team that took part in the World Cup Hockey Championship at Amsterdam . Later he represented India at 1976 Olympics. He was awarded the Arjuna Award in 1981. Capt Romeo James represented the Indian Hockey team as the star goalkeeper, at Los Angles Olympics.
Read: