India and gulf nations have been in close relation from several years. The recent visit of Prime Minister Narendra Modi to UAE has signed a new dawn of the relation among the nations.
Prime Minister Narendra Modi recently visited UAE for two days bolstering the ties and relation with the UAE. It was the trip of Indian Prime minister after 34 years. Most prominently, both the nations had dialogues on anti-terrorism as both the countries are facing ISIS as the dominant terror threat in future. PM also announced that UAE is planning to invest Rs. 4.5 lakh crore in India. The discussion over labour issues also took place during the visit. PM also announced the setting up of e-portal by Indian mission in UAE for helping Indian migrant workers and an online platform was also introduced named as MADAD for assisting the Indian workers in UAE. Modi called UAE as Mini-India because of the huge Indian population there. PM Modi, in his speech mentioned expectancy of increase in FDI from UAE and gulf nation.
Previous relations and area of cooperation – UAE is the third largest trading partner of India. Both the countries share economic and commercial relations. Tourism is the most important aspect of both the nation with exchange of bulk of tourists from both the countries for religious medical and casual tourism. The estimates shows 1 million Indians working in UAE, making Indians one of the major workforce. Also, non-oil trades have also escalated in some past years. Last year, MoU between UAE University and India's Atul Limited was signed for strategic partnership in the area of transfer of technology to set up date palm tissue culture production in Rajasthan.
Well, there are about 1 million Indians residing in UAE for their jobs, making it the largest immigrant community in UAE. As far as trade is concerned, stats shows lowering of trade between both the nations in recent years. As India is emerging as a leader in space, agriculture and bio-technology, UAE is expecting further more strong bilateral relations. Records shows that west Asia accounts for about 30% of oil and gas import of India, making them very crucial resource importer.
There are some challenges between the two countries, which needed to be rectified like IS, boosting tourism and education and most important UAE's support to Pakistan on the issue of Kashmir. These issues need to be solved and taken into account first for making better relations.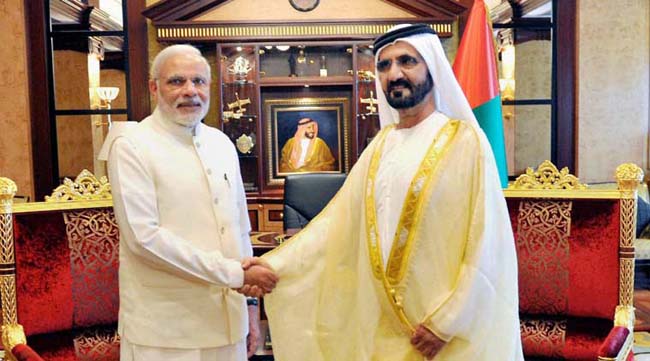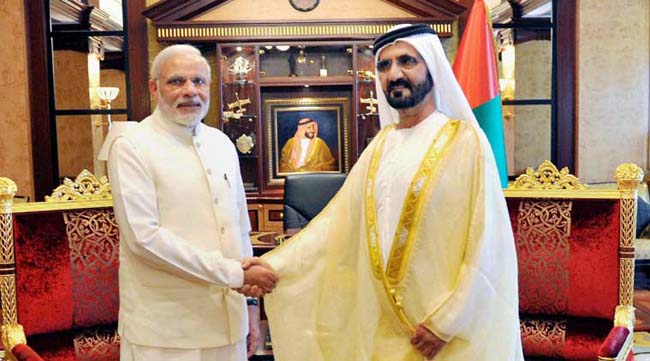 India's relation's with countries is going strong as Prime Minister Narendra Modi is visiting the nations. Well, the recent visit has been seen very beneficial for the migrant Indian workers for further strengthening of India's economy. Well, India in these days, is going through economical hiccups with its neighbor like china, also facing fluctuating currency problems. In that situation India's move to stroke economy and bilateral ties with distant nations seems to be a good move. UAE's closeness with Pakistan is a challenge for India, but it's better to discuss good points then to ponder over differences.