Applications are invited from gainfully employed young men for an opportunity of donning the uniform and serving the nation as Territorial Army Officers (Non Departmental), based on the concept of enabling motivated young men to serve in a military environment without having to sacrifice their primary professions. You can serve the nation in two capacities – as a civilian and as a soldier. No other option allows you such an expanse of experiences.
CONDITIONS OF ELIGIBILITY:
Nationality : Only male citizens of India.
Age Limits : 18 to 42 years on the date of application.
Educational Qualifications : Graduate from any recognized university.
Physical Standards : A candidate must be physically and medically fit in all respects.
Employment : Gainfully Employed.
Note : Serving member of the Regular Army/ Navy/ Air Force/ Police/ GREF/ Para Military and like forces are not eligible.
DATE OF WRITTEN EXAMINATION : 30 JULY 2017.
SUBMISSION OF APPLICATIONS : The Online Registration and Applications can be filed from 01 JUNE 2017 to 30 JUNE 2017 till 11.59 PM after which the link will be disabled.
HOW TO APPLY: Candidates are required to apply online by using the website www.joinindianarmy.nic.in. Brief instructions for filling up the online Application Form (IAF(TA)-9 (Revised) Part-1) have been given on the website
FEE DETAILS : Candidates' are required to pay a fee of Rs 200/- (Rupees two hundred only). Candidates should note that payment of examination fee can be made only through the modes prescribed at website. Payment of fee through any other mode is neither valid nor acceptable. Applications submitted without the prescribed fee/mode shall be summarily rejected. Fee once paid shall not be refunded under any circumstances nor can the fee be held in reserve for any other examination or selection.
CANDIDATES ARE REQUIRED TO APPLY ONLINE AT www.joinindianarmy.nic.in ONLY. NO OTHER MODE IS ALLOWED FOR SUBMISSION OF APPLICATION.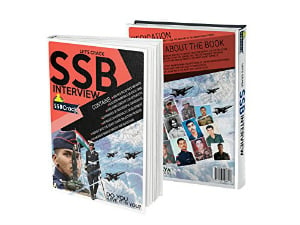 To crack SSB and AFSB Interview get "Let's Crack SSB Interview" Book from Flipkart. Trusted by thousands of defence aspirants
Also Download Helpful eBooks:
—————————————————————————————————————————————————————–
Candidates who are interested in territorial army recruitment 2017 – 2018 can find the tentative dates, eligibility and application form for upcoming territorial army recruitment. We will be updating this page with the latest details on territorial army recruitment by Indian army for officers.
Candidates can find the important details below.
Apply for Territorial Army 2017
To crack the AFSB and SSB interview, we recommend you to get "Let's Crack SSB Interview" book from Amazon.
Download eBooks:
Upcoming Territorial Army Recruitment 2017 – 2018
ELIGIBILITY CONDITIONS
Only male citizens of India and Ex-service officers who are medically fit. · Age- 18 to 42 years as on 31 Dec 2016.
Qualification -Graduate from any recognized university.
Employment – Gainfully Employed in Central/State Govt/ Semi Govt/Pvt Sector/Self Employed.
Note : Serving member of the Regular Army/Navy/Air Force/ Police /GREF/Para Military and like forces are not eligible.
EMBODIMENT FOR TRAINING
One month basic training in the first year of commission.
Two months annual training camp every year including the first year.
Three months Post Commissioning training within first two years at IMA Dehradun.
Date of written Exam : July 2017
TA Syllabus
PART I – Essay writing & comprehension (In English).
PART II – Objective type question on General Awareness, issues related to Political/Economic, Current Affairs (both national & International), Mental Aptitude, English Grammar & Reasoning.
Territorial Army Recruitment 2017 Terms and Conditions
Commission is granted the rank of Lieutenant.
Pay and Allowances and privileges will be same as Regular Army Officerswhen embodied for training and military service.
Promotions up to Lt Col by time scale subject to fulfilling laid down criteria. Promotion to Colonel and Brigadier by selection.
Officers commissioned in Infantry TA may be called out for military service for a longer duration depending on the requirement.
Pay Scales as mentioned below:
| | | | |
| --- | --- | --- | --- |
| RANK | PAY BANDS / SCALE | GRADE PAY | Military Service Pay |
| LIEUTENANT | PB-3/15600-39100 | 5400 | 6000 |
| CAPTAIN | PB-3/15600-39100 | 6100 | 6000 |
| MAJOR | PB-3/15600-39100 | 6600 | 6000 |
| LT COLONEL | PB-4/37400-67000 | 8000 | 6000 |
| COLONEL | PB-4/37400-67000 | 8700 | 6000 |
| BRIGADIER | PB-4/37400-67000 | 8900 | 6000 |
How To Apply for Territorial Army Recruitment 2017 – 2018
How To Apply Civilian Candidates
All desirous civilian candidates can obtain Application Form, from Employment Newspaper or download from www.indianarmy.nic.in (FREE OF COST) and send it along with self addressed stamped envelope of 28 x12 cms size, two passport size photographs and postal stamps worth Rs.27/- affixed on envelope (No other cost for submission) to the respective TA Group Headquarters as per the choice of following examination centres. NO OTHER DOCUMENTS TO BE ATTACHED WITH APPLICATION FORM.
| | | |
| --- | --- | --- |
| SER NO | WRITTEN EXAMINATION CENTRE | APPLICATION TO BE SUBMITTED TO |
| 1. | Chandigarh | PIB Cell, TA Group Headquarters, Western Command, Building No.750, Sector-8B, Chandigarh-160 009. Ph No. 0172-2547864 |
| 2. | Lucknow & Patna | PIB Cell, TA Group Headquarters Central Command, Lucknow (UP) – 226002. Ph No.0522-2482278 |
| 3. | Kolkata & Shillong | PIB Cell, TA Group Headquarters, Eastern Command, Fort William, Kolkata (WB) – 700021. Ph No.033-22313227 |
| 4. | Jaipur, Pune, Bangalore& Hyderabad | PIB Cell, TA Group Headquarters Southern Command, Pune-411001. Ph No. 7768003601, 02026880123 |
| 5. | Udhampur & Srinagar | PIB Cell, TA Group Headquarters Northern Command, Udhampur (J&K) – 182101 Ph No.01992 243592 |
Territorial Army Recruitment 2017 2018 Selection Procedure
FOR CIVILIAN CANDIDATES
Candidates whose application forms are found correct will be called for screening (written exam and interview) by a Preliminary Interview Board (PIB) by the respective TA Group Headquarters.
Successful candidates will further undergo a Service Selection Board (SSB) and Medical Board for final selection.
FOR EX SERVICE OFFICERS (COMMISSIONED OFFICERS ONLY)
Ex Service Officers of three services should send their applications alongwith release order and release medical board proceedings directly to Addl Directorate General TA, Integrated HQ of MoD (Army), 'L' Block, Church Road, New Delhi-01.
The candidates will be screened by an Army HQ Selection Board (ASB) held at Addl Dte Gen TA, GS Branch, 'L' Block, Church Road, New Delhi. Recommended candidate will be required to undergo Medical Examination at Armed Forces Clinic, New Delhi and submit Police Verification Form.
NOTE : Candidate who qualify in written test of PIB/ASB are required to bring the following documents in original along with attested copies at the time of interview:-
All educational qualification certificates (Matric onwards).
Latest physical fitness certificate from a registered MBBS Doctor.
A copy of Identity proof with photographs (Voter ID/PAN Card/Passport/Driving license etc).
Domicile/Residential proof certificate.
Certificate for proof of age (Matric/Senior Secondary mark sheet & certificate for verification of date of birth).
Service certificate by candidates employed in Central Govt/Union Territory/State/Semi Govt/Private Sector Authenticated by Head Office along with NOC by the department as per format given below.
Self-employed candidates are required to submit an Affidavit on Non-Judicial stamp paper of minimum value duly attested stating nature of employment and annual income along with a photocopy of PAN card.
In case of candidates whose names vary in documents submitted, such candidates should submit an affidavit on judicial stamp paper declaring the correct name. The same must be published in the newspaper and submit the newspaper cutting along with the affidavit.
Employees of Railways are required to submit NOC authenticated by Railway Board.
Important Links