This is Shubham Gupta at the age of 19 he donned a uniform to pursue his dream of proving himself in battle protecting our motherland. He chose to put his life on line to fight for you and me. Today he is fighting a different battle! A battle to survive, a battle to stand on his own feet, a battle to do his daily chores!
He was selected to join the National Defence Academy in June 2010 for training to become an Officer in the Indian Army. In April 2012 during the advance stage of his training he was wounded while on duty rendering him 100% disabled. His was an attributable injury. An injury that he sustained because he was doing what he was ordered to do, since it was necessary to make him capable enough to protect the nation. He considered it an honour to have been injured on duty in the service of his motherland.
He was boarded out of services with 100% disability, unable to even conduct himself without an attendant crippled for life. His parents whose pride he once was are struggling to provide their undivided attention to him due to his medical condition.
In return of pledging his youth to the nation he was given a pittance of monthly financial aid, which was pet-named ex-gratia and no benefits normally available to disabled Ex-servicemen and surprisingly – Zero Medical Facility.
He may be no one to our Political leaders or the military brass, but to his parents, he was the only hope. They have been running from pillar to post to get justice for him even petitioning the National Human Rights Commission and the President of Indian but no one has bothered to help. I believe, when someone gets injured in service of the nation, the nation is obligated to grant him his due- a decent disability pension.
This is not just his story but that of around 300 Officer Cadets, out there like him, left out in the open, wounded and forgotten. The small group of young boys, who chose the military, not as a career choice, but as a passion. These boys took this decision at a young age, in their teens, not because they did not have enough opportunities in this vibrant world but because, they consider their calling to their country as the No.1 priority.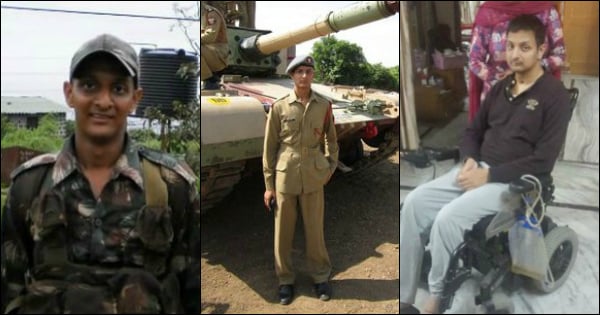 Don't they deserve a life of dignity?
Don't they deserve a second chance at life, a resettlement?
If not for parents like his who were brave enough to offer their sons to the nation, this great republic would not have been the same. It is because we have youngsters like him, ready to serve and catch a bullet proudly on their chests, willing to die for the nation, that India sleeps peacefully. It is for our tomorrow that they gave their today. It is indeed unfortunate that they had suffered injuries in service of the nation but what is more calamitous is how the nation ignores them, their needs.
I have to take this up, because I still believe in the words of Capt. Manoj Kumar PVC "Some goals are so worthy, it's glorious even to fail"
After all, I have been trained by the Indian Armed Forces, I couldn't give up without a fight.
I hail this petition for your support for this cause. Lend me your voice for
· Disability pension respectable to the rank trained for
· medical cover
· Option for shelter employment in other Government Departments in officer cadre
Kindly support this cause.
https://www.change.org/p/h-justice-for-shubham-a-disabled-indian-army-officer-cadet-left-unattended-by-our-nation