NDA 1 2017 written exam was conducted on 23rd April 2017 by UPSC for the aspirants who wants to join the Indian army, airforce and navy after 12th. As the exam is over many candidates will be looking for the NDA 1 2017 answer keys to check their answers and predict their scores. SSBCrack will provide the NDA 1 2017 answer keys for all sets very soon. Candidates can check the NDA 1 2017 expected cut off marks which is decided on the basis of previous cut off marks and number of applicants this time.
NDA Answer Key 2017. After Union Public Service Commission (UPSC) has conducted NDA/ NA (I) 2017 examination on April 23, several coaching institutes will release NDA 2017 answer keys on the same day. Candidates appearing in the UPSC administered NDA examination can check here the answer key of NDA 2017 as released by the leading coaching instituions including Baalnoi Academy, Cavalier, SSB Crack, and Minerva Academy. NDA answer key 2017 will mention correct answers to questions of the national defence academy and naval academy examination. NDA 2017 answer keys will be released for all sets of questions– A, B, C and D as given to UPSC test takers during the NDA recruitment examination. Moreover, through these answer key of NDA 2017, candidates can check their subject-wise answers for Mathematics and General Ability tests.
NDA 1 2017 Answer Keys [All Sets] NDA 1 2016 was conducted on 23rd April 2017, all candidates who have attended NDA (I) 2017 written test for which the course is commencing in National Defence Academy in 2018 must be waiting for NDA and NA (I) Exam 2017 Paper solution sheet NDA and NA key 2017, NDA 1 2017 Cut off Marks/answer sheet of NDA-1 2017 is being published on SSBCrack. Aspirants can have a look at the Answer keys for their NDA 1 2017 written exam, here of paper-1st and paper-2nd with set-a, set-b, set-c, set-d.
We have published the complete list of answers and keys for NDA 1 2017 exam. NDA (I) 2017 written exam, the answers key for all sets of NDA (I) 2017 exam are going to be mentioned at SSBCrack soon. You can also find the keys and cut off marks published by baalnoi academy for NDA-1 answer sheet 2017 and NDA 1 2017 cut off. Check out your NDA-1 answer key 2017 very soon here.You can also download the NDA-1-2017 answer key from the link below. If you want to share or ask please do it in the comment box also share the correct answers if you find any glitch.
There are so many academies putting answers keys which candidates have reported as wrong, kindly refer to answer keys of good SSB academies only.
NDA (I) 2017 Answer Keys By Baalnoi Academy
NDA (I) 2017 Maths Answer Key
NDA (I) 2017 General Ability Answer Key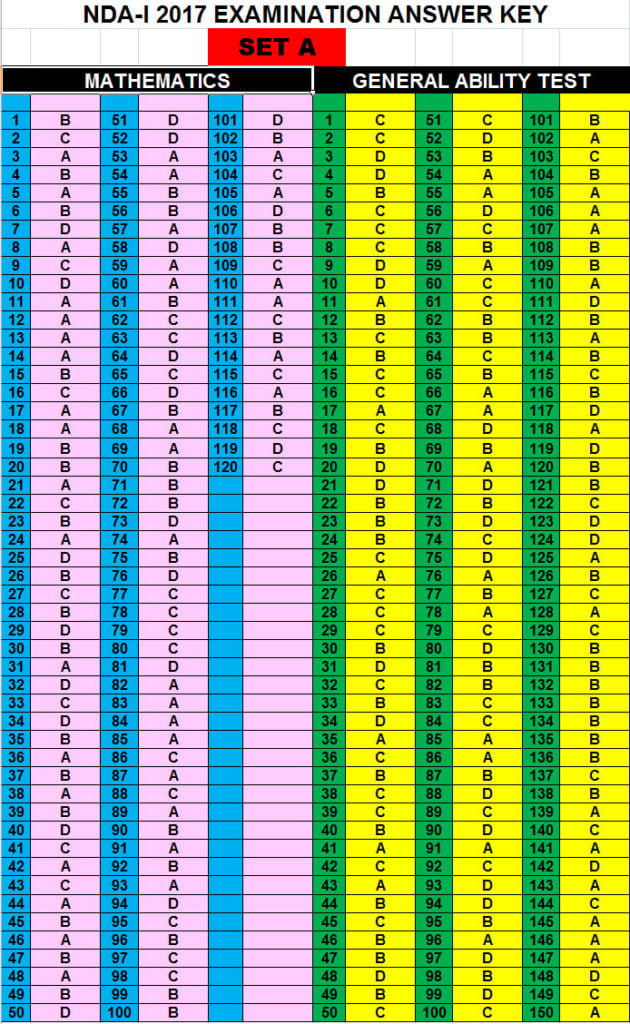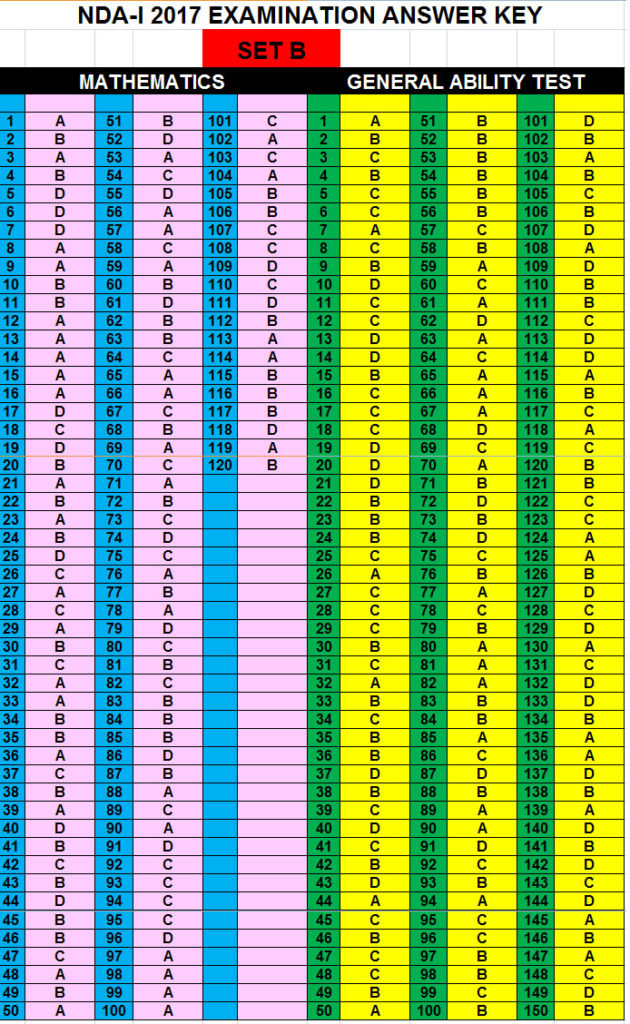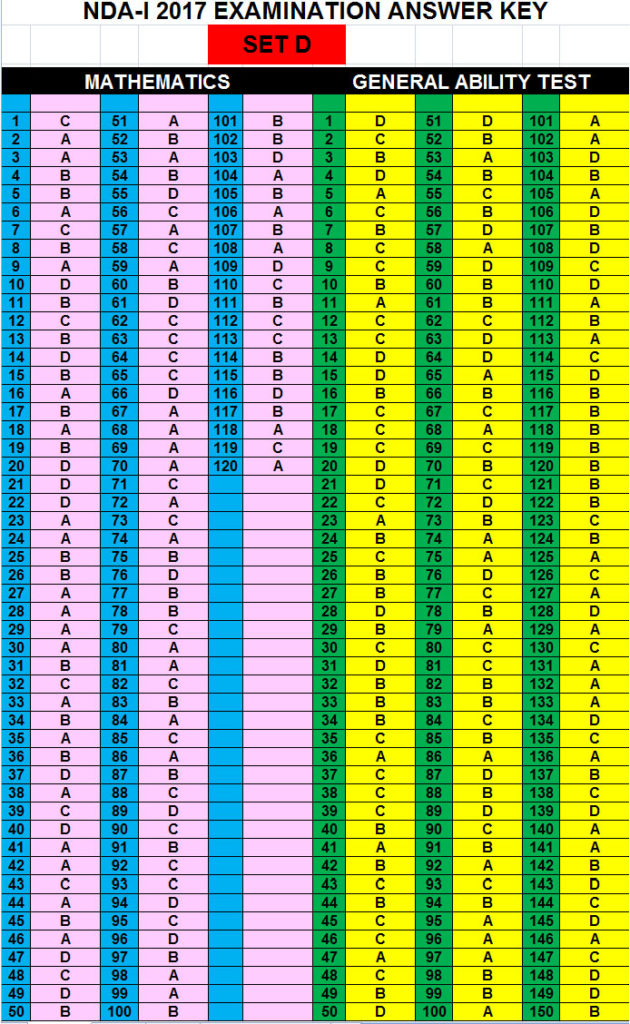 NDA (I) 2017 Answer Keys By Cavalier Academy
NDA (I) 2017 Maths Answer Key
NDA (I) 2017 General Ability Answer Key
NDA (I) 2017 Answer Keys By Minerva Academy
NDA (I) 2017 Maths Answer Key
NDA (I) 2017 General Ability Answer Key
NDA (I) 2017 Answer Keys By Olive Green
NDA (I) 2017 Maths Answer Key
NDA (I) 2017 General Ability Answer Key
NDA 1 2017 Cut Off Marks
Please check your marks in NDA 1 2017 and post your marks below in the comment section to analyse your result.
Mathematics 300 and General ability 600. Total 900 marks
Cut off will be above 340 out of 900 this year in NDA 1 2017