Indian army official website has published the TGC 126 notification also known as a technical graduate course which is an opportunity for the male engineering graduate to join the Indian army technical branch permanent commission. Candidates who wish to apply for TGC 126 Technical Graduate Course can check the TGC 126 age limits, cut off marks, merit list and SSB dates here. Indian army has published the notification of TGC 126 few days back, candidates can check their eligibility for the same and apply for the TGC 126 online.
TGC 126 Age Limit: – 125 Technical Graduate Course (TGC) : 20 to 27 years i.e, candidates born between 02 Jan 91 and 01 Jan 98, both dates inclusive. (NOTE : The date of birth accepted by the office is that entered in the Matriculation or an equivalent examination certificate. No other document relating to age will be accepted and no subsequent request for its change will be considered or granted.
TGC 126 Important Details
TGC 126 registration date: 3rd week of May 2017
TGC 126 closing date: 3rd week of June 2017
TGC 126 cut off marks: 65%-75% (varies as per your branch)
TGC 126 SSB Dates: Sep 2017 onwards
TGC 126 Cut Off
There is no big fluctuation in TGC and SSC tech cut off since many years, candidates can check all TGC cut off since few years and anaylize the cut off they might get in TGC 126. Candidates can find the expected TGC 126 cut off marks here.
[ws_table id="5″]
Stream wise Cut off percentages for TGC-126 Course are as follows:
1. Civil- 63%,
2. Mechanical- 76%,
3. Electrical/Electrical & Electronics- 68%,
4. Computer Science & Engg/Info Tech/MSc (Comp Sc)- 67%,
5. Electronics & Telecom- 68%,
6. Electronics- 60%,
7. Metallurgical-60%,
8. Electronics & Instrumentation- 60%
9. Micro Electronics & Microwave- 67%

To crack TGC 126 SSB interview get the best SSB book here: "Let's Crack SSB Interview"
TGC 126 Merit List
Provisions of preparation of merit list and allotment of entry are as explained in TGC 126 notification.
It is to be noted that mere qualifying at the SSB interview does not confirm final selection.
Higher educational qualifications, previous performances, NCC background, etc, have no role to play in the merit list. Note : The merit list of the recommended candidates for TGC and SSC (T) will be displayed at the reception of DG Rtg and our website i.e. www.joinindianarmy.nic.in. after completion of all formalities related to the entries.
To crack TGC 126 SSB interview get the best SSB book here: "Let's Crack SSB Interview"
TGC 126 SSB Interview Date
Short listing of Applications. Integrated HQ of MoD(Army) reserves the right to shortlist applications and to fix cutoff percentage of marks for each Engineering discipline/ stream without assigning any reason .
Only shortlisted eligible candidates depending on the cutoff percentage will be interviewed at Selection Centres, Allahabad (UP), Bhopal (MP) and Bangalore (Karnataka) by Psychologist, Group Testing Officer and Interviewing Officer. Call Up letter for SSB interview will be issued by the respective Selection Centres, through candidate's registered e-mail id and through SMS. Candidates will not be interviewed locally. Allotment of Selection Centre is at the discretion of DG Rtg, IHQ MoD (Army) and no request for changes are entertained in this regard.
SSB Interviews will be held from July/Aug 2017 onwards.
Candidates will put through two stage selection procedure. Those who clear Stage I will go to Stage II. Those who fail in Stage I will be returned on the same date. Duration of SSB interviews is five days excluding day of arrival and details of the same are available at official website of Rtg Dte www.joinindianarmy.nic.in
In case of candidates appearing in their final semester/year/backlogs/re-evaluation/improvement exam, they are required to bring a Bonafide Certificate on the original letter head duly signed by Principal/Head of the institution stating that you are appearing in the final semester/year/back/re-evaluation/improvement exam which must be completed prior to 01 Jan 2018 for TGC-126 (before commencement of this course in the academy as specified in the notification). specimen att at Appendix 'A' of Common Call Up Instructions.
TGC 126 Change of Interview Dates
Request for change of SSB Interview date should be avoided. However, under most unavoidable circumstances, such change may be considered based on the circumstances of the case. This will be an exception rather than the rule. Request for such change should be forwarded to Selection Centre from where the call-up letter for SSB interview has been received and not to Directorate General Recruiting.
TGC 126 Contact Number
For all queries regarding allotment of centres, date of interview, merit list, joining instructions and any other relevant information please visit our website www.joinindianarmy.nic.in, or contact Tele No. (011) 26173215 (between 2PM to 5PM Monday to Friday). Address:- Directorate General of Recruiting, AG's Branch, IHQ MoD (Army), West Block-III, R.K.Puram, New Delhi-110066.
To crack TGC 126 SSB interview get the best SSB book here: "Let's Crack SSB Interview"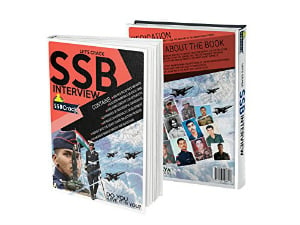 To crack SSB and AFSB Interview get "Let's Crack SSB Interview" Book from Flipkart. Trusted by thousands of defence aspirants
Also Download Helpful eBooks: