AFCAT 2 2017 Notification: Online applications are invited for the courses commencing in July 2018 for grant of Short Service Commission (SSC) in Flying Branch and Permanent Commission (PC) / Short Service Commission (SSC) in Ground Duty (Technical) and Ground Duty (Non-technical) Branches. Indian Air Force invites enterprising & adventurous Indian citizens (men and women) to join the Indian air force as commissioned officers in flying, ground duty (technical) and ground duty (non-technical) branches.
Registration for online applications will open on 03 Jun 2017 and close on 29 Jun 2017.
AFCAT 2 2017 Branch & Course Number
Flying (204/18F/SSC/M & W)
Ground Duty (Technical) 203/18T/PC/M 203/18T/ SSC/M & W
Ground Duty (Nontechnical) 203/18G/ PC/M 203/18G/ SSC/M & W
Pay and Allowances. A Flying Officer will be entitled to Pay in Pay Band (` 15,600 – 39,100) per month along with Grade Pay, Military Service Pay. Dearness, Kit Maintenance & Transport Allowance. In addition, other allowances are applicable based on nature of duty/ place of posting and would include Flying, Technical, Field Area, Special Compensatory (Hill area), Special Force, Siachin, Island Special Duty, Test Pilot & Flight Test Engineer, Area and Remote Locality. On successful completion of Training, newly commissioned Flying officers would be entitled to approximate gross monthly emoluments in different branches including Transport Allowance of major cities as follows:-
Flying Branch : ` 85,372/-
Ground Duty (Tech) Branch : ` 74,872/-
Ground Duty (Non-tech) Branch : ` 71,872/-
AFCAT 2 2017 Eligibility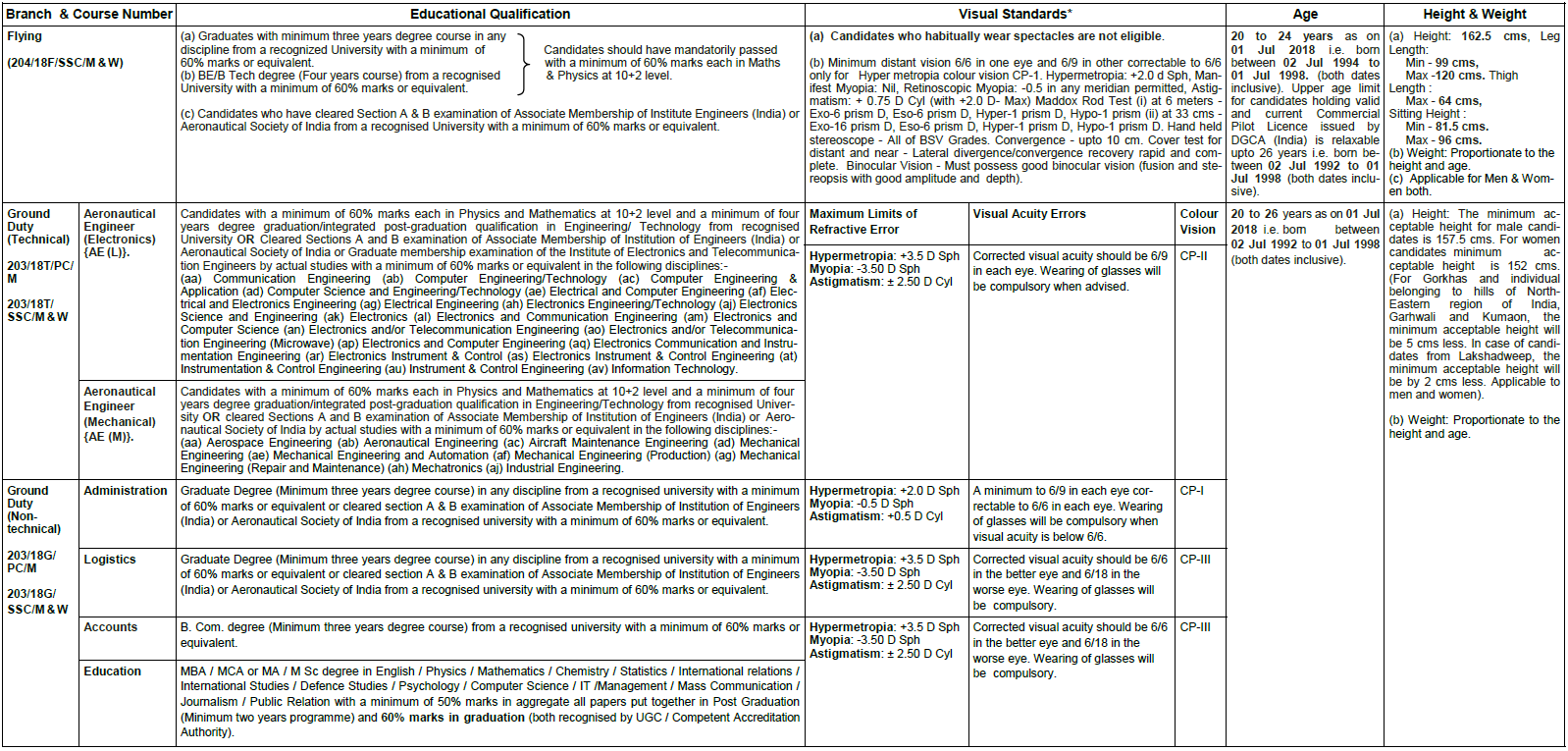 AFCAT SELECTION PROCEDURE
All applicants whose applications are submitted by due date will be called for AFCAT on 27 August 2017 (Sunday) at one of the examination centres mentioned at para 14 (b). Engineering Knowledge Test (EKT) will also be conducted for Ground Duty (Technical) branch along with AFCAT. AFCAT will be for two hours and will contain multiple choice questions on verbal ability, numerical ability, reasoning, general awareness and military aptitude. Sample question papers and syllabus of AFCAT/ EKT is available on IAF career website www.careerairforce.nic.in. EKT would be for 45 minutes and conducted immediately after AFCAT. It is mandatory for the candidates opting for Ground Duty (technical) branch to pass both AFCAT & EKT.
Candidates who are short-listed on the basis of AFCAT/ EKT will be called for further testing at one of the Air Force Selection Boards (AFSBs) at Dehradun, Mysore, Gandhinagar or Varanasi. Candidates who opt for flying branch can opt for Dehradun, Mysore and Varanasi only. The testing would consist of three stages as given below

Stage-I. Officer Intelligence Rating Test along with Picture Perception and discussion test will be conducted on the first day. Stage-I test is a screening test and only those who qualify would undergo subsequent testing. All Stage-I qualified candidates would be subjected to document check to ascertain their eligibility for the branches applied for. Candidates who either do not qualify in Stage-I or do not meet the required eligibility criteria would be sent back on the first day itself.
Stage-II. Psychological test, Group Tests and Interview would commence after document check for the next five days.
For Flying Branch. Computerised Pilot Selection System (CPSS) would be administered to recommended candidates only. This is once in a lifetime test. Candidates who have failed the CPSS/PABT in an earlier attempt or a Flight Cadet suspended from flying training at Air Force Academy will not be eligible to apply.
How to Apply for AFCAT
If you meet the eligibility criteria, please click on "CANDIDATE LOGIN" in the career website of IAF www.careerairforce.nic.in and follow the instructions. You are advised to note down the Registration number for future correspondence. Candidates are advised to read the notification for AFCAT 02/2017 and the detailed guidelines for filling up online application as given in the website www.careerairforce.nic.in prior to commencement of filling up online applications. While filling online application, it is advisable to keep the relevant documents readily available, as details are to be filled as per matriculation and other educational certificates. Please save your recent colour passport size photograph (size 10 to 50 KB) for uploading it with your online application form. Please note that utmost care needs to be taken while filling up the online application. In case any information is found to be incorrect, the candidature is likely to be cancelled at any stage of the selection process. Submission of more than one application will result in cancellation of candidature.
Details of AFCAT centres are appended and would be allocated as per availability of seats at AFCAT centre. The centers are allocated on first cum first basis and candidate might get another centre beyond his/ her choice on delayed submission of application. No change of centre will be entertained.
To crack SSB and AFSB Interview get "Let's Crack SSB Interview" Book from Flipkart. Trusted by thousands of defence aspirants
Also, Download Helpful eBooks: