President's standards were presented to 10 Armoured Regiment, 41 Armoured Regiment & 87 Armoured Regiment of the Indian Armoured Corps. The ceremony was held at Suratgarh Military Station on 5th December 2017.
In a historic moment at the Military Station a magnificent and immaculate mounted parade was held following which General Bipin Rawat, the Chief of Army Staff, presented President's Standards on behalf of Honorable President of India, President Ramnath Kovind to 10, 41 and 87 Armoured Regiments.
It is very rare for a regiment to be honoured with the President's Colours. This rare honour has been bestowed upon these Armoured Regiments recognizing their dedicated and meritorious service since their raising. They were raised more than three decades back.
In the course of discharging their onerous duties, both in operations and in peace, the hard work done and sacrifices made by the valiant soldiers of these regiments has been duly recognised.
During the parade, a formation of the frontline fighters, the T-72 main battle tanks was commanded by Brig Praveen Chhabra. Brig Chhabra commanded the Sand Viper Brigade with Regiment Contingents being commanded by their Commanding Officers respectively.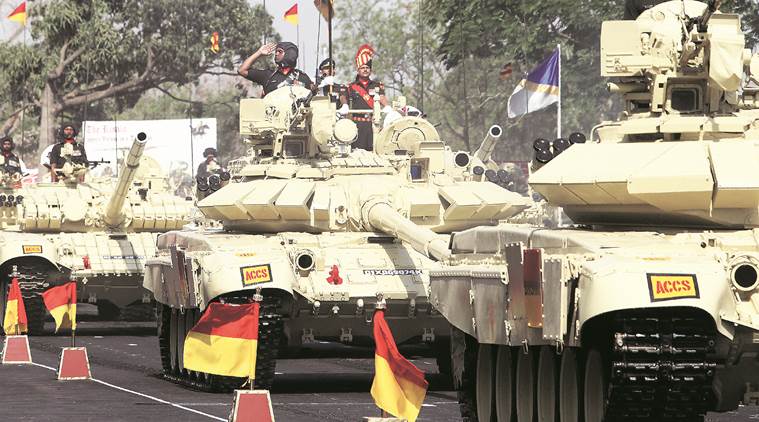 As a matter of tradition, each Armoured Regiment has its own "Colonel of the Regiment", an honorary post for a senior officer who oversees the regimental issues concerning the unit. Major General Vinod Sharma, Major General SS Mahal and Maj General Kulpreet Singh, the 'Colonels of the Regiments' were the hosts of the event.
Among the civil and military dignitaries who attended the event were Lieutenant General Cherish Mathson, General Officer Commanding-in-Chief, Sapta Shakti Command; Lieutenant General PC Thimmaya, General Officer Commanding, Chetak Corps. Many senior serving and retired officers were also present.
What is the President's Standard?
President's Standard is presented in acknowledgment of services rendered to the nation on behalf of the supreme commander of the armed forces – the President. It recognizes the hard work and dedication of officers and soldiers of that regiment over a period of time.
The unit upon which this honour is bestowed is selected based on its success and achievements in previous operations and service rendered to the nation – during was and peace alike.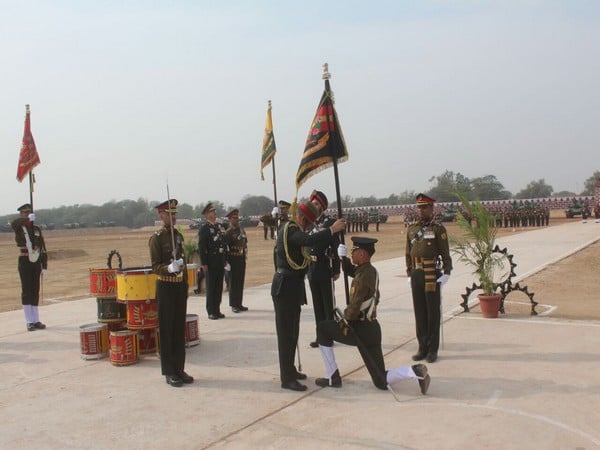 About the Indian Armoured Corps:
The Indian Army's Armoured Corps is the combat arms of the Indian Army that deals with tanks, armoured cars and heavy mortars including President's Bodyguards. Armoured corps is considered modern-day cavalry. If cavalries brought speed and mobility to the battlefields of yore, tanks play the role in today's battles.
It was formed in 1947 inheriting two-thirds of the resources and men of the British Indian Armoured Corps. 1st May is celebrated by Armoured Corps as its Corps Day. The Armoured Corps School and Centre is at Ahmednagar.
As of date, the armoured corps currently consists of President's Bodyguards and other 63 armoured regiments as follows:
1 Horse (Skinner's Horse, The Yellow Boys)
2nd Lancers (Gardner's Horse)
3 Cavalry (Flamingoes)
4 Horse (Hodson's Horse)
5 Armoured Regiment
6 Armoured Regiment
7th Light Cavalry
8th Light Cavalry
9th Deccan Horse
10 Armoured Regiment
11 Armoured Regiment
12 Armoured Regiment
13 Armoured Regiment (Triskaideca, Nightstrikers)
14 Horse (Scinde Horse)
15 Armoured Regiment
16th Light Cavalry
17 Horse (The Poona Horse, Fakr-e-Hind)
18 Cavalry
19 Armoured Regiment
20 Lancers
Central India Horse
41 Armoured Regiment
42 Armoured Regiment
43 Armoured Regiment
44 Armoured Regiment
45 Cavalry (Paintalis Risala)
46 Armoured Regiment (Thunderbolts)
47 Armoured Regiment (Penetrators)
48 Armoured Regiment
49 Armoured Regiment
50 Armoured Regiment (Fear Naught)
51 Armoured Regiment (The Unicorn)
52 Armoured Regiment
53 Armoured Regiment
56 Armoured Regiment (Lion Hearts)
57 Armoured Regiment
58 Armoured Regiment
61 Cavalry
62 Cavalry
63 Cavalry (Tresath)
64 Cavalry
65 Armoured Regiment
66 Armoured Regiment
67 Armoured Regiment
68 Armoured Regiment (Gladiators)
69 Armoured Regiment
70 Armoured Regiment
71 Armoured Regiment
72 Armoured Regiment
73 Armoured Regiment
74 Armoured Regiment
75 Armoured Regiment
76 Armoured Regiment
81 Armoured Regiment
82 Armoured Regiment
83 Armoured Regiment
84 Armoured Regiment
85 Armoured Regiment
86 Armoured Regiment (Chhiassi)
87 Armoured Regiment
88 Armoured Regiment
89 Armoured Regiment
90 Armoured Regiment
Training of Armoured Corps Men:
The Indian Armoured Corps tanks are divided among these Armoured Regiment. Each regiment is then divided in 3 sabre squadrons – Alpha, Bravo and Charlie. The squadron is further divided into troops which is commanded by a young officer. Every person who get to be a part of this formation must go through training at Armoured Corps Centre and School (ACC&S), situated at Ahmednagar.
Be it a recruit or a newly commissioned armoured corps officer, all come comes to Ahmednagar for training. The officers go through Young Officers' course, which lasts 6 months and imparts intensive training in all aspects of tanks and tank warfare whereas the recruits go through whole training phase there itself. The young officers generally comes here after spending 3-4 months with their regiments.
The training of young officers is divided into four phases encompassing driving and maintenance, gunnery, communications and IT, culminating in the tactical phase. The officers are also exposed to latest trends in technology. During the tactical phase, due emphasis is laid on aspects such as development of leadership qualities, logistics planning, maintenance of morale, team building and cohesion
The newly commissioned are not considered as officers till they complete their Young Officer's course. In this course, they are taught military history, tank driving, maintenance, gunnery, and communications training in tactics and manoeuvres among other things. Only after they have completed their training, they are considered and treated like an officer. Then the officers come back for an advanced course.