Towards enhancing the digital India initiative, IAF has brought in Centre for Development of Advanced Computing (C-DAC) a Govt of India undertaking under Ministry of Electronics and IT for conducting the first ever online AFCAT and Selection Test for Airmen Recruitment (STAR).
The exam was successfully conducted at approximately 450 centres across the country. However, due to certain technical problems, the exam at a few centres has been postponed. The candidates of these centres are being intimated through individual SMSs. The exam for the candidates of these centres would be conducted at a later date which would be notified shortly.
For an aspirant who is giving AFCAT for the first time, there is something totally new for them – AFCAT is going online. No doubt that it is new even for the aspirants who had given AFCAT earlier, but they have had the chance to know the test better and prepare for the online version accordingly. And for those whose exam stands postponed, they have an upper hand taking the test at a later stage. They now know the procedure and probable questions that could be asked in the test. So, for those few lucky ones, here is the procedure and instructions to take the exam online:
Locate your centre: AFCAT was planned simultaneously at 536 centres in 99 cities covering 25 states and 3 Union Territories in Govt and Private educational institutions as exam centres. Locate your exam centre well before time. Although the time for reporting for the 1st shift was 7 a.m. Our exam started only around 10 a.m. That was a lack of management of the exam centre. Hence, the afternoon shift guys also had their exam late. Some of the exam centres put up a notice saying it was cancelled. But for the guys who are still to write their exams, better be on time as they say. Better safe than sorry.
Type in your roll number and email id for login. DO NOT CLOSE THE BROWSER ANY TIME DURING THE TEST. After, logging in, check your Name, Hall Ticket Number (HTN) and Photograph as being displayed on the screen. In case of any discrepancy or doubts, report the same to invigilator immediately.
NOTE THE SESSION ID AS SOON AS YOU LOG IN. Record it on the rough sheet and on the admit card too, for future reference.
You will be provided with one A4 size sheet for rough work. You must record your Name, Hall Ticket Number (HTN), Set and Session ID on the rough sheet. Please ensure to return the rough sheet to the invigilator before leaving the exam hall.
Calculators, Mobile Phones, Pagers and electronic devices in any form are not allowed to be used in the Exam Hall. If you have any such device or other prohibited material, you must deposit the same even at this stage. Candidates will be disqualified if found indulging in any kind of malpractice.
Affix a recent colour photograph and sign the attendance sheet brought by the invigilators during the exam. You are to record the Session ID thereon. Any unrecorded Session ID corresponding to a candidate will not be considered for evaluation and all responses on that unrecorded Session ID will be treated as null and void.
Select the radio button given below each question corresponding to your choice of answer.
Duration of AFCAT paper is 2hours. You are not allowed to leave the examination hall before the completion of exam duration.
Once the exam has started, you should not open any other software application on the computer system nor should you shut down the computer nor fiddle with allocated hardware or software.
If the browser is closed accidentally or due to any unforeseen circumstance, report to invigilator for help and you must update the new Session ID on the attendance sheet. Do not worry as your previous responses are already recorded on the server and it will be reflected once you have another session ID. In case of any other technical problem, report to Invigilator immediately.
You can navigate through questions using scroll bar or directly scroll through the question number grid. AFCAT screen contains the following buttons with the functionality as specified below:
View Instructions:
This button will display the instructions to you. From my personal experience, DO NOT CLICK ON THIS BUTTON. The screen will go blank and you have to log in again and have a new session ID.
Radio Buttons:
These indicate your responses corresponding to the choice of the answer as written against each of them. Choose the one which you think is correct.
Clear Answer:
This will clear your response to that particular question and you can answer the question again.
Mark for Review/Unmark:
If you want to get back to a question you feel doubtful about, you can click on this button and it will display a question mark next to it on the grid.
Submit Examination:
If you are done with the exam before completion of time and want to submit, you can click on this button and confirm your submission. However, you will be allowed to leave only after completion of the allotted time. If at the end of time, you could not click on this button, worry not, it will be automatically submitted to the servers.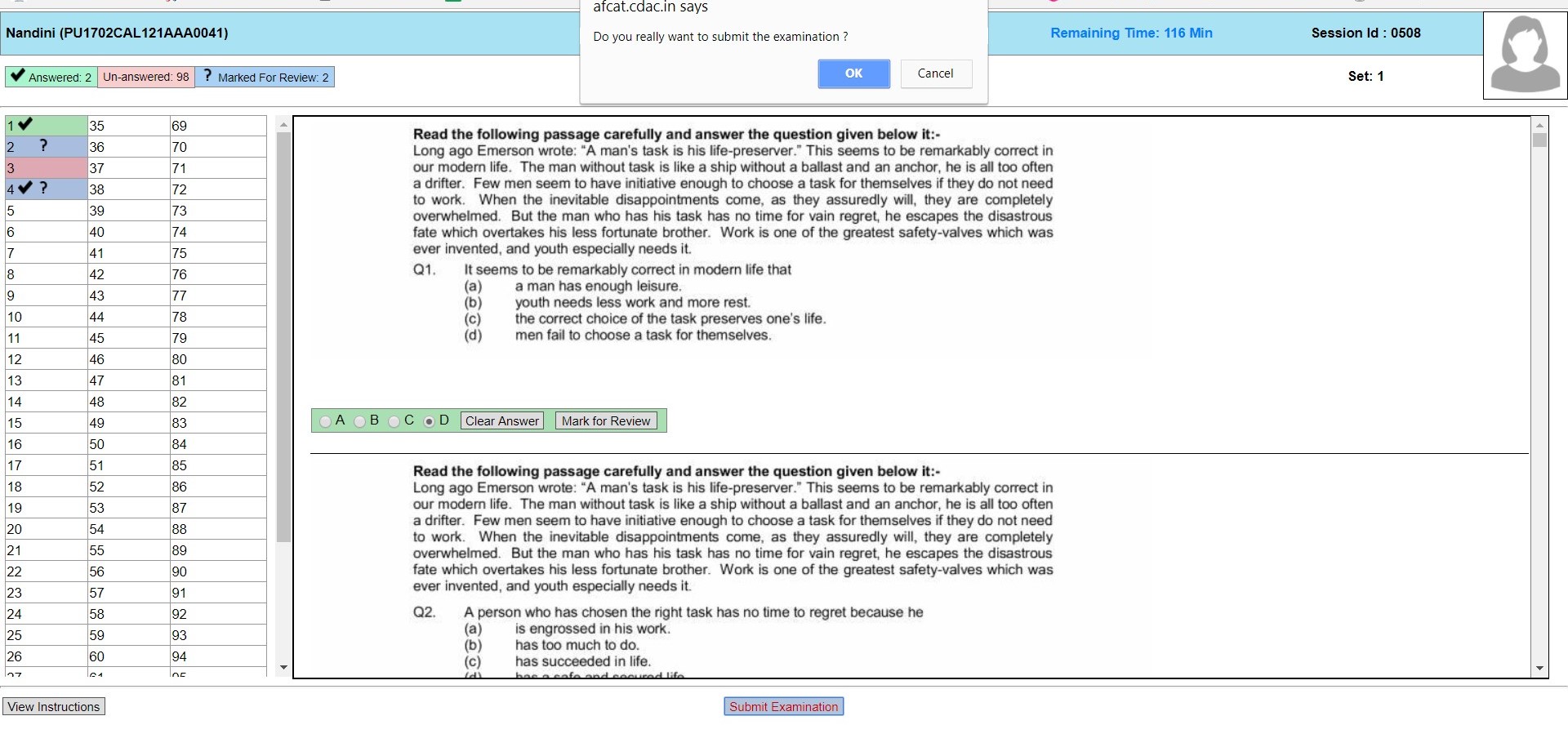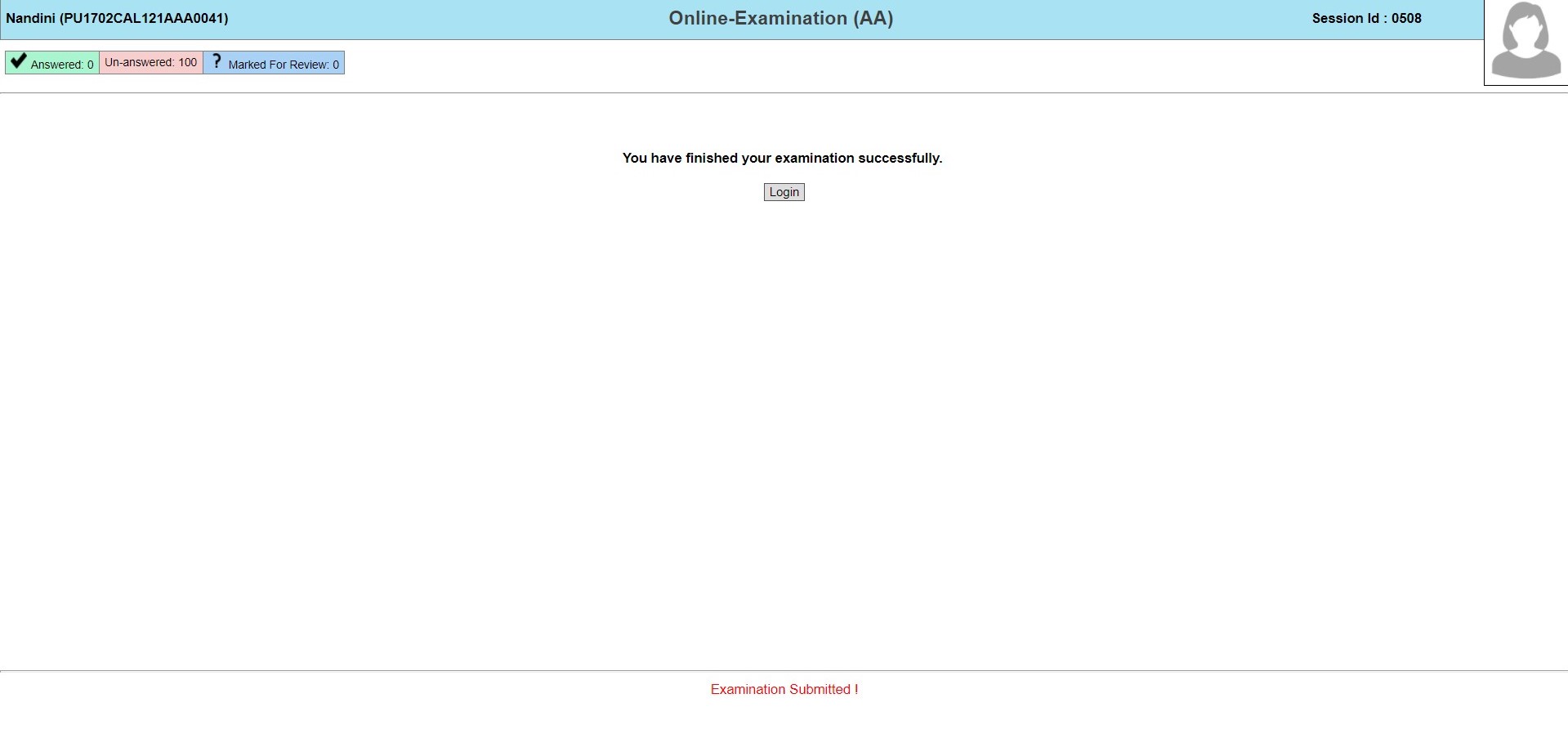 Conclusion:
This is the first time that AFCAT is being conducted online and we can expect some glitches with its conduct. From the part of you, as a candidate, you are required to follow the instructions religiously and inform to the CDAC invigilator immediately in case of any discrepancy.
Source: afcat.cdac.in
To prepare for defence exams and SSB interview, get these books: