Aiming to further strengthen the military to military relations between both the armies, a Joint Indo-Bangladesh Army Trekking Expedition to Nanda Devi East Base Camp (4,300 m) was flagged off on 28 May.
About the Expedition
The team consists of 16-member from Indian Army and 10-member from Bangladesh Army.
Mt Nanda Devi East Base Camp is located at an altitude of 4,300M and is one of the challenging trekking routes of Himalayas.
Director General of Military Training Lt Gen Harpal Singh flagged off the expedition team from New Delhi. The Expedition will negotiate treacherous, rocky and glaciated terrain, slippery meadows and streams en-route.
The Joint expedition also aims to further strengthen the military to military relations between India and Bangladesh.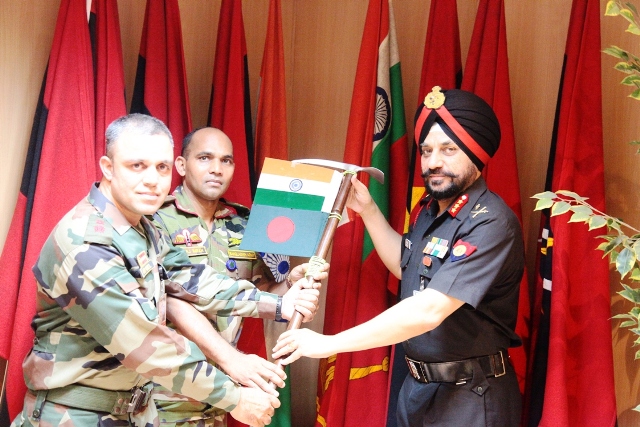 About Nanda Devi
Nanda Devi is the second highest mountain in India and 23rd-highest peak in the world. It is part of the Greater Himalayas, and is located in Chamoli district of Uttarakhand, between the Rishiganga valley on the west and the Goriganga valley on the east.
The peak, whose name means "Bliss-Giving Goddess", is regarded as the patron-goddess of the Uttarakhand Himalaya. In acknowledgment of its religious significance and for the protection of its fragile ecosystem, the peak as well as the circle of high mountains surrounding it—the Nanda Devi sanctuary—were closed to both locals and climbers in 1983. The surrounding Nanda Devi National Park was declared a UNESCO World Heritage Site in 1988.
India-Bangladesh Relations
India was the first country to recognize Bangladesh as a separate and independent state and established diplomatic relations with the country immediately after its independence in December 1971. The relationship between India and Bangladesh is anchored in history, culture, language and shared values of secularism, democracy, and countless other commonalities between the two countries. It is based on sovereignty, equality, trust, understanding and win-win partnership that goes far beyond a strategic partnership. In the last couple of years, the relationship has been further strengthened including through cooperation in new and high-technology areas.
India has extended 3 Lines of Credits to Bangladesh in the last 7 years amounting to US$ 8 billion. This makes Bangladesh the largest recipient of LOC funds from India till date. During the visit of Bangladesh PM to India in January 2010, India had announced a US$1 billion Line of Credit (LOC) for Bangladesh covering projects in public transportation, roads, railways, bridges and inland waterways etc. Most of these projects have been completed and the remaining are at various stages of completion.
India had extended the second LOC of US$ 2 billion during the visit of Prime Minister Modi to Bangladesh in June 2015. This LOC covers 15 projects in areas of Roads, Railways, Power, Shipping, SEZs, Health & Medical Care and Technical Education.