NDA 2 2018 Online Application Form is published by UPSC on 6th June 2018. Candidates who are interested to join the prestigious National Defence Academy after 12th can apply for the NDA 2 2018 online. has been released from 6th June 2018. NDA II 2018 written exam is conducted by the UPSC Union Public Service Commission two times every year as NDA 1 and NDA 2, through this exam, aspirants can join the Army, Air Force and Navy after 12th Class. One who clears the NDA written exam is called fro the 5 days long SSB Interview which is conducted by services selection board. Below you can find more details on NDA 2 2018 exam, including dates, application form, eligibility criteria, exam pattern, syllabus, etc.
NDA 2 2018 Important Dates
| | |
| --- | --- |
| NDA 2 2018 Events | Dates |
| NDA 2 2018 Notification Date | 6th June 2018 |
| NDA 2 2018 Notification Close Date | 2nd July 2018 |
| NDA 2 2018 Admit Card Date | Last Week of Aug 2018 |
| NDA 2 2018 Exam Date | 9th September 2018 |
| NDA 2 2018 result Date | Oct 2018 |
| NDA 2 2018 SSB Interview Date | Nov – Dec 2018 |
NDA 2 2018 Eligibility Criteria
Nationality: Candidate must be Indian/Nepal/Bhutan citizen. Candidates those came from the Tibet to India with the intention of permanently settling in India before 1st January, 1962 can also apply.
Age: Only unmarried male candidates born not earlier than 02nd January, 2000 and not later than 1st January, 2003 are eligible.
Gender & Marital Status: Only unmarried male candidates can apply. No female candidate is eligible to apply.
Education: Passed or appearing 12th or equivalent class from any recognized board.Candidate must clear the qualifying exam with Physics and Mathematics (For Air Force and Naval of NDA and 10+2 Cadet Entry Scheme at Indian Naval Academy).
NDA 2 2018 Exam Pattern
Mode: OMR Sheet offline mode (pen paper mode).
Duration of Exam: The two and half hour will be provided for each paper.
Type of Question: The question paper will be consisting of Objective Type Questions.
Papers: Paper 1 Mathematics & Paper 2 General Ability.
Maximum Marks: The written examination will be of total 900 marks.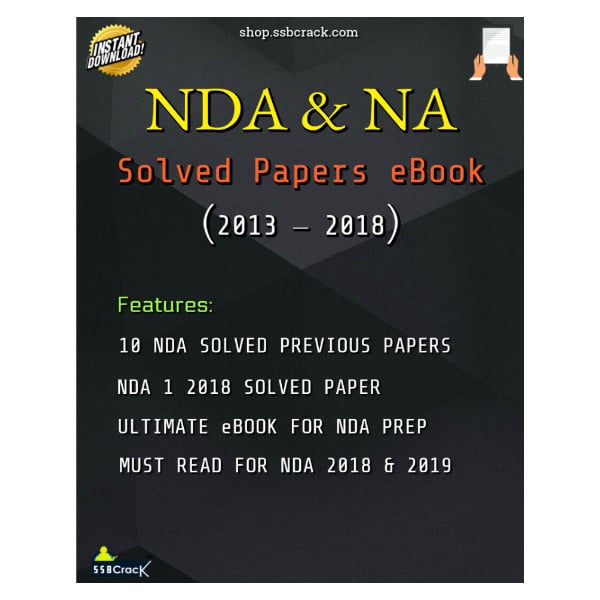 | | | |
| --- | --- | --- |
| Subjects | Code | Maximum marks |
| General Ability | 02 | 600 |
| Mathematics | 01 | 300 |
| SSB Interview | | 900 |
| Total | | 1800 |

NDA 2 2018 Question Paper
THE PAPERS IN ALL THE SUBJECTS WILL CONSIST OF OBJECTIVE TYPE QUESTIONS ONLY. THE QUESTION PAPERS (TEST BOOKLETS) OF MATHEMATICS AND PART "B" OF GENERAL ABILITY TEST WILL BE SET BILINGUALLY IN HINDI AS WELL AS ENGLISH.
In the question papers, wherever necessary, questions involving the metric system of Weights and Measures only will be set.
Candidates must write the papers in their own hand. In no circumstances will they be allowed the help of a scribe to write answers for them.
The Commission have discretion to fix qualifying marks in any or all the subjects at the examination.
The candidates are not permitted to use calculator or Mathematical or logarithmic table for answering objective type papers (Test Booklets). They should not therefore, bring the same inside the Examination Hall.
SSB Interview Procedure
Two-stage selection procedure based on Psychological Aptitude Test and Intelligence Test has been introduced at Selection Centres/Air Force Selection Boards/Naval Selection Boards. All the candidates will be put to stage-one test on first day of reporting at Selection Centres/Air Force Selection Boards/Naval Selection Boards. Only those candidates who qualify at stage one will be admitted to the second stage/remaining tests. Those candidates who qualify stage II will be required to submit the Original Certificates along with one photocopy each of : (i) Original Matriculation pass certificate or equivalent in support of date of birth, (ii) Original 10+2 pass certificate or equivalent in support of educational qualification.
Candidates who appear before the Services Selection Board and undergo the test there, will do so at their own risk and will not be entitled to claim any compensation or other relief from Government in respect of any injury which they may sustain in the course of or as a result of any of the tests given to them at the Services Selection Board whether due to the negligence of any person or otherwise. Parents or guardians of the candidates will be required to sign a certificate to this effect.
To be acceptable, candidates for the Army/Navy/Naval Academy and Air Force should secure the minimum qualifying marks separately in (i) Written examination as fixed by the Commission at their discretion and (ii) Officer Potentiality Test as fixed by the Services Selection Board at their discretion. Over and above candidates for the Air Force, and all the SSB qualified candidates as per their willingness, eligibility and preference for Air Force, should separately qualify the CPSS.
Subject to these conditions the qualified candidates will then be placed in a single combined list on the basis of total marks secured by them in the Written
Examination and the Services Selection Board Tests. The final allocation/selection for admission to the Army, Navy, Air Force of the National Defence Academy and 10+2 Cadet Entry Scheme of Indian Naval Academy will be made upto the number of vacancies available subject to eligibility, medical fitness and merit-cum-preference of the candidates. The candidates who are eligible to be admitted to multiple Services/Courses will be considered for allocation/selection with reference to their order or preferences and in the event of their final allocation/ selection to one Service/Course, they will not be considered for admission to other remaining Services/Courses.
NDA 2 2018 Preparation Books and Ebooks