Source TOI: A man impersonating as a lieutenant colonel in the Indian Army was arrested for forgery and misusing the Army uniform on Wednesday. Arvind Mishra, 40, from Bahraich, had been staying in Lucknow since 2017. He had created a fake Facebook profile in the name of Lt Col Rahul Mishra and posted his photograph in an Army uniform. He had cheated several people, especially young women, by promising them jobs and taking money in return. Officials of Directorate of Military Intelligence (DMI) are also interrogating Mishra and had assisted in his arrest.
SSB Interview Preparation Material [ 100% Recommended]
Two revolvers, a pistol, a white car with the emblem of 1/11 Gorkha Rifles, bank passbooks, laptops and mobile phones were recovered from Arvind. Nodal officer of cyber cell Abhay Mishra said, "For the past 15 days, we had been getting various complaints from girls about being duped by an Army officer. During the investigation, Arvind's fake profile surfaced. He had also cheated many women on matrimonial sites, claiming to be an Army officer. Through surveillance and DMI assistance, found that he was in Lucknow."
When Mishra was stopped in Hazratganj and asked to identify himself, he began dropping names of senior police officers. He was in 'uniform' but had no Army identity card. After a volley of questions, he succumbed and confessed to being an imposter. An MBA degree holder, Mishra had worked in a private company till 2017.

"I wanted more money and a lavish lifestyle. I had seen Army officers get perks and easy access everywhere hence I did this," said Mishra. He had purchased the uniform from Sadar Bazaar and found the regiment emblem on Google.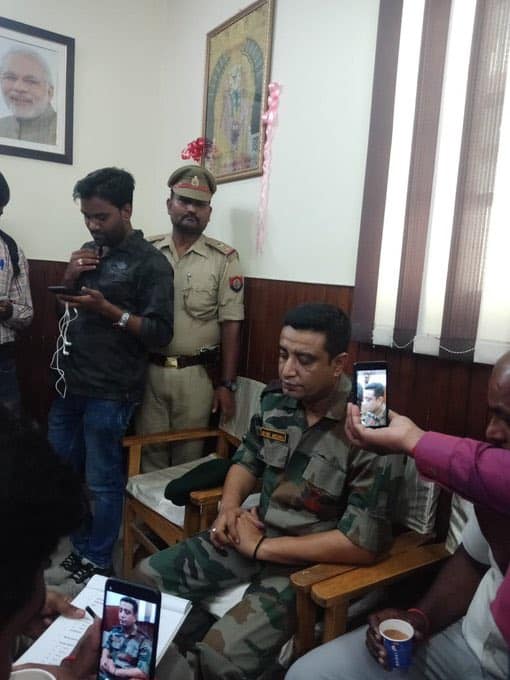 "In a short time, I started getting name and fame, permission to enter any place and invitations to parties. I also evaded toll tax," he added. He even availed of travel discounts for Army personnel. Mishra has had two failed marriages. In both, there were cases of fraud against him.