Dear Team, This is my journey from being an Army Officer's son who has always wanted to be in the same boots as his father, to getting recommended for OTA, the same place where my father passed out from.  First of all, it's an amazing feeling of having successfully achieved something which brings you so much closer to your dream profession. Being from a thoroughbred fauji family, where most of my family members are and were army officers, my life has mostly been in and around the Army.
Recommended SSB Interview Books
This being said, I appeared for the CDS exams thrice. The first time was just self-study and a little bit of guidance from the internet, which I couldn't pass. I then decided to attend a coaching class for preparations of written exam.  The second time I appeared, which was after my coaching, I was a 100% confident that I'd make the cut but unfortunately, I couldn't. Yes, I was disappointed but that gave me a stronger motivation to prepare even harder.
The third time I appeared for the exam, it was the CDS (1) 2018. It didn't go as expected but when the results came out, I was able to make the cut.  Thereafter when my SSB dates came, I chose the earliest date which was 12th October. How I prepared for SSB was mostly time practice for the psych tests.
Made PPTs with time according to the various tests and practiced them. This gave me an idea of what my writing speed is and also helped me improve it. My recommendation is to apply this to all the various tests. Time practice your Lecturette topics in front of your mirror or any friend, keep yourself fit for the GTO individual tasks and be updated with the latest GK. This was my first SSB attempt hence I was a fresher and had not taken any sort of coaching whatsoever for SSB.
The screening went well and I was confident that I'll be getting screened in. What I did in the screening was what most people would tell you i.e. write a positive story. I did that but also since I've always been around Army, most of my stories in screening as well as the psych tests were about soldiers, their bravery, courage and all the good things about a soldier. And yes, be advised that the hero in the story that you're writing about is actually you, so your stories reflect who you are.
During the course of the assessment, my interview went well and smooth.  I'm also a professional Scuba Diver so mostly questions revolved around that. Yes, there were a few questions which I couldn't answer but I assured the IO (Interviewing Officer) that I'll make sure to go and check the answers right after the interview is over and I did just that.
GTO was the part which was most stressful of all for me.  The 1st day of GTO, which comprised of Lecturette, group discussion, GPE (Group planning exercise), Progressive group task, Half group task. My recommendation here to all the aspirants during the GPE and GD is to be subtle. Not too loud and not quite as well. You need to speak and let others speak as well. Always move back and forth i.e. speak, then listen to everyone, speak and then listen to everyone and so on. Don't try to be a leader in the very first step. Be a good contributor, a good listener and then strive to lead.
After that, the whole evening went over dreading about the outcomes of what I had done in the GTO. 2nd day of GTO went pretty well and was fun. The assessor asked me some basic questions to which my replies were confident and firm.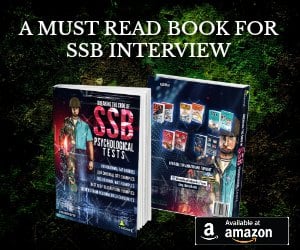 On the day of the conference, everyone was nervous and excited at the same time. We were going to the conference room one by one. I was chest number 2 so I was 2nd. I entered the room, wished the President and I was asked to sit. My IO asked me the same question which he asked me in the interview, "What are the things you think you need to improve in yourself. And as you've spent these 5 days in SSB with other candidates, what do you think about yourself that you need to improve in?"
To which my reply was similar to what I had said during the interview and added one more point to it.  My tip here is that one should be truthful and honest in the interview and the conference but not disclose so much about oneself that it enables the assessor to go into the nitty-gritty of your personal life.  One should mention their weakness but not so much so that rather than acting in your favour, acts against you. All in all this was my experience in SSB as a fresher and I'm not sure if the repeaters are subjected to same situations and questions but all I'd like to advise the aspirants and future warriors of our nation is that, while going through this assessment process think about the institution you're going in, think about its essence and why this institution is the way it is, relate to it.
It's not always about fighting and being loud and having an amazing personality.  The army isn't looking for brilliant people, who perhaps would be more suited to a profile of a scientist. The army is looking for people who would follow orders and execute them with perfection, like a normal person.  SSB isn't testing your knowledge, it's testing your personality, the way you speak, walk and treat others.
The three tests, Interview, Psychology test, and GTO are testing the same things using different tools. With this, I'd like to wish all the aspirants all the very best for their future endeavors of becoming an officer.
Jai Hind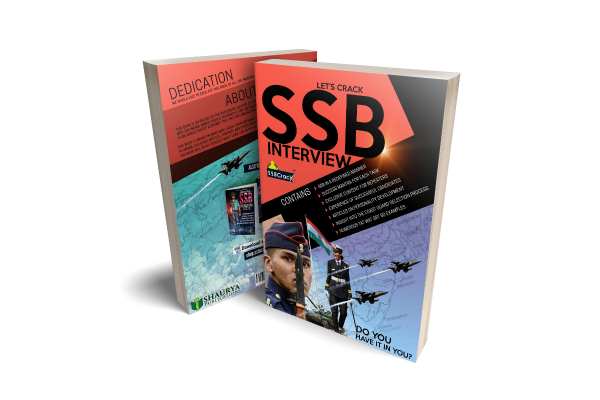 IMPORTANT – Download eBooks for SSB Interview Preparations
Free eBooks