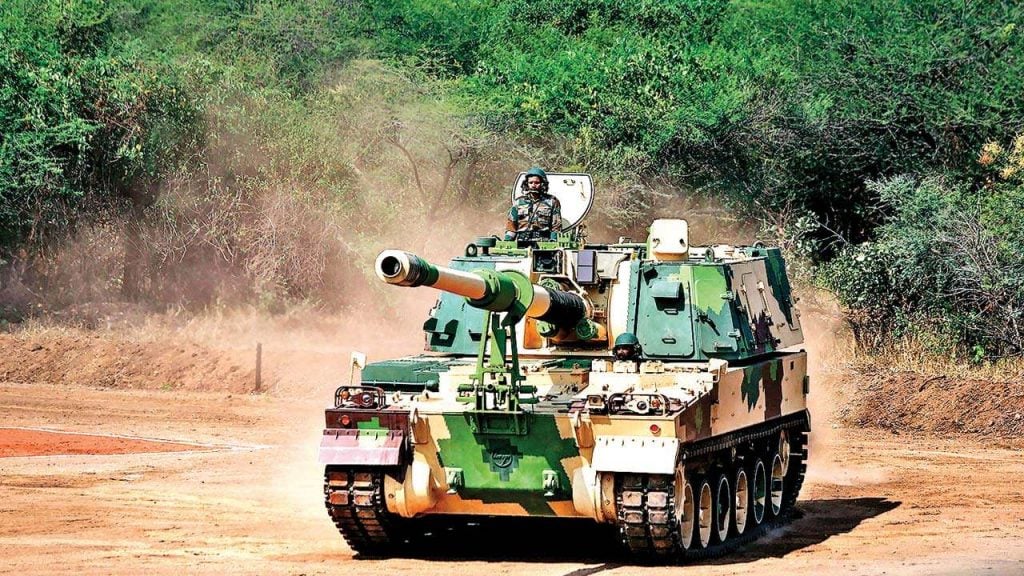 Prime Minister Narendra Modi on 18th Jan 2019 inaugurated the Armoured Systems Complex of Larsen and Toubro in Gujarat which is the first private facility in India where the K9 Vajra self-propelled Howitzer guns being developed. The K9 Thunder (known as K9 Vajra – Indian Variant) is a South Korean self-propelled 155 mm howitzer developed by Samsung Techwin for the Republic of Korea Armed Forces and now manufactured by Hanwha Land Systems.
During Defexpo 2018 Indian bought 10 units from South Korea and it was assembled by L&T in India, rest of the 100 will be produced by Larsen & Toubro for the Indian Army. The first batch of 25 units was delivered to the Indian Army in May 2018.
K9 is an indigenous system of an all-welded steel armour construction which is rated to withstand 14.5 mm armour piercing rounds, 152 mm shell fragments, and anti-personnel mines.
The main armament consists of a 155 mm/52 caliber ordnance with a maximum firing range of 40 km; the K307 BB-HE projectile propelled by the K676 top charge has a muzzle velocity of 928 m/s (3,040 ft/s).
State-of-the-art mobility subsystems include a 1,000 horsepower (750 kW) engine with potential for growth and hydropneumatic suspension unit, a requirement for Korea's rugged mountainous terrain.

K9 Variants and upgrades
XK9: Experimental prototype.
K9 Thunder: First-production variant.

K9 VAJRA-T(Lightning): Indian variant of the K9.
K9FIN Moukari (Sledge-hammer): Finnish variant of the K9.

K9A1(K9 PIP): APU, A pilot IR periscope, Rear surveillance camera (such as a K1E1 tank), Fire control HW/SW upgrade 
K10: Ammunition resupply vehicle using the K9 chassis.
T-155 Fırtına: Turkish version with modified turret, chassis, electronics and navigation system.
AHS Krab: Polish self-propelled howitzer, using the K9 chassis and AS-90 turret.