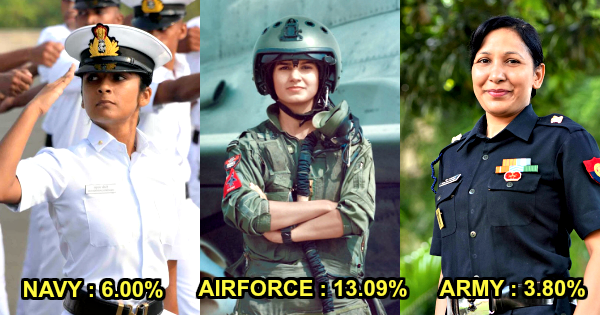 Women are playing a significant role in our armed forces and many of them have achieved impossible in their respective fields. We have many examples of women in uniform who have motivated the young generation from their achievements. Below, you may read the official data presented by the ministry of defence which shows the percentage of women serving in Indian armed forces. If we look at the official data, 3.80% of the Indian army comprise of women, while the Indian navy has 6% women officers. 13% of the officers are women in the Indian Air Force's workforce. Also, women are around 21.63% and 20.75% of the staff in medical and dental services respectively of the armed forces.
Official Statement: The induction of women is based on the organisational requirement, fighting efficiency, combat effectiveness and functionality of the Army.  Presently, women, along with men candidates are recruited in Indian Army as Officers through Short Service Commission (SSC) on all India merit basis.  Women Officers are inducted in Army Service Corps, Army Ordnance Corps, Army Education Corps, Judge Advocate General Branch, Corps of Engineers, Corps of Signals, Intelligence Corps, Corps of Electrical & Mechanical Engineers, Army Aviation Corps and Corps of Army Air Defence.  Women are also included in Indian Army in Military Nursing Service and Medical Officers cadre.
The details of the percentage of women working for armed forces are as under:
| | |
| --- | --- |
| Name of the Service | Percentage (%) |
| Army | 03.80 |
| Air Force | 13.09 |
| Navy | 06.00 |
| Medical Officers | 21.63 |
| Dental Officers | 20.75 |
| Nursing Officers | 100.00 |
This information was given by Raksha Rajya Mantri Dr. Subhash Bhamre in a written reply to Dr. Vikas Mahatme in Rajya Sabha.