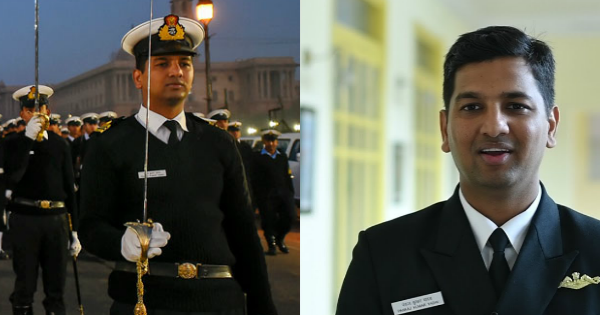 This year is India's 70th Republic Day and like every year, the highlight of the day is the parade that takes place at India Gate. The Indian Navy tableau at the Republic Day celebrations here will showcase models of the state-of-the-art assets such as MiG-29K multi-role fighter aircraft, a Kolkata-class ship and a Kalvari-class submarine, officials said Thursday. Lt Cdr Pankaj Kumar Yadav, contingent commander of Indian Navy will lead the 144 young sailors along with Lt Ambika Sudhakaran, Sub Lt Ravleen Kaur as platoon commanders. Besides, a 144-strong marching contingent fronted by a naval officer and three sub-lieutenants will also walk down the Rajpath on the occasion. "The marching contingent of 144 young sailors will be led by Lt Cdr Pankaj Kumar Yadav, with Lt Ambika Sudhakara, Sub Lt Ravleen Kaur and Sub Lt Sushant Sadashiv Patil as platoon commanders," a senior official of the Navy said.
Lt Cdr Pankaj Kumar Yadav is from the submarine branch of the Indian Navy and he said his team is looking forward to winning the best republic day contingent award this year. "We are practising for the republic day since two months, we started from INS Chilka Bhubaneswar and since December we are practising at Rajpath for the parade. We are practising very hard with the aim to win the best marching contingent this time" said Lt Cdr Pankaj Kumar Yadav.
"144 sailors are very energetic and they are doing really well, I hope this time the Indian Navy should win the best marching contingent trophy." He said.
View this post on Instagram
"Ït is a very proud moment for me to lead the Indian Navy contingent this year. As a leader, I would tell my contingent that we have one goal and that is to win the trophy. My sailors are putting their heart and soul into this, they are so good they follow each and every command. Marching is a discipline when the contingent commander gives an order the team follow it and that is what matters the most." said Lt Cdr Pankaj Kumar Yadav.
"For the youngsters who want to join the Indian Navy, my message would be, be honest to yourself, study is something which is always important, but joining forces is not only about getting good marks, it is the combination of everything, be physically fit, know your surroundings, take part in sports and other activities along with your studies. If you have it in you, you will surely make it."  said Lt Cdr Pankaj Kumar Yadav.