I am writing to you to share my strategy for the written exam and experience of TA PIB at Chandigarh for the Territorial army. I started my preparation when the admit card was released so I approximately had 14 days in hand. The first thing I did was to buy a book dedicated to TA written exam preparation to have a clear understanding of questions that come. I found the Territorial Army eBook on the SSBCrack website and decided to make the most out of the remaining time by dedicating myself to the topics which I knew rather than learning new things.
How I Prepared for TA Written Exam
Maths: It was one of the most challenging subject for me and I decided to focus on the easier topics rather than trying to understand difficult topics like Trigno and Algebra. I started with practising questions from speed distance time, trains, boats, men at work etc and almost did all the questions provided in the TA pdf booklet. I also solved the previous exam papers given in the pdf. In the exam, the maths section was difficult but I managed to clear the cutoff 🙂 My only suggestion for the aspirants would be just doing the bare minimum with high accuracy. Not all the questions are difficult and smart selection can help clearing the section. I attempted around 28 questions and yes with full accuracy.
English: I have a habit of reading novels so this section was doable for me. But I didn't do any guesswork and left the tricky questions like synonyms antonyms. This section is scoring as the RCs and Idioms are on the easy side. I attempted 35 questions in this section.
Reasoning: One of the best sections. I literally did every question from the book and am sure I scored above 45. This can be the deciding section between clearing the cut-off or not. Just practice as much as possible and one can score definitely 47-48 marks.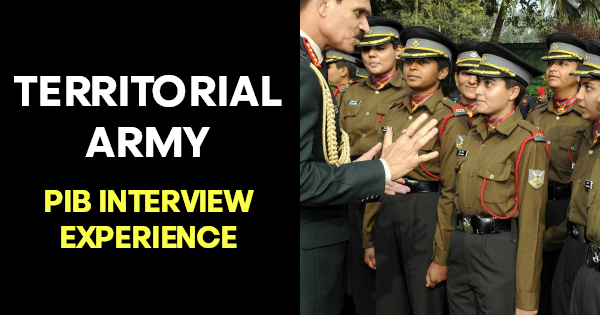 GK: This section contains questions from varying topics but if one is well equipped with current affairs one can score enough to clear the 20% minimum cut off for this section. I would mention that Just going through one-liners from apps is not enough as the questions asked were from between the lines and One MUST INCORPORATE NEWSPAPER READING on a daily basis. I did approximately 25-26 questions in this section. Mostly related to current affairs.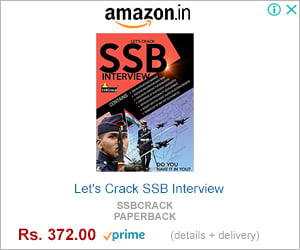 Territorial Army PIB Interview Experience
So overall I cleared the written and was called for PIB on 21 Sept, Saturday at territorial army headquarter western command. The process was smooth and the army personnel were cooperative.
All the selected candidates were required to report at 7 am. After an hour of document verification, we filled a biodata form 5 times as there were 5 people taking interview.
We had to fill out current employment status, hobbies, achievements in sports. It was a shorter version of the PIQ form which we fill for SSB interviews.
My turn for the interview came around 10 am. After 5- 6 minutes of stand by period I was called inside the PI room. There were 4 people sitting in front of me, 2 to my right 2 to my left. The PO chair was empty. ( the centre chair).
There were 3 people sitting behind my back too. I guess they were psychologists (I am not sure). The person sitting to my left started by asking me a question based on my graduation then why did I want to join TA and a few other questions regarding the hobbies I had filled in the biodata.
One question was asked by the person sitting to my right regarding my profession and extracurricular that I had mentioned in my biodata form. My interview lasted for approximately 4 mins. (Like conference round) and after that, we were told that we can go.
The result will probably come in the next 20 days. I can say that the overall experience was quite pleasant and I am hopeful that I'll get through.
Special thanks to the SSBCrack website for clearing my doubts regarding documents we needed to carry as I had no one else to ask and clear my confusion. I wish all the best to all the aspirants. Thank you.
Sargam Sharma