Dear Candidates, the Online Registration for AFCAT 01/2020 will commence on 01 December 2019 at 09:00 AM. For AFCAT 01/2020 Help & Support. Indian Air Force invites Indian citizens (Men and Women) to be part of this elite force as Group A Gazetted Officers in Flying and Ground Duty (Technical and Non-Technical) branches. Online examination will be conducted on 22 Feb 20 and 23 Feb 20 for AFCAT 1 2020 exam. Candidates applying for the examination should ensure that they fulfil all the eligibility conditions for admission to the examination. Their admission at all the stages of examination viz. Written examination and SSB test will be purely provisional, subject to their satisfying the prescribed eligibility conditions. If on verification at any time before or after the written examination or AFSB Testing, it is found that they do not fulfil any of the eligibility conditions, their candidature will be cancelled by the IAF.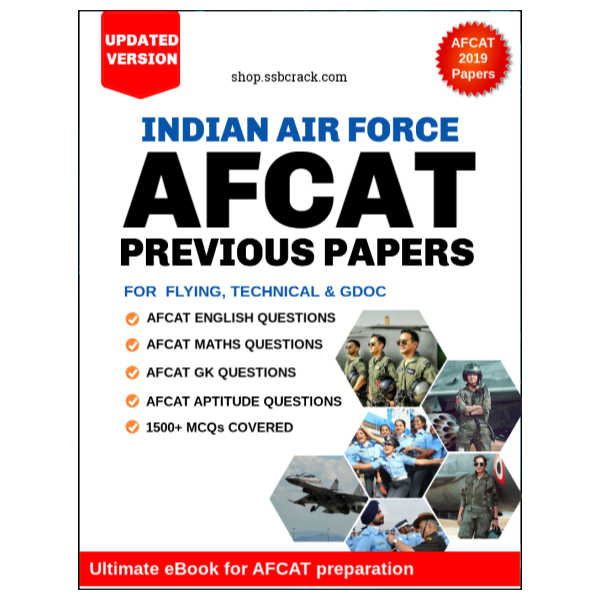 NCC Special Entry (Flying Branch): NCC Air Wing Senior Division 'C' certificate acquired on or after 01 Dec 17 is mandatory. Candidates should have mandatorily passed with a minimum of 60% marks each in Maths and Physics at 10+2. Graduates with minimum three years degree course in any discipline from a recognized University with a minimum of 60% marks or equivalent. OR BE/B Tech degree (Four years course) from a recognised University with a minimum of 60% marks or equivalent OR Candidates who have cleared Section A & B examination of Associate Membership of Institution of Engineers (India) or Aeronautical Society of India from a recognised University with a minimum of 60% marks or equivalent.
How to Apply. Aspirants for IAF are required to apply online by using the link https://careerindianairforce.cdac.in, or https://afcat.cdac.in
Examination fee for AFCAT Entry: After filling in the online application form, the examination fee of Rs. 250/- (non-refundable) for AFCAT entry (not applicable for NCC special entry) may be paid online through the 'Make Payment' step on the main menu of the online application. No cash or cheque or demand draft (DD) will be accepted towards payment of examination fee. The examination fee can be paid using credit/ debit cards/ net banking through the payment gateway. Applicants are advised to follow the instructions/ steps given on the payment gateway, and also print/keep the transaction details for their records. After confirmation from bank that the payment is received, the "Payment Status" will display "Registration Number" which the candidate may note down for future correspondence. Simultaneously, the candidate will receive a confirmatory sms/ e-mail. This will be followed by Admit Card (with the Hall Ticket Number) which a candidate will receive on his/her registered email ID and which is also downloadable from his/her registered email ID.
Serving Airmen: Serving Airmen are required to apply like other applicants. In addition, they would have to apply as per the service format given in AFO 11/ 2015 through service channel.
AFCAT 1 2020 Exam Schedule: The AFCAT (and EKT) will be conducted in two days as per the following schedule:-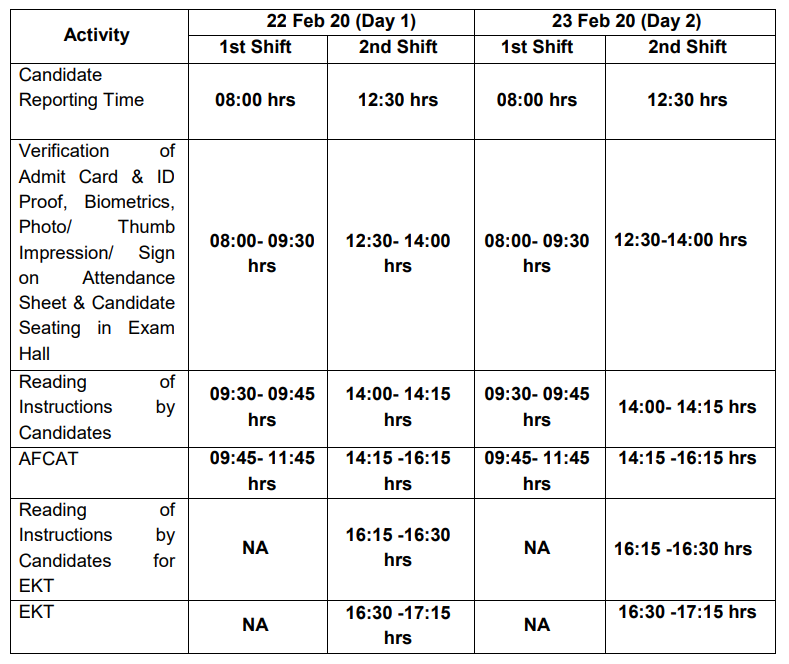 AFCAT 1 2020 Syllabus
English. Comprehension, Error Detection, Sentence Completion/ Filling in of correct word, Synonyms, Antonyms and Testing of Vocabulary, Idioms and Phrases.
General Awareness. History, Geography, Civics, Politics, Current Affairs, Environment, Basic Science, Defence, Art, Culture, Sports, etc.
Numerical Ability. Decimal Fraction, Time and Work, Average, Profit & Loss, Percentage, Ratio & Proportion and Simple Interest, Time & Distance (Trains/Boats & Streams).
Reasoning and Military Aptitude Test.Verbal Skills and Spatial Ability.
Locations for AFCAT 01/2020: Agartala, Agra, Ajmer, Ahmedabad, Aizawl, Alwar, Aligarh, Allahabad, Ambala, Amritsar, Aurangabad, Bareilly, Behrampur (Odisha), Belagavi, Bengaluru, Bhagalpur, Bhilai, Bhopal, Bhubaneswar, Bhuj, Bikaner, Bilaspur, Chandigarh, Chennai, Coimbatore, Dehradun, Delhi and NCR, Dhanbad, Diu, Dibrugarh, Durgapur, Faridabad, Ganganagar, Gaya, Ghaziabad, Gorakhpur, Guntur, Guwahati, Gwalior, Haldwani, Hissar, Hyderabad, Imphal, Indore, Itanagar, Jabalpur, Jaipur, Jalandhar, Jalpaigudi, Jammu, Jamshedpur, Jhansi, Jodhpur, Jorhat, Kannur, Kanpur, Kochi, Kohima, Kolhapur, Kolkata, Kota, Kurukshetra, Leh, Lucknow, Ludhiana, Madurai, Mangalore, Mathura, Meerut, Mumbai, Mysore, Nagpur, Nasik, Noida, Panaji, Pathankot, Patna, Port Blair, Puducherry, Pune, Rajkot, Ranchi, Rohtak, Rourkee, Sagar, Sambalpur, Shillong, Shimla, Silchar, Solapur, Sonipat, Srinagar, Thane, Thiruvananthapuram, Thrissur, Tirunelveli, Tirupati, Udaipur, Vadodara, Varanasi, Vellore, Vijayawada, Visakhapatnam, Warangal, Yamunanagar.
Air Force Selection Board (AFSB): For AFCAT entry, IAF shall prepare a list of candidates who obtain the minimum qualifying marks in the Online AFCAT as fixed by the IAF in their discretion. Candidates who are declared successful in the Online AFCAT will be called at one of the Air Force Selection Boards. Candidates who have applied for NCC Special Entry will be directly called for AFSB testing at one of the AFSB centres. The AFSB centres are at Dehradun (1 AFSB), Mysuru (2 AFSB), Gandhinagar (3 AFSB) and Varanasi (4 AFSB). Candidates who opt for flying branch can only opt for Dehradun, Mysore and Varanasi. Candidates who have qualified in the written exam are required to choose AFSB date and venue by themselves on the website https://careerindianairforce.cdac.in or https://afcat.cdac.in in order to generate call- up letter for AFSB interview.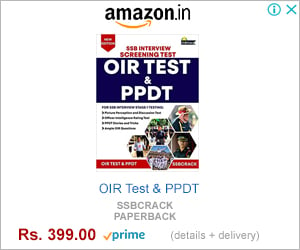 The testing at AFSB would consist of three stages as given below:
Stage-I. Officer Intelligence Rating Test along with Picture Perception and discussion test will be conducted on the first day. Stage-I test is a screening test and only those who qualify would undergo subsequent testing. All Stage-I qualified candidates would be subjected to document check to ascertain their eligibility for the branches applied for. Candidates who either do not qualify in Stage-I or do not meet the required eligibility criteria would be sent back on the first day itself.
Stage-II. Psychological test will be conducted on Day 1(Afternoon) and the Group Tests and Interview would commence after document check for the next five days.
For Flying Branch. Computerised Pilot Selection System (CPSS) would be administered to recommended candidates only. This is once in a lifetime test. Candidates who have failed the CPSS/PABT in an earlier attempt or a Flight Cadet suspended from flying training at Air Force Academy will not be eligible.
Final Merit List: To be acceptable, candidates should secure the minimum qualifying marks separately in written examination and AFSB test as fixed by the IAF. Candidates will be placed in the order of merit on the basis of the total marks secured by them in the written examination and in the AFSB tests. The form and manner of communication of the result of the examination to individual candidates shall be decided by the IAF in their discretion.10% of the vacancies are reserved for NCC Air Wing Senior Division 'C' certificate holders in Ground Duty (Technical and Non-technical) Branches. Allotment of PC/ SSC in Ground Duty (Technical and Non-technical) Branches would be based on number of vacancies, performance in the selection process and the choice given by the candidates.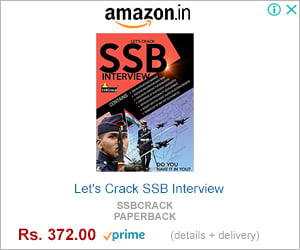 Date and Duration of Training: Training is scheduled to commence in the first week of Jan 2021 for all courses. The approximate duration of training for Flying and Ground Duty (Technical) Branches is 74 weeks and that of Ground Duty (Non-technical) Branches is 52 weeks at Air Force Training Establishments.