An ideal situation doesn't exist and that's why even if the aspirants can give above their 70-80%, they will surely get the recommendation. Before undertaking any exam, we must keep in mind a few facts and rules in our mind that are concrete in approach and results means they will surely give you desirable outcomes if followed with entire sincerity and discipline.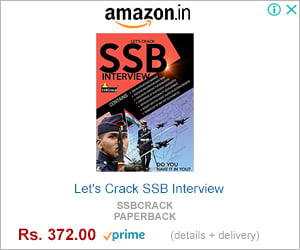 SSB is a task for you that you have to successfully achieve and you have to complete it anyhow. Understand the task, identify your resources or gather them in minimum time, get our clock running and set a deadline, fully comprehend the plan and if in doubt – ask, run through your action plan and chase the goal like a madman. You don't have any other option other than achieving your goal as failure will take you 6 months behind.
If you have about 30 days for the preparation of the SSB Interview then following the below guidelines will help you.
Make A Timetable
Making a time table will improve your efficiency and minimise wastage of time. Include physical activities in your schedule. It will help you in Individual obstacle and snake race.
Be A Good Reader
If you can read the newspaper daily, it's good but if you can't at least be aware of what is going around. You can take help of the YouTube channel of SSBCrackExams regarding daily current affairs. You can also refer blogs on current affairs on the SSBCrackExams App and on their telegram Channel. They update blogs on current affairs on a regular basis. Keep making short notes.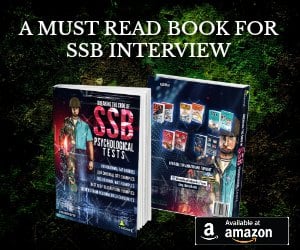 Psychology Is The Key
TAT is the most important test in psychological testing. Writing a sensible, practical and crisp story is very important following the basic elements that are told by the DSO. There is a book "My appointment with Psychologist" which is available free of cost on SSBCrack. If you want to understand the core of the Psychology test, reading this book is a must. Read this book 2–3 times. Practice by writing stories. See a picture and think about several themes. This will help you come up with good stories.
Practice Story Narration And Lecturette
In the screening stage, story narration is a vital part. Practice the same a number of times to ensure confident narration with clarity of thoughts where you can convey your story. Make sure you maintain body language, facial expressions and eye contact with the group.
Interview Preparation
To give an SSB interview, you need to understand the psyche and requirements of the interviewer, and to think by keeping yourself in his place. You need to think hard on the aspects and the expectations that the interviewer is keeping from you and how well you are prepared to take this challenge. To think like the interviewer, you should make yourself aware of the job profile and the requirements for which you are going to be interviewed and what kind of people find the suitability in that respective line of work. It's important that you are aware of your personality and inner nature and with that of people around you as well such as your friends and family.
GTO Preparation
There are certain rules and instructions that should be kept in your mind while performing these tasks and you will emerge out as a leader automatically. It is more important to speak less but speaking good in GD. Every time you speak, you should give the GD a direction. The approach to all the tasks in GTO testing is different and by developing a core approach for all of them while different small approaches to base on the nature of the task will enhance your performance for better. Start running and doing some core exercise. It will help you in all aspects of life. Meditation will also be very helpful. Run-on a daily basis, start by running only 1 km in a day along with exercising and then slowly increase it. Your stamina will increase day by day.
Final Preparation
One week before SSB. Practice psychology tests by considering time. Revise your current affair and psych notes. Revise your interview answers. I would also suggest getting your Psychology assessment done by some DIPR trained assessor. For physical tasks remember one thing after you get tired, your stamina runs out after that it is the test of your will. So make it count. When you are practising do not try to achieve perfection rather work on progress.
Your Attitude For SSB Matters
The first and foremost thing you need to work on is that – you need to believe in yourself, truly believe in yourself. Because if you are not able to do that then there is no chance the selection board will think otherwise. Go with the attitude of if not me then who? You need to remember that if you keep worrying about what to write and how you will be judged then your mind will not be free and you will not be able to think clearly, which will result in time lag in your performance.
Work On Your English
You need to understand that good English in SSB is not to impress the selection board rather it is used to make sure you are able to make your point with clarity and fluency. Everyone wants to be heard and wants to impress the officer who is overseeing the GDs, etc. but remember you need to be empathetic to other people and their view.
I understand that when a person starts talking or wants to make a point they may dangle on the edge of exaggeration or bluffing but make a habit of checking yourself every time you tend to do this while practising. In short, be your own assessor. Work on your speaking skills by standing in front of the mirror and speaking on any topic for 3–4 minutes. Record yourself and listen to yourself speak then improve yourself by noticing your weaknesses.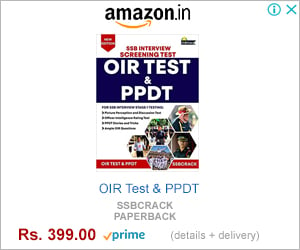 Even though the above tips are some basic tips everyone can put to use for their SSB interview, I believe everyone has a different personality and cannot work on their preparation in one particular way. Everyone needs different guidance and that is exactly how I train my students.
You can prepare for defence entrance exams such as NDA, AFCAT, INET, and CDS by taking Written Online courses as they will not only give you access to full-length quality lectures but will also provide the facility to take standardized mock tests for better study and strategic growth in the exam. You can take multiple quizzes after each lesson to ensure the full understanding of the subject along with creating your customized lesson plans. You can check out the course content along with other important specifics at SSBCrackExams.
You can also access them through the SSBCrackExams App available in the google play store. Jai Hind